26-APR-2012

SOURCE: PricewaterhouseCoopers LLP
Cracking the Telecoms Capex code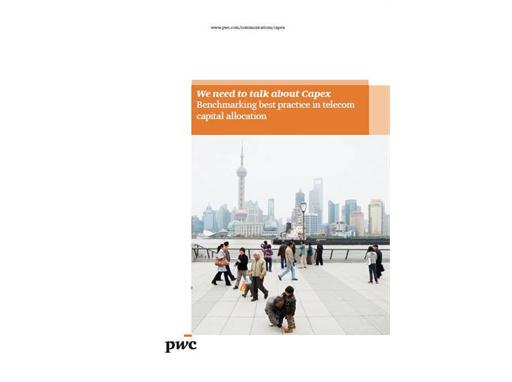 The global telecom industry misallocates 20 per cent of its capital expenditures -- about US$65 billion each year -- says a new report from PwC.

The report 'We need to talk about Capex' found that the industry's capex bill is now at US$320 billion per year, but about 20 percent of capital projects provide little return on their investment. In the past 10 years, the average return on capex investment for the industry has been about 6 percent, the report, said, while the cost of the capital itself has been 9 percent.

Gary Taylor, PwC director and author of the report said:

"Weaknesses in allocations are leading companies to waste about 20 percent of their capital expenditures, totalling about US$65 million per year.

"This isn't consistent across the industry, however. Companies individual performance depends on a small number of decisive differences in how they plan capital spending, organise for accountability, and report results."

The report studied the financial performance of 78 fixed-line, mobile and cable telecoms operators with collective annual capital expenditures of some US$200 billion. PwC also conducted in-depth interviews with 22 telecoms executives to understand what lies behind their capex performance.

The report notes that capex has been rising annually in the industry for decades, along with revenues, profits and operating cash flows. But just as growth is stalling - and turning negative in some major markets - operators face another round of expenditures for mobile broadband and fibre.


Contact
Client Relations

TheNewsMarket

clientrelations@thenewsmarket.com