17-APR-2013

New York

SOURCE: PricewaterhouseCoopers LLP
Pricing Management A Crucial Factor for Software Companies' SaaS and Transactions Success and Profitability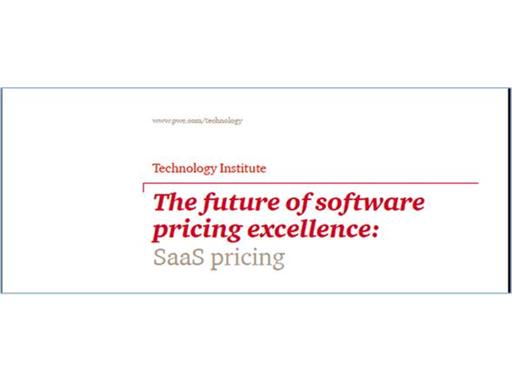 Underpricing and discounting of software products can result in consumer misconception that the product is of poor quality, say new reports from PwC. The Future of Software Pricing Excellence: SaaS Pricing outlines the potential pitfalls and opportunities in making the shift from traditional licensing models to the Software-as-a-Service (SaaS) model. Transaction Pricing Management spotlights a how discounting off of the 'list price' can corrode profit margins in both the short and long term, unless structure and management is handled strategically and consistently.
"Once considered a secondary consideration, pricing management is now moving to the front and centre of many software companies' focus," said Mark McCaffrey, PwC's Global Software Leader. "Excess discounting can facilitate price wars amongst SaaS competitors, chipping away at the core of this entire emerging market. And companies that do not invest resources into management for transaction pricing risk losing not only current profit margins, but access to valuable data that can impact longer term profitability."
SaaS Pricing Priority
For companies moving from traditional licensing to the SaaS model, pricing management is essential for a successful transition. PwC found that without active pricing management, SaaS models can unknowingly under price a product, leading to customers perceiving it as an inferior option. Discounting can also act as a catalyst for price erosion to levels that do not reflect the true value of the product.
Formulating pricing metrics is vital to pricing strategy since it drives both revenue and perceived value. Perceived customer value includes infrastructure payment and product packaging benefits, along with and ease of maintenance and upgrades. In turn, customer value ties directly to retention rates, which impact vendor revenue.
PwC's SaaS pricing report outlines the most material components of SaaS pricing strategy including packaging, regional pricing, loyalty and volume discounts, customer/market segmentation and usage type adjustments amongst other factors.
Transaction Pricing Fundamentals
Transaction pricing management does require investment of resources in the early stages, but the return on this investment has inherent impact on medium- to long-term success. The most effective transaction pricing management is based on a fully integrated, cross-functional approach that captures and leverages data about past deals to inform future deals.
In the Transaction Pricing report, PwC identifies three key elements of effective transaction pricing:
• Pricing 'waterfalls': a structured approach to calculating the price of a transaction that requires software companies to identify the appropriate pricing brackets for their business models.
• Analytics: once a 'waterfall' is selected, a system needs to be developed to collect data which showcases the profitability of transactions but can also be used for simulation and modeling.
• Pricing function: after a pricing framework has been created, a fully integrated pricing function sets responsibility for creating and managing pricing policy throughout the company. This ensures long-term pricing sustainability.
Conclusion
Long and short-term consequences can arise for software companies that do not prioritise pricing management practices. Short-term negative impact on profits is the most obvious issue. But loss of crucial data that can be used in strategic planning is another potential challenge. Companies also face prolonged undercutting of prices when pricing management is not implemented. This may lead to the perception of SaaS as an inferior, lower quality option to traditional software solutions.
"Leaders who adopt pricing management programmes realise benefits at all levels of their organisation, with more robust profit margins being the most salient," said McCaffrey. "But benefits of this kind of management can affect more than that – from being able to model for impact on recurring revenue, future discounts, competitor reaction and price setting for the market. By capturing pricing data, companies can also apply relevant metrics to measure sales and therefore structure incentives, further creating a virtuous cycle of profitability."
Notes:
PwC has released the second of a series of reports evaluating the impact on pricing of the shift in the enterprise software sales model from license to services. For a copy of the SaaS pricing report, visit
pwc.to/16K2Xbc
.
For a copy of the Transaction pricing report, visit
http://pwc.to/10XB7U8
For additional analysis and commentary on PwC's Software Pricing Series, please visit:
www.pwc.com/softwarepricing
PwC helps organisations and individuals create the value they're looking for. We're a network of firms in 158 countries with more than 180,000 people who are committed to delivering quality in assurance, tax and advisory services. Tell us what matters to you and find out more by visiting us at www.pwc.com.
PwC refers to the PwC network and/or one or more of its member firms, each of which is a separate legal entity. Please see www.pwc.com/structure for further details.
Contact
Client Relations

TheNewsMarket

clientrelations@thenewsmarket.com