18-SEP-2012

SOURCE: PricewaterhouseCoopers LLP
Working capital management in Europe has never been better, and UK remains top – PwC study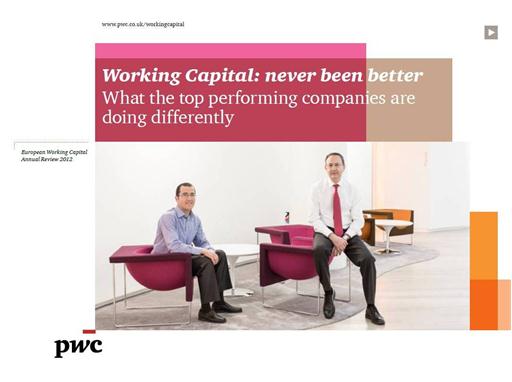 The largest European companies have never been better at managing their working capital and UK companies are the most efficient compared to their neighbours, a new PwC study shows.

Working Capital: Never Been Better analyses the working capital performance of Europe's largest publicly listed companies and shows that the UK cash-to-cash conversion cycle was an impressive 55 days in 2011, down from 60 days in 2010. Using Days Working Capital (DWC) as a measure of working capital efficiency, the study shows how many days it takes for companies across Europe to convert their working capital into revenue. The faster companies can do this the better.

After the UK, other country groups that showed good working capital management were Central Europe (58 days) and Russia/Ukraine (63 days). The worst performing country was France (83 days), followed by the Nordic countries (78 days) and Germany, Switzerland, Austria and Italy, all at 77 days. Overall European cash conversion cycles have decreased by 5 days to 70 days between 2010 and 2011, mainly due to improvements in receivables and inventories.