DANIEL RICCIARDO CELEBRATES THE DAY OF THE DEAD IN MEXICO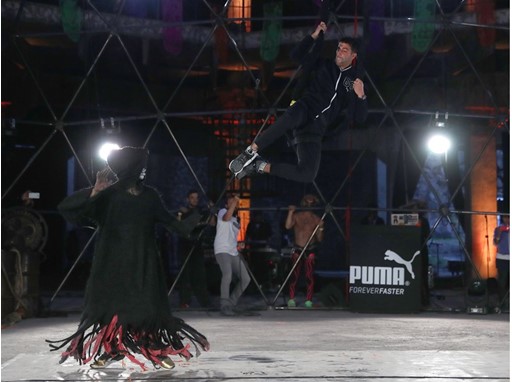 Red Bull Racing Driver a Surprise Acrobatic Element in PUMA's Offrendome​
Last night, the Red Bull Racing driver Daniel Ricciardo entertained a thousand people in a stunning celebration of The Day of the Dead in Mexico City. The Australian switched the asphalt racing track for a big metallic dome with dancing skeletons and symbolic elements to fly through the air, challenging Death to complete the original altar.
With F1 returning to Mexico for a second year after a long absence, PUMA threw a huge party with the unique Red Bull Racing style. The F1 driver and some special guests symbolically set an offering through four big moments. The talented Mariana Echeverría personified as "The Catrina", hosted the event, that included the versatile warrior Uriel del Toro, a flight through the air spreading Cempazúchitl flower petals by the beautiful model Gabi Graff, and some skeletons riding motorcycles. In the final act the F1 driver lighted up the fire inside the Offrendome, after defeating Death in a thrilling battle.
Talking about his experience in Mexico, the charismatic Red Bull Racing driver said: "I love the day of the dead celebrations here in Mexico City and the way everyone is dressed up in skulls, it feels like we're in a movie. The Mexicans passion for life and their passion for remembering those who are no longer with us is also fascinating. It was a great event today and it was cool being a part of it. I want to thank PUMA for making it happen."
Media can embed this video here: <iframe width="560" height="315" src="https://www.youtube.com/embed/R8U0wdtqzHE" frameborder="0" allowfullscreen></iframe>
Giving closure to the event, the Head of PUMA Mexico, Mario Olvera, gave Daniel a skull lithography made by a mexican artist as a gesture of appreciation for being part of the celebration of The Day of the Dead with all the united talent, and as an homage for his bravery.

Contact
Client Relations

TheNewsMarket

clientrelations@thenewsmarket.com