Jamaican Bob Sleigh Team Revive the Spirit of '88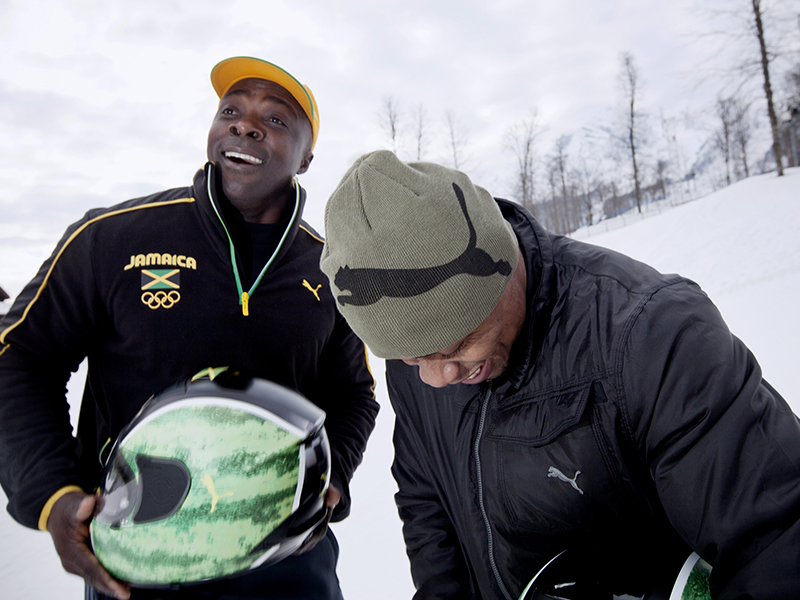 Herzogenaurach, Germany (12 February, 2014) – With the Sochi 2014 Winter Olympic GamesTM underway, Team Jamaica has replaced the warmth of the Caribbean for one of the coldest countries to compete in the Two-Man Bob.  Sponsored by Sport Brand PUMA, the Jamaican duo are hoping to call upon the spirit of 1988, when the Jamaica team endeared themselves to the sporting world with some highly unexpected and impressively quick times down the track. 
The 2014 Jamaica Two-Man Bob Team comprises of Driver Winston Watts, a 46-year-old Olympic veteran who competed in the '94, '98 and '02 Games; and Brakeman Marvin Dixon, a 31-year old Olympic first-timer and former sprinter.  The world will be watching as Jamaica competes on the Winter Olympic stage for the first time in 12 years - it's a special sight seeing islanders in a bob sleigh, but they will bring with them the Jamaican vibe and positive Caribbean attitude. 
"Do I like the cold?  What do you think?   I wish I could put on everything I packed all at once.   I just try to imagine being in a warmer place and focus on the competition," said Driver Winston Watts.   "It's exciting to be here and I just want to do my country proud with a great performance."
"It's surreal being here right now for my first Olympics," said Marvin Dixon.   "It's so unusual for a Caribbean country to take part in the Winter Games but we're here on merit and I'm excited to get out there and do my best."
PUMA has a long-standing relationship with the Jamaica Olympic Association (JOA) dating back to 2002. The colourful Caribbean country and the talent it breeds have always been a perfect fit for the PUMA brand.  PUMA also partners with the World's Fastest Man, Jamaican Track & Field athlete Usain Bolt who hits a high of 38 km/h in competition, a mere crawl, compared to the 160 km/h these bob sleighs reach down the icy track.
The two-man Bob starts on 16 February at 20:15 GMT+4.  Now start the slow clap, and get on up!
PUMA will provide the official competition wear as well as Opening Ceremony and Podium wear for Jamaica during their time in Sochi.
###
Media Contacts:
Nicole Fecteau, International PR, PUMA
+1 617 309 6247
nicole.fecteau@puma.com
PUMA
PUMA is one of the world's leading Sports Brands, designing, developing, selling and marketing footwear, apparel and accessories. For over 65 years, PUMA has established a history of making fast product designs for the fastest athletes on the planet. PUMA offers performance and sport-inspired lifestyle products in categories such as Football, Running, Training and Fitness, Golf, and Motorsports. It engages in exciting collaborations with renowned design brands such as Alexander McQueen and Mihara Yasuhiro to bring innovative and fast designs to the sports world. The PUMA Group owns the brands PUMA, Cobra Golf, Tretorn, Dobotex and Brandon. The company distributes its products in more than 120 countries, employs more than 10,000 people worldwide, and is headquartered in Herzogenaurach/Germany. For more information, please visit http://www.puma.com
Contact
Client Relations

TheNewsMarket

clientrelations@thenewsmarket.com