PUMA and Hublot Collaborate With Falcao To Produce Unique Signature Product Offering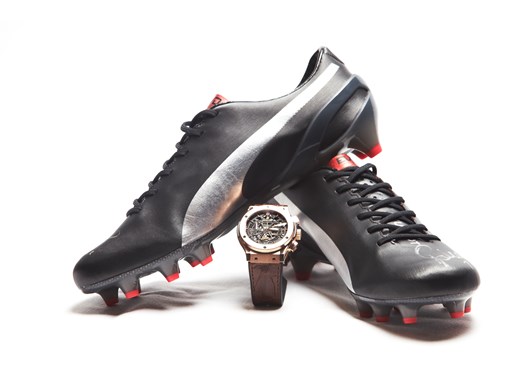 Herzogenaurach, Germany (14th June 2013) – United through their partnership with Colombian Star Striker Falcao, PUMA and luxury Swiss watchmaker Hublot have joined forces to release a unique product offering. The 'Hublot Falcao watch' has been created in a limited number of 100 pieces and will be sold in a unique casing that includes a special pair of limited edition PUMA evoSPEED 1.2 FG football boots in the matching colourway.

The 'Hublot Falcao watch' comes in two different executions, with 60 pieces made of titanium and 40 made of gold. To support this, PUMA has created a special pair of evoSPEED 1.2 boots for each timepiece, which feature watch aligned colours and are numbered 1-60 and 1-40. The evoSPEED boots that Falcao wears on pitch have been adapted to feature additional premium materials also incorporated within the watch. For further added value, each pair will be personally signed by the Colombian striker.

Falcao is one of a select group of footballers chosen by the United Nations to help combat organised crime and drug trafficking. As part of this, for every Hublot and PUMA watch and PUMA boot package sold, a portion of the revenue will go towards improving the living conditions in the Grand Lagoon of Santa Marta, Falcao's Colombian birth town.

The evoSPEED 1.2 FG is designed to enable players reach top speed quickly without sacrificing stability or comfort. This is made possible through the use of light materials in combination with an internal midfoot support cage (EverFit cage) that maintains a good fit during all points of sprinting. The outsole is reconfigured with smaller conical studs that give the player a better grip on the ground and enhances manoeuvrability on the pitch. For optimal comfort, a minimised tongue and heel have been added, reducing pressure on the Achilles tendon whilst the sock liner distributes the foot's pressure evenly.