PUMA'S USAIN BOLT TRAINS WITH BORUSSIA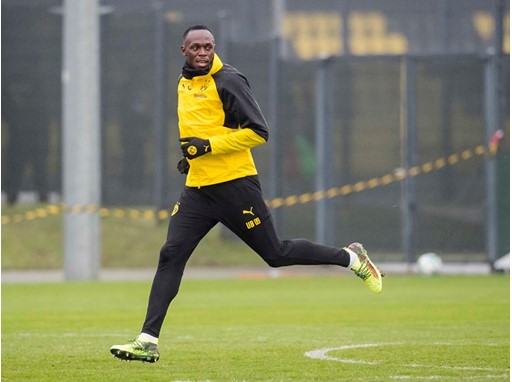 Usain Bolt's latest career move? Professional football. The fastest way to football greatness? Train in some of the world's best facilities with some of the game's top players. This week, Usain joined Borussia Dortmund for a special 2-day trial at Dortmund-Brackel where he participated in several training sessions with the team.
"It was a great experience to train and be part of the Borussia Dortmund team, everyone was so welcoming that I felt like I was home. Being able to receive professional advice, great training tips and play with some of the best players made it even more special," said Usain Bolt. "Borussia Dortmund is a top international club known for developing some of the best young talent in the world, and I will use everything I learned to improve myself. Be sure that this is just the beginning of my football journey."
After a record-breaking career in track and field, Usain refuses to slow down. Just one day after leading his team at Hublot's 'Match of Friendship' in Basel, Switzerland, he set out for Dortmund, Germany to get a taste of what training entails at the pro level.
"It was great to have Usain join us for training. It was like having a new teammate," said BVB midfielder Marco Reus. "I watched him in his training sessions and I think he has some real football skills. I can't wait to see what he does next."
Under the watchful eyes of Borussia Dortmund's coaches, the World's Fastest Man took part in a closed training session, and tested the 'Footbonaut,' BVB's famous training device. On Friday, he took to the pitch in an open training session with the squad, surrounded by fans who showed up to see their favorite team's special guest, then received a skills assessment from the club's coaches.
To support this week's football activities, PUMA Football supplied Usain with a custom pair of PUMA Future boots, customized with the Jamaican flag on the outsole and laces colored in the famous black, green & yellow of his nation.
TO DOWNLOAD BROLL FOOTAGE PLEASE USE THE FOLLOWING LINKS:
###
PUMA is one of the world's leading Sports Brands, designing, developing, selling and marketing footwear, apparel and accessories. For over 65 years, PUMA has established a history of making fast product designs for the fastest athletes on the planet. PUMA offers performance and sport-inspired lifestyle products in categories such as Football, Running and Training, Golf, and Motorsports. It engages in exciting collaborations with renowned design brands to bring innovative and fast designs to the sports world. The PUMA Group owns the brands PUMA, Cobra Golf and Dobotex. The company distributes its products in more than 120 countries, employs more than 11,000 people worldwide, and is headquartered in Herzogenaurach/Germany. For more information, please visit
http://www.puma.com
.
Contact
Client Relations

TheNewsMarket

clientrelations@thenewsmarket.com