Star Striker Sergio Agüero Takes his Tricks to the Track in a Race Off with Formula 1 Driver Nico Rosberg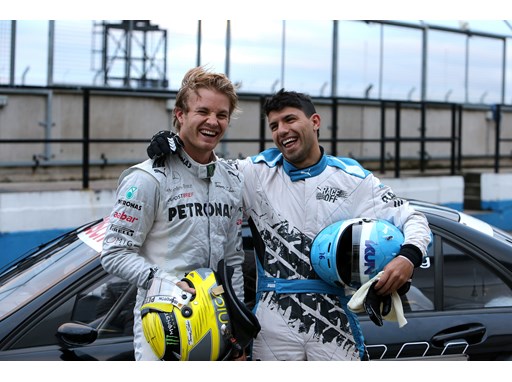 What happens when you put an Argentinean international footballer on a race track with a seasoned Formula One driver?
This summer, MERCEDES AMG PETRONAS Formula One Team driver Nico Rosberg challenged some of the best sportsmen to prove their talent in the fastest of sports, taking part in a training session on a fully authentic F1 simulator before being let loose to record a time around the legendary Monza race track. Rosberg threw down the gauntlet by setting a lap time 1:21.05 but was staggered by a response from Sergio Agüero who topped the challenger leaderboard with a time of 1:22.58.
The Argentinean was brought to Donington Park Racing Circuit in the UK where he was given a lesson by Nico Rosberg, before putting his talent to the test on the track in a race-tuned Mercedes C 63 AMG performance car. He tore around the track, setting impressive lap times, proving his feet work almost as well on the pedals as they do the football pitch. Not wanting to be outdone however, the German F1 driver then gave Agüero the ride of his life in a Mercedes DTM car.
Sergio Agüero said at the end of the day, "I was very happy to win the PUMA Race Off challenge and prove how fast I am in an F1 simulator, and today I showed Nico Rosberg how fast I can be on a real track." Nico Rosberg added, "Sergio sure knows how to drive. He's a great guy but I didn't want him getting too cocky so I enjoyed showing him what I could do in the Mercedes AMG DTM car. Now he knows what real racing is all about!"
An embeddable video showing when Agüero met Rosberg at Donington Park is available
here
. Available material includes b-roll, soundbites and still images.