THREE TIME F1 WORLD DRIVERS' CHAMPION LEWIS HAMILTON SHOWS HIS ARTISTIC TALENT IN SÃO PAULO, BRAZIL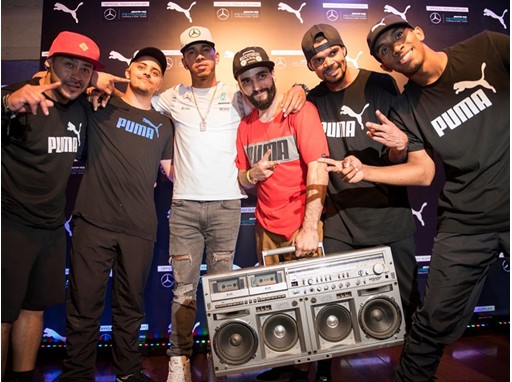 The MERCEDES AMG PETRONAS Formula OneTM Team Driver Helps Create Graffiti Mural Showing His Experiences of Brazil, Alongside Artists Los Kueios+Liam
Last night in São Paulo, Lewis Hamilton swapped the steering wheel for a spray can to showcase his creative side and love for street art. At a PUMA event in "Mirante do Vale", the second highest building in the Brazilian city, the MERCEDES AMG PETRONAS Driver showcased his talent by helping create a graffiti mural alongside the Brazilian artists Los Kueios + Liam Bononi that depicted his experience and attraction to the South American country.
About his experience in São Paulo, Lewis Hamilton commented, "I have a special affection for Brazil and for the people here. Whenever I'm in the country I'm always made to feel so welcome - and this time has been no different. However, I was really surprised when I got to experience the Brazilian underground culture up close. It's so rich and full of style. It was an honour to share the production of the mural with the artists and the final result is something special."
Media can embed this video here:
<iframe width="560" height="315" src="https://www.youtube.com/embed/UfntVBgUb1w" frameborder="0" allowfullscreen></iframe>
PUMA Brazil´s Head of Marketing, Fabio Kadow said,
"It is a privilege for PUMA to have the opportunity to show the world Lewis Hamilton's charisma and also showcase the street culture of São Paulo, going far beyond the global clichés of what Brazil is made of."
The event recreated a small sample of various urban elements that give São Paulo the cultural diversity that makes it special, including street art, music and dance. The artist trio was composed of Los Kueios+Liam. Los Kueios, a São Paulo duo known for mixing realism and 3D in graffiti, who have participated in major national graffiti events. Also Liam Bononi, from Minas Gerais, Brazil, was invited to add the delicate features of his art to the final story.
During the event, about 100 special guests gave a warm welcome to Lewis Hamilton ahead of the 2016 Brazilian GP on Sunday at Interlagos.
Contact
Client Relations

TheNewsMarket

clientrelations@thenewsmarket.com