USAIN BOLT AND STAR STUDDED LINEUP STEP UP TO UNVEIL REVOLUTION IN FOOTWEAR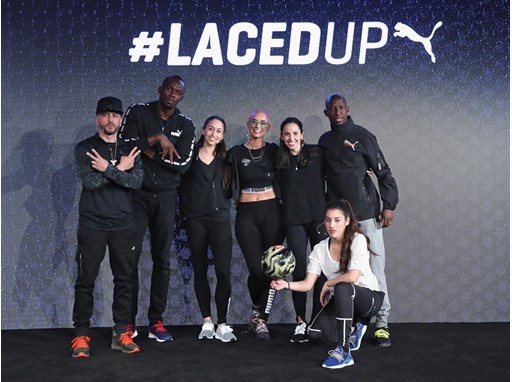 PUMA
®
​
reinvents lacing with NETFIT technology
PUMA gave an excited VIP crowd of guests, sneaker freaks and influencers the first look at the future of sports and lifestyle footwear at a star-studded event in New York last night. PUMA creative partner YesJulz hosted the event where the world's fastest man, Usain Bolt, unveiled the new NETFIT range of footwear alongside performers from the New York City Ballet, reggaeton artist and producer Yandel, soccer player Bradley Wright-Phillips, and soccer freestylers Lisa Freestyle and Easy Man. Guests then headed into the NETFIT Lacing Lab to start lacing their own shoes and express their own style.
NETFIT Technology is a unique customizable lacing system that offers infinite performance and style options in one shoe. The system enhances fit and support by combining a high grade engineered net with form-fitting base materials. With netted mesh, users will now have complete control and versatility over how they lace up. No matter the style, needs, or shape, you can customize your shoe the way you see fit.
From the track, to the gym, to the street, NETFIT Technology will be featured on several shoe models including the IGNITE NETFIT, Tsugi NETFIT and 365 IGNITE NETFIT among others. The innovation and performance teams at PUMA have developed five different lacing options to help provide guidance, but the possibilities to lace are endless.
Rights free video content can be downloaded from these links:
Usain Bolt
Yandel
YesJulz
Meagan & Brittany
Bradley Wright Philips
Adam
Sizzle Video: https://spaces.hightail.com/receive/IKTvIz5OIb/fi-868d8ce2-fe73-41b9-83ec-c11fcdf496f3/fv-2524099a-16c7-42a8-8ea0-f002157cd05b/Puma%20Sizzle_PAL.mp4
PUMA NETFIT Technology will officially be launched in May 2017 and will be available starting now with the Speed IGNITE NETFIT; from May 10th with 365 evoKNIT NETFIT; from June 1st in men's and women's IGNITE NETFIT and Tsugi NETFIT; and from July 1st the IGNITE Limitless NETFIT, Tsugi NETFIT, 365 NETFIT, evoSPEED NETFIT Indoor, and more.
Please follow @PUMA Facebook, Twitter, Instagram and Snapchat for more product stories.
#LacedUp