19-JUL-2013

SOURCE: Reebok
Reebok Classic Live With Fire Campaign Fall/Winter 2013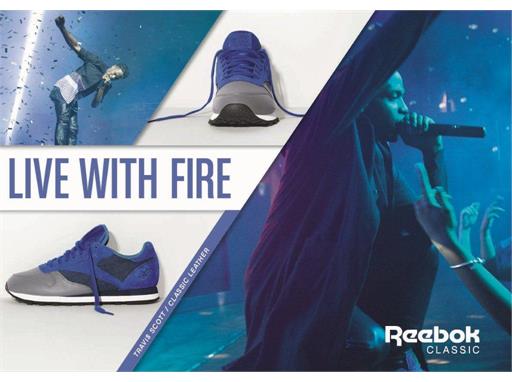 Reebok Classic's FW 13 TVC, print and digital campaign centers around the notion that life is made up of various key moments which shape and define your life, and make you who you are today. Reebok call these 'spark moments' and they act as part of Reebok's over-arching brand principle; Live With Fire.

Living with fire is at Reebok's core. It is an attitude, a lifestyle, a principle, an approach. It affirms, it improves, it enables, it enhances and it uplifts. Living with fire is living with passion, energy, enthusiasm and drive. It's what creates exceptional experiences and unforgettable moments.

Living with fire is a lifestyle choice which applies to all aspects of life. It is about passion, energy and a hunger for life's experiences; from the court to the club, from the park to the concert, from the gym to the party. Living with fire is about living with purpose and living in the moment, whether through physical activity, creative endeavor or self-expression and style.

Music is a catalyst for creating moments of passion, of letting go. Reebok Classic has had a long-standing connection to music, which has always been part of the brand's DNA and rich heritage. The fusion of music, art, fashion and fitness form a cross-section for a passionate lifestyle, reflecting the ethos of Reebok Classic itself.

For FW 13, Reebok Classic is supporting new talent by working with three hand-picked music artists who embody the spirit of living with fire, through their creativity, style and approach to life. These artists are Ace Hood, Travi$ Scott and Kirko Bangz, with additional global artists to be incorporated into the campaign throughout the remainder of the year.

The campaign focuses on their throwback spark moments, celebrating key life moments which were significant in their own way - whether big or small, life-changing or instantaneous. As a brand with authentic heritage, Reebok Classic has been a part of these spark moments since the early 80's.

Ace Hood is signed to Dj Khaled's label 'We The Best' and Cash Money records. A Florida native, he grew up with a confidence, raw energy and larger than life personality which steered his 'live with fire' approach. Whether rapping on his porch back in the day or performing on stage in front of crowds, Ace Hood's passion for music has created his vivacity and drive, forming standout moments in his life.

Travis Scott is one of XXL's Freshman class picks for 2013 and has spent recent months working with Kanye West, most notably contributing to the track 'Sin City' which features on G.O.O.D. Music's Cruel Summer. For Travis, making beats in his bedroom provided the spark moments which shaped his future.

Kirko Bangz also features in XXL's Freshman class for 2013. His track, "Drank in my Cup" has been remixed by J Cole, 2 Chainz, TYGA and Trey Songz. Kirko first grabbed the mic in his early teens and this moment led to him realizing that he was more than just a kid who loved rap; he was a rapper. His focused work ethic, enthusiastic nature, passion and drive make him on the verge of becoming a major player.
Contact
Client Relations

TheNewsMarket

clientrelations@thenewsmarket.com