04-DEC-2015

SOURCE: Rolex
Year of Mentoring - Literature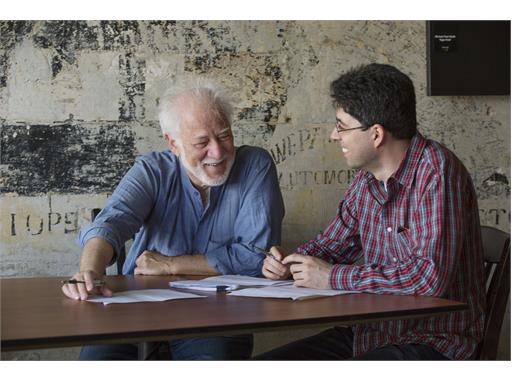 From the start of their mentorship, a deep core of shared experience – both changed countries and cultures, both have careers as teachers and writers – united Canadian Michael Ondaatje (originally from Sri Lanka) and Bulgarian Miroslav Penkov. Each had moved from far away to build a literary career in North America. Spurred on by these similarities and by a profound love of writing and literature, the pair developed a strong literary friendship, exchanging messages and books, and travelling together in Canada, the United States and Bulgaria. They discussed a multitude of books – and films, another shared interest. A major focus for the young Bulgarian short-story writer was his debut novel, which, for three years, he had been writing in English, his second language. Ondaatje was highly impressed with his protégé's first draft, but suggested one change to the narrative structure of the work. "It made a big difference," said Penkov. "It was a small adjustment. But it was huge." At the end of the mentoring year, Penkov was delighted with the whole experience, especially as he had completed his novel – which has now been bought by an American publisher. Scheduled for publication in March 2016, Stork Mountain has already been described by one reviewer as "a marvel of a novel. Penkov has written a rollicking, poignant delight." Penkov also now has a literary pen pal, who happens to be one of the world's most renowned contemporary novelists.
Michael Ondaatje
Mentor
Considered one of today's greatest writers, Sri-Lanka born, Canadian Michael Ondaatje is recognized for his evocative narrative and lyrical style. Over nearly five decades, he has won international acclaim and numerous literary awards for his poetry and best-selling novels, including the Booker Prize-winning The English Patient (1992) and, more recently, Anil's Ghost (2000), Divisadero (2007) and The Cat's Table (2011). He is also known for his non-fiction.
Miroslav Penkov
Protégé
Bulgarian-born writer Miroslav Penkov wants to "give voice to a voiceless people" by allowing the world to read about Bulgaria, and for the people of Bulgaria to start reading local literature again, after years of being mired in economic crisis. An Associate Professor of English in the Creative Writing Program at the University of North Texas, Penkov first came to the United States at age 19 to study psychology at the University of Arkansas. He ultimately received an MFA in Creative Writing in 2009, after short story writer and professor Ellen Gilchrist recognized his talents and encouraged him to keep writing. Penkov's first story collection, East of the West: A Country in Stories (2011), won the BBC International Short Story Award in 2012, among other prizes. His story Blood Money (Granta, 2013) covers racial intolerance in Bulgaria. He perceives his books, written in English and Bulgarian, as links in a single chain. His first novel, Stork Mountain, completed during his year with mentor Michael Ondaatje, will be published in March 2016.
MICHAEL ONDAATJE
" What was important, what was similar for both of us, is that we were from other countries and now in North America, and we were writing about these other countries where we had come from. "
" I found Miro's short stories remarkable. They were vivid and exciting. I read about a new landscape – where the characters had a distinct value system and so behaved by necessity in a different way. When I turned to his novel, I discovered an entirely new and ambitious creature. "
MIROSLAV PENKOV
" I think the longest, deepest effects of this mentorship won't emerge until book three, four or five. It's about learning about being a writer for the rest of my life. "
Contact
Client Relations

TheNewsMarket

clientrelations@thenewsmarket.com