04-DEC-2015

SOURCE: Rolex
Year of Mentoring - Music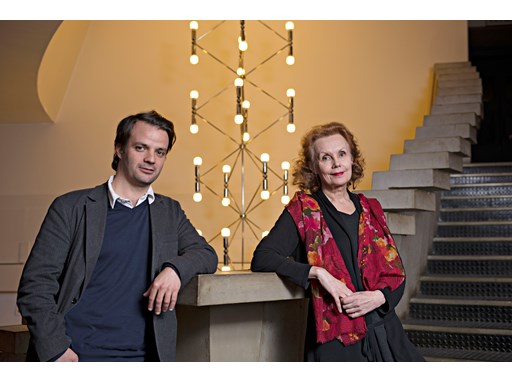 The mentorship of Finland's Kaija Saariaho and Portugal's Vasco Mendonça unfolded enthusiastically in encounters across the world, from Los Angeles to Helsinki. Their professional relationship proved to be both dynamic and highly productive. They carefully planned the mentoring year, and the year passed according to plan, as they attended performances of each other's music around the world – in Mexico, music by each of them was played at the same event – and engaged in stimulating intellectual discussions about their work and other artistic matters. Most protégés, especially in dance and theatre, for example, learn by watching their mentors at work, but, as Saariaho pointed out, there was no point in Mendonça watching her as she composed music. Instead, as well as attending performances together, the mentor gave generous advice from the sublime to the practical. She helped him to step back and look at his music as a whole, while simultaneously guiding him in more mundane matters, such as what fees to charge for new works. An essential element of a young composer's success is publication of the music, and Saariaho introduced her protégé to people who would assist in this and other practical ways. At an artistic level, mentor and protégé had much to share. Though their music is very different – Saariaho's dazzling but often dark, and Mendonça's austere and sometimes experimental – they share a love of vocal music and opera, which is one of the main reasons why Saariaho chose Mendonça as her protégé. Most important of all, they discovered that, as the basis for their highly creative lives, they each have a strong commitment to their families, which underpins all their work. Family life, says Saariaho, "makes professional problems and successes relative".
Kaija Saariaho
Mentor
Acknowledged as one of the leading and most original composers of recent times, Kaija Saariaho is known for her brilliant creations that often blend traditional instruments with electronics for chamber music, orchestral works and operas, which she produces in collaboration with artists such as Amin Maalouf, Peter Sellars and Esa-Pekka Salonen. The Finnish composer was awarded Sweden's prestigious 2013 Polar Music Prize.
Vasco Mendonça
Protégé
Portuguese composer Vasco Mendonça is attracting considerable attention for his work on the international music scene. "Mendonça is a genuine artist, whose work displays a high level of craftsmanship and a fine aural imagination," says British composer and former teacher George Benjamin. Following music studies in Lisbon and Amsterdam, Mendonça studied at King's College, London, from 2007–2008. He has also taught analysis and composition in Lisbon for five years. Recent notable works include the chamber music piece The Boys of Summer (2012), co-commissioned by the Aldeburgh, Aix-en-Provence and Verbier festivals, and an hour-long chamber opera, The House Taken Over (2013), commissioned by Aix-en-Provence Festival (which has premiered several of his pieces and invited him to give masterclasses) and LOD Muziektheater. Mendonça's Ping recently premiered in the United Kingdom. Adultery, his new piece for soprano, clarinet and cello, premiered in Helsinki in February. In July this year, he began work on a new opera.
KAIJA SAARIAHO
" It's given me a chance to have several interesting discussions with a talented younger colleague – and to get to know his music and ideas better. I really am learning from Vasco when I see music and life and problems through his eyes. "
" You can watch someone paint or sculpt or dance or conduct, but composing is a solitary profession. There's nothing Vasco could gain by sitting and watching me compose," she says. "So, instead, I have been looking at and hearing his music, conversing with him about music and life, and bringing him to assist at rehearsals and performances of my music so that he can also get to know my colleagues. "
VASCO MENDONÇA
" Kaija has been very generous and very active in introducing me to people and facilitating ways for my work to be shown. I think that is one of the most important aspects of this programme. There are so many good composers nowadays, but to get to the level of achievement and recognition Kaija has, is something quite unique. "
" My discussions with Kaija about the libretto [for his second opera] were helpful. To have a second pair of eyes, and such talented and experienced ones, is invaluable because you have to put a lot of thought into what you want to do with a libretto, what type of opera you want to create. "
" We've established a connection and a personal relationship, and I don't see why it won't continue. "
Contact
Client Relations

TheNewsMarket

clientrelations@thenewsmarket.com