04-DEC-2015

SOURCE: Rolex
Year of Mentoring - Theatre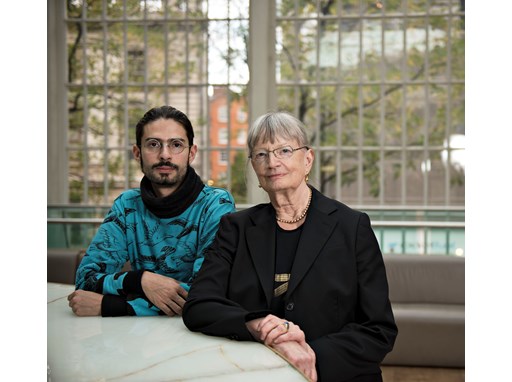 Lighting is a key ingredient to any successful performance or artistic event, be it theatre, opera, ballet, concert or exhibition. Jennifer Tipton has won deep respect throughout the artistic world for her mastery of the medium. The Rolex Arts Initiative enabled young Mexican lighting designer Sebastián Solórzano Rodríguez to sit alongside Tipton as she lit up rehearsals and performances in London, Barcelona, Paris, New York, Houston and Madrid, and to invite her to his hometown, Mexico City. While Solórzano Rodríguez and Tipton had a concrete plan of action at the beginning of the mentoring year, he later said he could not have foreseen how dramatically his ideas about lighting design would change. He observed her in rehearsals and she studied her protégé's work and delivered incisive critiques. An important element in Rodríguez's learning process was being able to compare one production – and its lighting – with another. In some the lighting dominated, in others it was invisible. Solórzano Rodríguez was delighted to discover that his mentor, some of whose classes at Yale University's School of Drama he was able to attend, is a gifted teacher. At the end of the mentoring year, Solórzano Rodríguez said his life had "changed forever".
Jennifer Tipton
Mentor
Hailed as "the world's most remarkable creator of lighting", American Jennifer Tipton has made significant contributions to her profession over nearly 50 years of lighting theatrical, dance and opera productions. She is currently principal lighting designer for the Paul Taylor Dance Company and the Wooster Group. A long-serving adjunct professor of design at Yale, Tipton has influenced a generation of lighting designers.
Sebastián Solórzano Rodríguez
Protégé
Mexico's Sebastián Solórzano Rodríguez uses light to express himself as an artist. The son of a dancer and an actor, he grew up playing backstage in the theatre. Having decided to learn lighting design through work instead of school, he began his career by painting scenery and becoming scenography and lighting assistant for Cornamusa, a production agency. He then began creating stage lighting for many companies, such as Ceprodac, the National Contemporary Dance Production Centre of Mexico. Concurrently, he works with Luz Y Fuerza, an interdisciplinary group he co-founded that makes handmade light devices for art installations and expanded cinema performances. He is now focused on researching the choreographic dimension of lighting design.
JENNIFER TIPTON
" I felt very strongly that Sebastián should observe, as opposed to assist me, because in lighting, if you assist, your head is always in the paper or the computer screen, and you're not looking at the stage. "
" Rolex protégés see how someone works on the world stage; I think that is a rare opportunity. "
SEBASTIÁN SOLÓRZANO RODRÍGUEZ
" I have learned about [Jennifer Tipton's] creative process, how she makes decisions and works with technicians, how she establishes a dialogue between the work and the space in a scene. Afterwards we talk about what I have seen. I am like a shadow and I am happy with that. "
" She [Jennifer Tipton] told me something that I will never forget: 'Lighting is a composition in space and time'. "
" Jennifer loves to teach. That is something very important when you are teaching. She really loves to spread information. It's just incredible how she works and how she sees. "
Contact
Client Relations

TheNewsMarket

clientrelations@thenewsmarket.com