04-DEC-2015

SOURCE: Rolex
Year of Mentoring - Visual Arts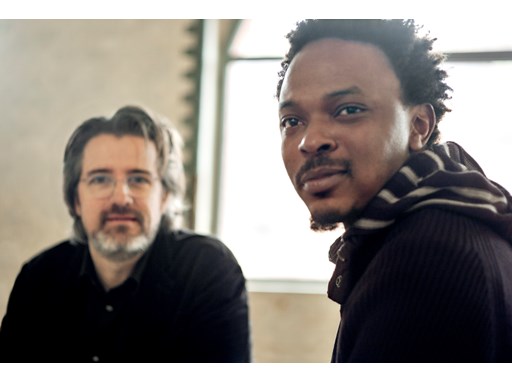 The mentorship of Sammy Baloji by Olafur Eliasson consisted of a series of numerous short but intense encounters, mainly in Berlin, where Eliasson has his studio. From the start, according to Baloji, his mentor declared that "I [Baloji] shouldn't treat him as the one who knew everything. He also wanted to learn from me. There was no plan. He said it would bring what it would bring. If I started to expect something, then I would be lost." They built – quickly and apparently effortlessly – a strong rapport, combining intellectual discussion about art with clear advice for Baloji to develop his creativity across a spectrum of artistic media. Eliasson, known worldwide for his highly inventive art installations, was the ideal mentor to work with Sammy Baloji at a crucial point in the protégé's artistic path – Baloji's move from photography to new media was at the centre of many of his exchanges with Eliasson. Baloji's first installation, created for exhibition at the Venice Biennale, was a major focus of the mentoring process. A recreation in shining copper of a church dome in Belgium dedicated to Europe's war dead, Baloji covered it with motifs of scarification – the etching of a pattern on to the body, a practice once common in Africa. The dome is a powerful evocation of the relationship between colonizers and colonized. Eliasson declared the work was a great success at Venice, but he played down his own contribution. Baloji disagreed: "He showed me other approaches," he said. "It was not just a case of listening." Eliasson added that not only the dome, but all the processes involved constituted a work of art: "The world might not necessarily see it, but it doesn't matter. If Sammy sees it, it's enough."
Olafur Eliasson
Mentor
Danish-Icelandic artist Olafur Eliasson's works span photography, installation, sculpture and film. Eliasson represented Denmark at the 50th Venice Biennale in 2003 and later that year installed The weather project at Tate Modern, London. Projects in public spaces include The New York City Waterfalls, 2008. Harpa Reykjavik Concert Hall and Conference Centre, for which Eliasson created the façade in collaboration with Henning Larsen Architects, was awarded the Mies van der Rohe Award 2013. In 2009, as a professor at the Berlin University of the Arts, Eliasson founded the Institut für Raumexperimente (Institute for Spatial Experiments).
Sammy Baloji
Protégé
Artist-photographer Sammy Baloji works between Belgium and his native Democratic Republic of the Congo where he creates haunting photomontages of his homeland. "I use photography as a tool of observation to write on my society," says Baloji, whose photographs have been praised for their "rich form and strong content" by the director of London's Tate Modern. Baloji graduated from the University of Lubumbashi and began his career as a comic-book artist. In 1993, he helped establish the Vicanos Club art collective and went on to focus on photography, creating photographic series that have been widely exhibited in Europe, the U.S. and Africa. His most famous series, Mémoire (Memory, 2006), juxtaposes images of Katanga's once-rich mining industry with landscapes of today's industrial ruins. Winner of the Prix Afrique en création (2007), the Prince Claus Award (2008) and the Spiegel Prize (2012), Baloji co-founded the Lubumbashi Biennale, which led to the formation of the Picha Art Centre whose mission is to support emerging Congolese artists. In 2015, his work was featured at the Venice Art Biennale and the Lyon Biennale. He will have a solo exhibition at the Contemporary Art Center Brussels in March 2016.
OLAFUR ELIASSON
" I chose Sammy [from a shortlist of possible protégés] because his idea of working was at a very early stage of gaining a formal language, but it had taken directions that I thought were inspiring. He had chosen certain trajectories and was still working on giving those trajectories form, but I could see that it was interesting. It was not a traditional white-cube trajectory; there was a non-careerist element to it that was fascinating. "
" Our encounters have been short but intense," said Eliasson. "The more often you meet, the better you get to know each other and the better sense we get of each other's language. "
SAMMY BALOJI
" He [Eliasson] didn't tell me which direction I should go in," said Baloji. "Instead, he showed me how he worked, and encouraged me to find my own way through. He said there was no rule: you have to experiment. He's not concentrated in just one field. He can make artworks with photography or video; he can make installations; he can make art with water; sometimes he makes paintings. I am trying to understand how he chooses one medium over another, and how he knows that the object reflects his thinking. "
Contact
Client Relations

TheNewsMarket

clientrelations@thenewsmarket.com