17-SEP-2013

SOURCE: Sabra
Sabra Drafted as Official Dips Sponsor of the NFL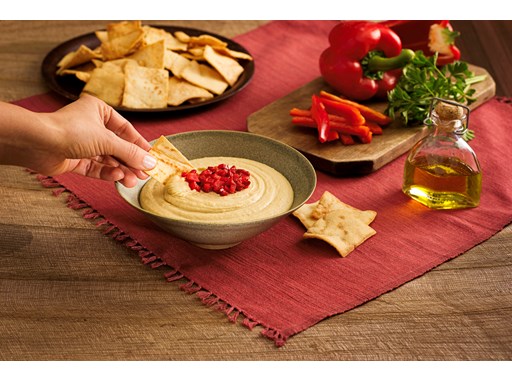 America's Favorite Hummus Manufacturer Kicks off the 2013-2014 Football Season
Sabra
®
Dipping Company (www.sabra.com) is kicking off the 2013-2014 football season with a full line up of activities to celebrate its second year as the Official Dips Sponsor of the NFL. Sabra, which leads the fast-growing hummus category with greater than 60% market share, is fast becoming the go-to brand for casual entertaining with delicious dips and spreads including hummus and freshly flavorful salsa, guacamole and Greek yogurt based chip and veggie dips perfect for game day gatherings.
"We are thrilled to team hummus, America's new favorite dip, with a favorite pastime… football," said Ken Kunze, Sabra Dipping Company, CMO. "From tailgating outside the stadium to gathering with friends to watch at home, Sabra is looking forward to helping fans dip life to the fullest this season. Through social media, in store promotions and live events, we will offer great prizes, lots of free product and a complete Guide to Good Tailgating with dozens of delicious, easy recipes and tips for new ways to dip. We've been training for this. Thrilled to be here!"
Sabra's football season playbook includes something for every fan, from easy game day recipes to high profile events:
National Sweepstakes:
Visit
www.sabra.com
or
www.facebook.com/sabra
between 11/1/13 and 2/2/14 to enter to win product coupons, Sabra swag and Dip Life Party Packs worth $1,500.
Guide to Good Tailgating:
Looking for a new twist on game day entertaining? Sabra's full-color guide will feature more than a dozen new game day recipes contributed by Sabra Tastemakers, top bloggers and chefs. Beautiful, Pinterest-friendly recipes can be found during playoff season on
www.sabra.com
.
National TV and Print Tailgate Tour:
Look for Sabra on a morning show or in a newspaper near you. Chefs, bloggers and lifestyle experts will share their favorite game day recipes throughout the season.
"This year, we are looking forward to bringing hummus to more football fans. With 60% of hummus fans consuming hummus at social gatherings, tailgating presents an ideal opportunity to share recipes and introduce Sabra to more households," said Greg Greene, Sabra Marketing Director.
Sabra produces more than a dozen varieties of hummus including Roasted Red Pepper and Roasted Pine Nut as well as single serve snack packs and hummus packaged with Rold Gold® pretzels. Sabra also produces 2 Guacamoles, 2 Greek Yogurt dips and several fresh Salsa varieties including a to-go pack with TOSTITOS
®
tortilla chips.
To Get Game Day Started:
Hummus Garlic Bread
INGREDIENTS
1 loaf French bread (about 12-14 inches long)
1 container Sabra Roasted Garlic Hummus
1-2 tablespoons chopped garlic
½ cup grated Parmesan cheese
YIELD 4 Servings
(1) Preheat Broiler
(2) Slice French bread in half-length wise. Set aside
(3) Mix Sabra Roasted Garlic Hummus and garlic together in a small mixing bowl. Spread hummus mixture on French bread halves. Place bread on a baking sheet. Sprinkle with Parmesan cheese
(4) Broil bread on a wire baking rack located in the middle of the oven, not too close to the broiler. Broil 2-5 minutes or until edges are crispy and the cheese is browning. Watch the bread closely as broilers vary greatly in their timing.
(5) Cut each half of bread into quarters. Serve warm
About Sabra Dipping Company, LLC
Sabra Dipping Company, LLC is the leader in the refrigerated dips and spreads category and producer of America's top-selling hummus. Sabra's award-winning hummus, available in more than a dozen flavors, and a wide range of authentic and healthy dips and spreads, including salsa, guacamole, and Greek yogurt vegetable dip, can be found nationwide in club stores, supermarkets, specialty retailers and through food service. Sabra operates a silver LEED certified factory in Virginia, and has received an A-Classification from the British Retail Consortium (BRC) audit board for food safety for its California Salsa plant every year since 2011. Find Sabra at www.sabra.com, www.facebook.com/sabra and @Sabra on twitter.
Sabra Dipping Company was formed as a U.S./Canadian joint venture between Strauss Group and PepsiCo. The Sabra joint venture draws on both Frito-Lay, a division of PepsiCo, and Strauss Group's expertise to continue building this growing business.
Contact
Client Relations

TheNewsMarket

clientrelations@thenewsmarket.com