On the move with the SEAT Arona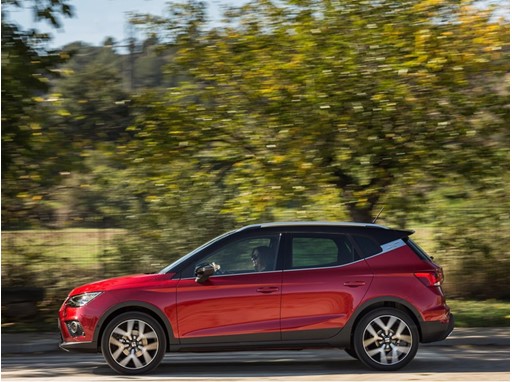 More visibility and greater control of the road, the first impressions at the wheel of the new SEAT Arona
68 different colour combinations and the digital control panel enable this model to be highly customised
This compact crossover features the latest advances in safety assistants, such as the blind spot sensor
​Martorell, 31/10/2017.- When sitting at the wheel of the new SEAT Arona for the first time, you get a feeling of greater visibility and having more control of the road. In addition to featuring the latest advances in connectivity  and safety, this model also reflects the current trend of customization. We get a better look at it with Vicenza Mogliocco, from SEAT Product Marketing, at the wheel of this compact crossover:
-A car that suits your personality: The new SEAT Arona allows 68 colour combinations, both for the exterior and the interior of the vehicle. In response to this growing trend for customisation, customers can combine different  colours forthe roof and door mirrors as well as in the interior, where they can match the console with the dashboard.
-Greater feeling of control: "SEAT's second SUV features a higher driving position, giving greater visibility, safety and a feeling of better control of the road and what is happening around the vehicle", says Vicenza. In addition, with the Digital Cockpit, available  starting in 2018, the driver can adapt the odometer display or safely view the navigator, among other functions.
-Rugged handling stability: The Arona shares the same MQB-AO platform  with the new lbiza, which enables "more flexible manufacturing" and gives a feeling at the wheel of "stability and sturdiness", highlights Vicenza. It also adds space to the interior, and provides 400 litres of boot capacity.
-No more blind spot: A light  on the door mirror alerts the driver when there is a vehicle or an obstacle outside their field of vision. This is one of the new driving  and safety assistants included on the Arona, together  with the rear traffic alert, which is very useful when reversing out of a parking  space, as well as the possibility of letting  it park on its own with a little  help from the driver.
-Always connected: Staying connected while driving is one of the main factors considered by 30% of people when purchasing a car. As soon as she starts the car, Vicenza charges her mobile phone in the wireless tray. The Full Link system connects her smartphone to the vehicle, and beginning next year the Arona will feature the Amazon Alexa voice activated assistant, which will add more than 20,000  skills to the car, such as locate the nearest dealer, do the shopping or control a home automation system.
-An urban car that's perfect for weekend getaways:This model is aimed at "a wide audience, people with passion for life who get around inside and outside the city". With the Arona, SEAT is making  a splash in the fastest growing market segment, with 1.3 million units sold in Europe in 2016. In addition, it will be the first in its segment to offer a CNG version, which reduces fuel consumption and emissions.
Contact
Client Relations

TheNewsMarket

clientrelations@thenewsmarket.com