Two-Year Partnership - SEAT and Ducati, Power in Full at the MotoGP World Championship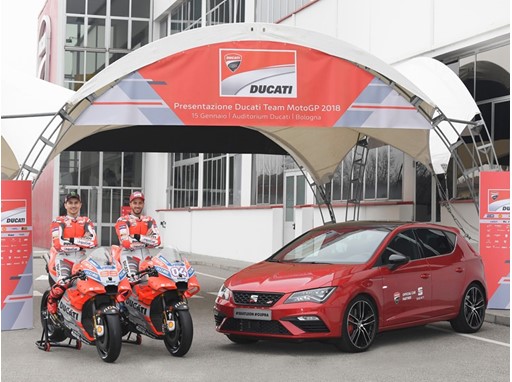 The SEAT Leon CUPRA is putting in a repeat performance as official car of the Ducati Team, which was presented today in Bologna
Riders Jorge Lorenzo and Andrea Dovizioso, both SEAT ambassadors and image of the Leon CUPRA, are vying for the title
SEAT strengthens its commitment to sportiness and motor racing
Martorell, 15/01/2018. - SEAT and Ducati have renewed their partnership agreement to jointly participate in the MotoGP World Championship. The SEAT Leon CUPRA, which features 300 hp output combining an attractive design and innovative technology, will once again be the official car next season of the Ducati Team in MotoGP, made up of three-time world champion Jorge Lorenzo from Spain and Italy's Andrea Dovizioso, the current world champion runner-up who won six races last season and battled hard for the title until the final race.
The partnership between both companies includes placing the SEAT logo on the front fairing of the Italian manufacturer's motorcycle as well as on the racing leathers of the riders and the uniforms of the team members. In addition, the Ducati riders Jorge Lorenzo and Andrea Dovizioso are also ambassadors of the Spanish brand and each have a Leon CUPRA for their driving needs. They both share values with SEAT, including dynamism and passion for motorsport
SEAT and Ducati belong to the Volkswagen Group and share values such as design and their commitment to innovation and technology. According to SEAT Sport Director of Strategy, Business Development and Operations, Antonino Labate, "we are very proud to be a part of this team and to renew this partnership with the Leon CUPRA as the team's official car. We also have two exceptional riders who are ambassadors of our brand, Jorge Lorenzo and Andrea Dovizioso, and who perfectly represent the SEAT values", he said.
Ducati Corse Sporting Director Paolo Ciabatti pointed out that "we are delighted to have SEAT on board as our official team car for a second successive year in the MotoGP World Championship. Last year our riders Andrea Dovizioso and Jorge Lorenzo had an exciting time both on and off the track with their Desmosedici GP bikes and SEAT Leon CUPRA cars, and we are sure that the 2018 season will provide them and the Ducati Team with even more satisfaction."
The Ducati Team's official car, the SEAT Leon CUPRA, features an outstanding 300 hp engine output which delivers 0 to 100 km/h acceleration in just 4.9 seconds. This model is the ultimate expression of SEAT's dynamism, combining appealing design and innovative technology. The CUPRA generates stunning performance levels that guarantee a unique driving experience.
This year's MotoGP World Championship season kicks off under the moonless Qatari sky on 18 March and concludes in Valencia on 18 November. The calendar includes a total of 19 races, one more than the previous season, with the addition of the Thai Grand Prix in Buriram. The championship racing events will be staged in 15 countries on five continents with a global audience of more than two million spectators at circuits all over the world.
Contact
Client Relations

TheNewsMarket

clientrelations@thenewsmarket.com