01-SEP-2016

SOURCE: St Moritz Art Masters
Cartier Gala – St. Moritz Art Masters Lifetime Achievement Award 2016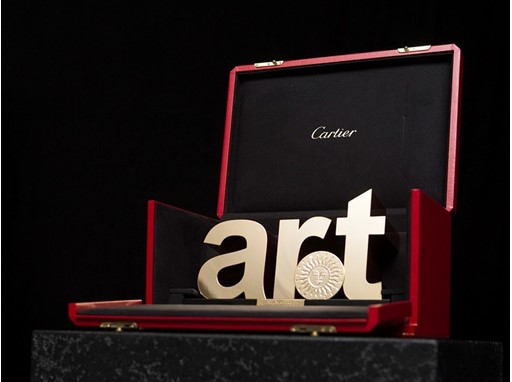 After the successful opening of this year's St. Moritz Art Masters, the first highlight of the program – the annual Cartier Night – took place on Saturday, 27th August at Kempinski Grand Hotel Les Bains.

In the spirit of the evening's theme "Black & White Glamour," the who's who of St. Moritz, Switzerland and Italy arrived in the most elegant outfits to celebrate this special night together. Among the many special guests was renowned the football trainer Fabio Capello, as well as representatives of the world's most esteemed galleries, such as Marco Voena from Robilant + Voena, Sara Forsythe from Vito Schnabel Gallery, and Mieke Buysse from Galerie Gmurzynska.

The greatest highlight was the award ceremony honoring the celebrated photographer Albert Watson. He and his wife Elizabeth were present, not only to receive the St. Moritz Art Masters Award for Lifetime Achievement created by Cartier, but also to celebrate his lifelong passion for Cartier creations.

In a room decorated in black and white stood out, among the black walls, eight black and white Albert Watson's photographs printed for this occasion by HP, in order to celebrate the Image's Great Master.

During the evening the guests enjoyed a video interview conducted by the Luxury blogger and Influencer Audrey Tritto from Audreyworldnews.com - which offered not only a glimpse of the greatness of Albert Watson as artist but also as a man.

The audience enjoyed an evening led by renowned host Silvia von Ballmoos, featuring well-known Broadway songs performed by Anna Maria Kaufmann, a delightful American-inspired dinner, and a breathtaking concert by Italian star pianist Cesare Picco, a Piano improviser and composer, Official European Yamaha Artist.

As talented creative artist, he created "BLIND DATE - Concert in the dark" a unique concert in the world, a live of pure improvisation in which both artist and audience are soaked in total darkness. He is author of ballets, operas, music for theatre and special projects performed worldwide: New York Whitney Museum, Tokyo Hara Museum of Contemporary Art, Venice Guggenheim, Milano Hangar Bicocca, Teatro Alla Scala di Milano, Hanoi Opera House, Palais Chaillot de Paris, Abu Dhabi Festival, Tokyo Jazz Festival.

He realized many collaborations with different artists, such as Andrea Bocelli, Giovanni Sollima, Hajime Mizoguchi, Naseer Shamma, Rajendra Prasanna, Markus Stockhausen, Yukimi Nagano.

Cesare Picco's personal musical alphabet goes across different genres, bringing to his listeners the freshness, the intensity and the power of a very impressive performance, a deep spiritual approach and the lightness of captivating melodies.

The founder of St.Moritz Art Masters, Mr. Monty Shadow, together with Cartier Marketing & Communication Director Pierre Bonnet, and Cartier St. Moritz representative Käthy Dobers, concluded the evening of festivities, which drew to an end around midnight.
Contact
Client Relations

TheNewsMarket

clientrelations@thenewsmarket.com