12-SEP-2016

SOURCE: St Moritz Art Masters
Montblanc Night at Château Papillon des Arts ST. MORITZ ART MASTERS 2016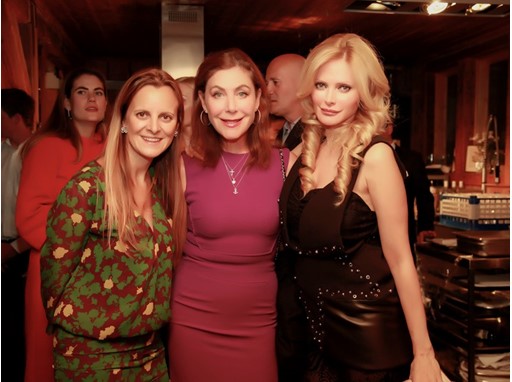 St. Moritz Art Masters celebrated, amongst the various events connected to this edition of our Art Festival, the "Montblanc Dinner" hosted by Château Papillon des Arts.


A very exclusive dinner and a venue full of "artistic vocation" celebrated Montblanc as inestimable partner of this cultural project that animated the Switzerland summer.


Very special guests, invited by St Moritz Art Masters and Montblanc, enjoyed an exclusive candlelight dinner to celebrate Montblanc's participation at this 10-day's event, where his Art Collection was exposed.


The dinner's venue, an old mountain chalet remodeled into an art location full of memorabilia and vintage objects, as radios from the 50's and old wood fired cookpots reused as decorative tables, was the setting of the evening.


Famous Artworks of the renowned French photographer Pierre Allard, who collaborated for many years with Photo Studio Harcourt, were on display in the Château. The first floor was dedicated to beam a short film showing imagines that inspired his creative photographic life.


Mr. Monty Shadow, Founder and Creator of ST. Moritz Art Masters, thanked Montblanc and Jérôme Lamber, CEO of the brand, for his ability to share this vision of art as "essential richness" of our lives.
A special thank went to Violante Avogadro di Vigliano, PR Director of Montblanc, who personally took care of any organizational aspects of this unique and unforgettable moment.


Now it's been three years since the first artistic collaboration between Montblanc and St. Moritz Art Masters started in 2014 with the presentation of their famous Art Bags, followed by a first insight into their Cutting Edge Art Collection, presented at the Kulm Hotel in 2015. This year Montblanc presented their new selection of works on display at St. Moritz Schoolhouse till September 4th, 2016.


Considering SAM's focus on "America," Montblanc has selected works by artists such as Tom Sachs, Richard Philipps, Jorge Pardo, Vincent Szarek, Kane Do, among many more, to be shown during the festival.

Since 2002, Montblanc has built a multifaceted art collection that today comprises more than 200 works by 170 internationally renowned contemporary artists, each invited to interpret the world-famous Montblanc emblem with their own unique visual vocabulary. Many of these artists were at the beginning of their careers when Montblanc acquired their works; today they are landmark of the international art world and include Jean Marc Bustamente, Thomas Demand, Fang Lijun, Stephan Huber, Jonathan Meese, Jorge Pardo, Daniel Pflumm, and Sylvie Fleury. While all of the artworks are by American artists, to reflect SAM's 2016 theme, each expresses a distinct identity and artistic vision in its approach to Montblanc's emblem in a surprising and creative way.

With his larger-than-life "Spokesperson," Richard Phillips analyzes the usability of paintings as a propaganda instrument and questions the function of painting in today's world. In the assembly "Word Up," Kane Do plays with the word "star" as a synonym for the musicians on the album sleeve and Montblanc's emblem, which Do embossed at the center of the record. In one of his dissections of contemporary culture, "Official Montblanc Authorized Trade" by Tom Sachs is a fantasy ready-made from the remainders of an imaginary transport container of apparently second-hand wooden planks stamped with an invented Montblanc seal.

Jorge Pardo's "Untitled," a series of large-format oil paintings characterized by patterns of stripes reminiscent of wallpaper designs, challenges how we perceive objects in a world dominated by the aesthetics of everyday items. A closer look reveals the fragmented Montblanc emblem in the stripes.
Further artists from the Montblanc Art Collection featured at SAM included Nicholas Forker, Robert Gratiot, Lucy Liu, Jeff Lutonsky, Vincent Szarek, Michael Vasquez, Pat York, and Friends With You.