31-AUG-2016

SOURCE: St Moritz Art Masters
St Moritz Art Masters 2016 – Albert Watson on SAM press conference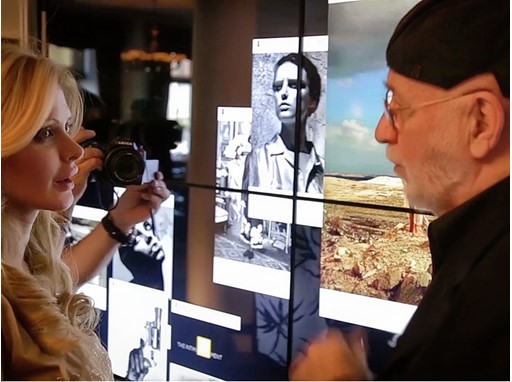 The ninth edition of St Moritz Art Masters 2016, the most exclusive Art Festival on the top of the world has officially opened. St Moritz Art Masters 2016 presented in its annual conference with international press, the great Master of photography Albert Watson, who arrived from New York to attend the opening event.

Kempinski Grand Hotel Les Bains in St. Moritz hosted some Albert Watson's works as preview of the project "the Big Five Volume 1 - Kaos by Albert Watson", which will be held in Milan from November 16 to January 16, 2017 in the "Museo della Permanente".

The press conference, under the creative direction of Mr. Monty Shadow, and cured by P.R. Nadine Dinter, took place in the "lounge bar" of the hotel, decorated for the occasion, in an appropriate way refers to the creative dimension of the event.

International journalists, invited in St. Moritz for two days, attended the presentation of 2016 St. Moritz Art Masters' s program sitting on F1 Pirelli tires train. The presentation was hold by the founder Mr. Monty Shadow and by the organizational director of the event, Philipp Noller.

This year the Art program offers a dozen of locations where it is possible to admire artworks dedicated to contemporary American Art: from the exhibition of Albert Watson, the Montblanc Collection, Art Collection in the School House, Rauschenberg and Stella artworks within the Protestant Church in the heart of St. Moritz, to the works of Robert Longo and the photographs of Richard Avedon in the Paracelsus Forum.

Beyond Art exhibition in public places in St. Moritz, a thematic route within St. Moritz Art Galleries has been organized where it is possible to admire American Art exhibitions.
"20th Century American Masters" by Galerie Gmurzynska, "Alexis Rockman" by Robilant & Voena Galerie, "Accrochage" by Galerie Karsten Greve, "Artists During the 1980s" by Gallery Vito Schnabel, These exhibitions have completed the creative frame of St. Moritz Art Masters.

During the press conference the founder Mr. Monty Shadow thanked the sponsors who made this event possible including Cartier, represented by Mrs. Katy Dobers, HP Hewlett Packard, represented by Jennifer Stromberg, who brought the best digital state-of-art and Montblanc, represented by Mrs Violante Avogadro di Vigliano, who brought Montblanc Art Collection works.

Lamborghini, Audi and Ducati and all other sponsors which contributed to this successful edition, were publicly thanked and, thanks to them, this year's event will reward once again St.Mortiz as one of the most important places in the world for Contemporary Art.
Contact
Client Relations

TheNewsMarket

clientrelations@thenewsmarket.com