#MORETHANFOOTBALL: Building Lives and Hope Through Football
#MORETHANFOOTBALL
UEFA Action Week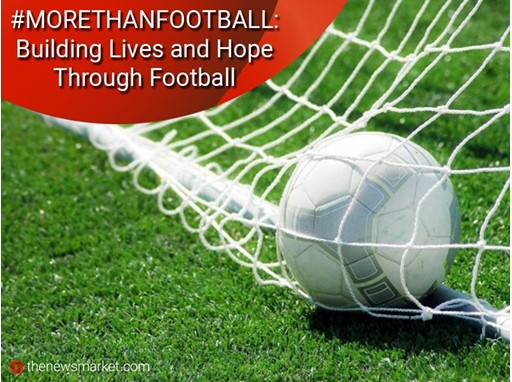 As the UEFA Foundation for Children kicks off their #MORETHANFOOTBALL Action Week, we take a look at the charitable side of the beautiful game. Just exactly how can football help to rebuild lives?
UEFA Foundation for Children presents projects to the UEFA Congress in Helsinki
UEFA Foundation for children is presenting to the 41th ordinary UEFA Congress in Helsinki a video that report about the work that has been achieved since 2 years, and how football can give back to society and contribute to improve lives of kids in difficult situation.
In fact, a few years ago, on 26 March 2014, at the 38th Ordinary UEFA Congress in Astana, Michel Platini stressed UEFA's desire to enable more people to benefit from football's role in society. Thanks to the support of the UEFA Executive Committee and the approval of UEFA's member associations at that Congress that day, UEFA created an independent foundation that uses sport to support humanitarian projects linked to children's rights in areas such as health, education and integration. Click here to read more
UEFA Foundation for Children Extends Its Support to Communities and Schools in Jordan
With the help of the Jordanian Ministry of Education, the Jordanian Football Association and streetfootballworld, the UEFA Foundation For Children and the Asian Football Development Project have provided training in non-violent communication and negotiation skills to 21 physical education teachers and football coaches, both men and women, in order help them to build positive relationships between students. Click here to read more
Fostering Inclusion Through Football
KICKFAIR seeks to bring children together, uniting refugees and non-refugees through their shared love of football. However, the KICKFAIR concept goes far beyond that. Playing the game is just an initial starting point, giving children the chance to share experiences, using football as a common language. By playing together regularly, children build trust, and that forms the basis for deeper relationships. KICKFAIR has developed various different modules, using elements of football to foster mutual understanding both on and off the pitch. Click here to read more
UEFA Foundation for Children Supports Solidarité Aveugle (Blind Solidarity) to Promote and Develop Blind Football Activities in Bamako, Mali
The story began with keen photographer Catherine Cabrol taking pictures of blind and partially sighted children at the Institut des Jeunes Aveugles (IJA), a school for blind children in Bamako. Catherine, who is also founder of the Libre Vue (Free View) association, wanted to connect with the children in a meaningful way and help them by selling her photos to fund a project to introduce the girls and boys to blind football. Thanks to her photography and the support of benefactors, Libre Vue was able to build a pitch designed especially for blind football, which opened in October 2012. Click to read more
Contact
Client Relations

TheNewsMarket

clientrelations@thenewsmarket.com