Astana EXPO 2017 on 'Future Energy'
10 Jun 2017 – 10 Sep 2017
Astana, Kazakhstan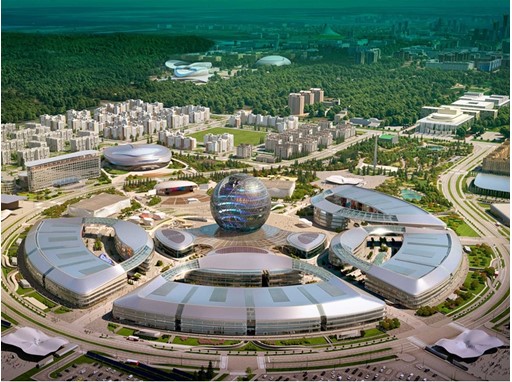 ​EXPO 2017 in Astana, Kazakhstan is an international exposition on 'Future Energy'. It will open on 10 June and run until 10 September 2017. More than 100 nations are participating in this EXPO to discuss the state of energy today, and showcase sustainable and innovative solutions that aim at:
Reducing CO2 Emissions
Energy Efficiency
Energy for all
IVECO BUS supplies 210 buses to Expo 2017 host city Astana​
IVECO BUS, the global bus brand of CNH Industrial (NYSE: CNHI), has delivered the first batch of Urbanway buses to Astana LRT LLP, the municipal transport company of the capital city of Kazakhstan. This is the first delivery in a contract for the supply of 210 Urbanway Euro VI and Urbanway Hybrid 12-meter and 18-meter buses for the city's public transport system.
IVECO BUS is the European leader in the alternative fuel collective passenger transport market, offering the most extensive range of Compressed Natural Gas (CNG), hybrid and electric vehicles in the industry. This makes IVECO BUS the perfect partner for the city of Astana, host city of Expo 2017, whose Future Energy theme will focus on "exploring strategies, programs and technologies aimed at sustainable energy development, promoting energy security and efficiency and encouraging the use of renewable energy."
Rmn-GP presents Quayola: Avantgarde with Robotic Art at the EXPO 2017​​
Visual artist Quayola employs digital media to create a new take on modern art in the Renaissance and Baroque tradition.  His Sculpture Factory with deconstructions of Michelangelo's classical sculptures are on show at the ARTISTS & ROBOTS exhibition from 10 June to 10 September 2017 in the art pavilion at the Expo 2017 in the capital of Kazakhstan.
~Quayola's work in the EXPO art pavilion is a homage to one of the most famous artists of all time. The artist engages with Michelangelo's unfinished Prigioni (Prisoners) sculpture group and interprets it by employing digital manipulations in a futuristic design language. In a three-week live performance from the start of the exhibition an industrial robot will fashion larger-than-life white 3D sculptures out of rigid polystyrene foam blocks. The sculptural products will be documented and on show in a video installation until the end of the EXPO.
Quayola will be present at the opening of the EXPO art pavilion in Astana on 10 June 2017.