Five Technology Trends Driving the Automotive and Commercial Vehicles Industry
Innovation in Transportation
Case in point: CNH, Goodyear, SEAT, Volvo Trucks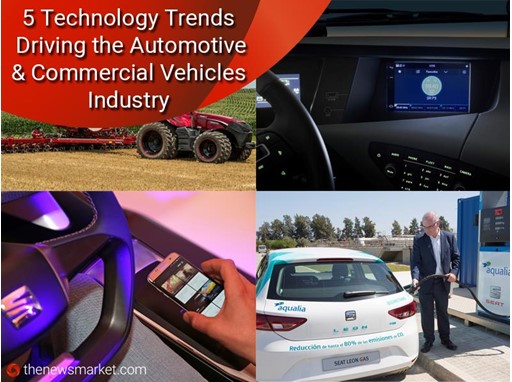 With the emergence of autonomous technologies, connectivity, electric cars, sustainable fuels and arificial intellegence, innovation has never been more important in the automotive industry. So how are brands embracing new technology to improve user experience and refine manufactring processes?
Artificial Intelligence
AI may conjure images of humanoid robots hell-bent on destroying the planet but thankfully that couldn't be further from the case. In fact, top automotive brands are increasingly turning to AI to improve vehicle performance.
Powered by Artificial Intelligence, Goodyear is giving the concept tire a 'brain'. Combined with a bionic skin and morphing tread, the Eagle 360 Urban has the ability to put knowledge into practice. The tire will become part of the vehicle's 'nervous system' and the connected world of the Internet of Things. Click here to read more​
Autonomous Driving
Perhaps the hottest trend in the automotive industry right now, manufacturers are in constant competition to implement the latest autonomous technologies.
Indeed, CNH Industrial recently saw the European debut of their autonomous concept tractor that can be operated unmanned and monitored remotely using advanced safety and control systems. The team behind the machine believes the technology could bring significant benefits to world agriculture's productivity, environmental impact and workload demands. Click here to read more​
Connectivity
As connectivity between devices becomes a larger part of our world through products such as the hugely popular Amazon Echo, it would appear that automotive brands are also keen to get connected.
Indeed, of the three future megatrends in the automotive industry (electrification, autonomous car and connected car), SEAT is committed to connectivity to position itself for the challenges it faces in upcoming years. Click here to read more​
Digital offerings provided by ABB Ability include performance management solutions for asset-intensive industries; control systems for process industries; remote monitoring services for robots, motors and machinery; and control solutions for buildings, electric-vehicle charging networks and offshore platforms. Some of the more specialized offerings address energy management for data centers and navigation optimization for maritime shipping fleets, among many others. Click here to read more​
Easier and more efficient assignment handling is made possible by integrating navigation and Dynafleet OnBoard. The driver can receive messages with GPS coordinates and communicate instantly via one point of contact. Click here to read more​
Sustainable Energy
New technology is also key to helping brands improve their green credentials, as sustainabillity remains high on the agenda.
Turning wastewater into sustainable fuel. This is the answer to two environmental challenges, namely reusing an increasingly scarce resource, water, and finding alternative energies to counter episodes of severe pollution that impose traffic restrictions in cities such as Madrid and Paris. Click here to read more​
Virtual Reality
Perhaps the hottest trend in the entertainment sphere, manufacturers are finding new uses for VR all the time. In fact, many are using the technology in the product design phases of production.
Watch how CNH Industrial uses Virtual Reality to map out machines that don't yet exist, test out an infinite number of variables and determine the safety and comfort of hypothetical drivers and passengers – all without being together in the same physical location. Click here to read more​
Contact
Client Relations

TheNewsMarket

clientrelations@thenewsmarket.com