The Healing Power of the Beautiful Game
March 21 - April 8
Worldwide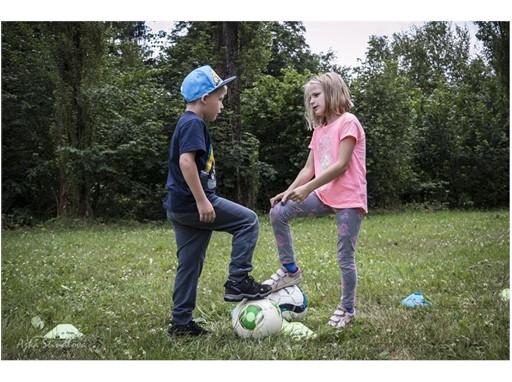 With UEFA Foundation for Children's #morethanfootball Action Weeks currently taking place, now is as good a time as any to focus on the powerful role that football plays in changing peoples' lives for the better.
The Action Weeks, run by the European Football for Development Network (EFDN) in association with various organisations in different countries, provide children, especially of migrant and refugee communities, a chance to bond and learn together through the medium of football.
For example, in the Czech Republic, the foundation's support will enable a national network of leagues to be set up. Each league will feature match days where groups from different organisations and backgrounds will play together in a spirit of respect and fair play. The focus will be on educating youngsters in targeted communities and encouraging their continued involvement in the activities after reaching adulthood. Read more here.
Another example is taking place in Egypt, where Terre des Hommes will run a football project for 1,500 young people with the aim of providing a safe, structured and friendly environment for vulnerable children to share their emotions and strengthen social cohesion. Girls and young women will also have the opportunity to take part in sports activities from which they were previously excluded. Read more here.
There are many examples of how football has brought about positive evolution to an individual's world and several of those examples belong to women. However, the challenge is that although 30 million women worldwide play football today, it is still considered a male sport; and along with this assumption comes the resistance and prejudice many females who play the sport or aspire to play experience.
Nadia Nadim, who is a professional footballer for UEFA Women's Euro, is a good example. She has loved football her entire life and has overcome many challenges to become a female footballer.
Nadim was born in Afghanistan and grew up under a Taliban regime, which forbade females from participating in sports. Despite this her father, who was a general in the Afghan army, brought home a ball for her to kick around and play with. This is when her love of football began. To read more on Nadim's story, click here.
For details on UEFA Foundation for Children's #morethanfootball Action Weeks and the many projects involved click here http://www.thenewsmarket.com/global/trending/morethanfootball-action-weeks-2018
Contact
Client Relations

TheNewsMarket

clientrelations@thenewsmarket.com