What's New on thenewsmarket.com?
May 6, 2016 *UPDATE*
London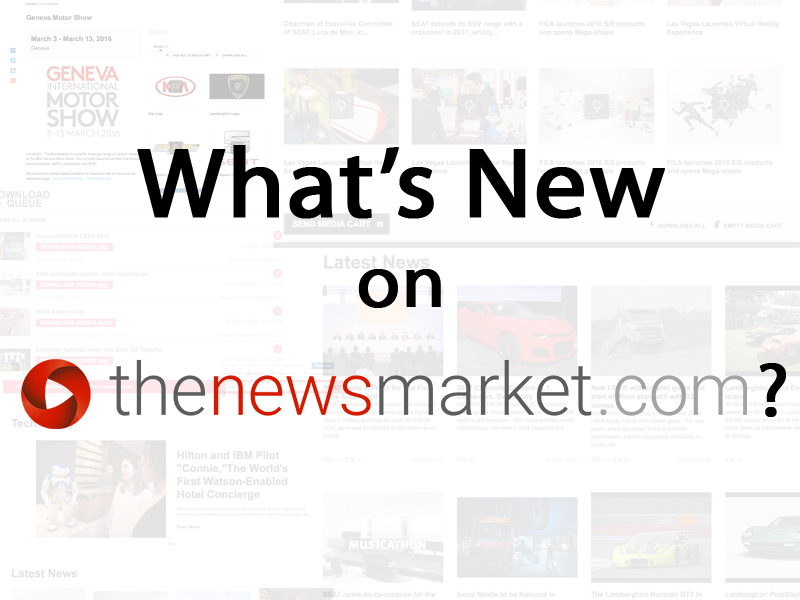 What's New on thenewsmarket.com?
As you may well have noticed, thenewsmarket.com has undergone a significant revamp! Our new and improved platform is designed to make browsing, sharing and downloading content a much easier process. Here's how…
UPDATE – Daily Digest
Want to have a quick snapshot of the day's best stories without having to check on the platform? Well now you can - thanks to our new 'Daily Digest' emails!
The Daily Digest is a handy compilation of all of the day's top stories, ensuring you don't miss out on any of our best content!
Subscribe here
and tick 'Daily Digest' to start receiving regular updates today!
A New Look and Feel...
Need to find content fast? The new site features a new and improved design to help you find the content you're looking for. We've rearranged our beat structure, ensuring you can easily find stories and assets relevant to your area of interest. Our new series of curated pages, found under our 'In The News' and 'Videos, Images & Audio' tabs, will also help you to source the appropriate assets to supplement your stories.
Changes to News Alerts
Want to keep up-to-date with the latest stories as we receive them? Our new-look 'News Alerts' provide a quick snapshot of recently published content alongside a small selection of other related stories, under our handy 'Also Available' section.
However, changes to the beat structure may have an effect on the alerts you will receive. We heavily recommend taking a few seconds to quickly review your alert preferences on the new site, to ensure you can get your hands on relevant content as soon as it's available!
Not registered but still want to receive news alerts? Simply hit the subscribe button in the top right-hand corner to receive notifications for any combination of beats. If at any point you no longer wish to receive our news alerts, simply click 'Unsubscribe' at the bottom of an email alert to be removed from the list.
Downloading Content
Want a quicker download experience? Retrieving files from thenewsmarket.com has never been easier! Simply hit the download icon to add an asset to your download queue. Once your download queue automatically appears, hit 'Download' once again and there you have it! It's as simple as that!
A New Media Cart
You can now also share your content choices with colleagues or friends via email thanks to our new 'Send Media Cart' function. Simply add assets to your media cart with a single click as you navigate through the site. Once you've finished browsing, simply hit 'Media Cart' in the top right-hand corner to review your choices, send the assets to a colleague or download them straight to your hard drive.
Access Content On-The-Go
Want to be able to access content wherever you are, and on any device? With the new platform you can do just that - browse stories, download content and send media carts from your smartphone or tablet with ease. The new platform is dynamic, responsive and, most importantly, fast!