Women's Football Reaches New Heights
November 10, 2017
Europe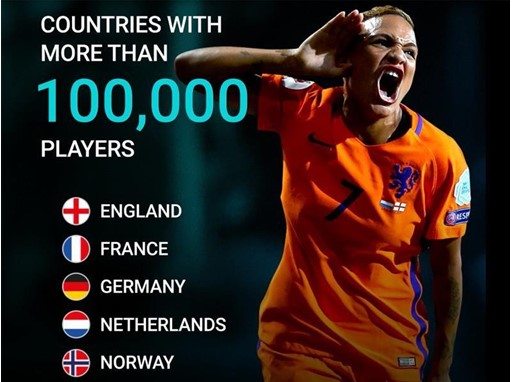 German football fans are rightfully starting to look forward to the World Cup in Russia next Summer. Their national football team have a chance of doing what no other men's team has achieved since Italy in 1938, winning the tournament twice in a row.
But their fans have something else to cheer about. The country's women's team is also on a high. Despite failing at the quarter finals at the UEFA Women's Euro 2017, they remain one of the dominant forces on the international stage and are ranked just below the USA in second place on FIFA's rankings of top teams.
Their success and the increased popularity of the sport shouldn't be seen as a surprise. Football is the number one sport for women and girls in Germany. And, according to a new UEFA report, there are currently over 200,000 registered female players in the country. This number puts Germany way out in front compared to rivals such as France, England and Netherlands.
For full details of the UEFA report and to download copyright-free media assets, click here​​.
Long-term investment in coaching has also paid off. "We've always tried to encourage female players to train as coaches", according to Silvia Neid, the ex-player and former coach of the women's team. "We have lots of women who used to play on the national team now working in coaching. Germany has been leading the way for years in that respect."
Talking earlier this year she says the game is set to reach new heights: "I think there will be even more players and bigger squads." She adds: "I see it advancing. Women's football hasn't had its heyday yet."
The women's game is getting a further boost from UEFA. Its new #EqualGame initiative is aimed at helping bring the football community closer together and tackling issues of discrimination and gender inequality.
As part of the campaign, every month UEFA will focus on a grassroots player from one of its 55 member associations. This person will be an example that disability, gender, religion, sexuality and race do not have to be barriers to playing and enjoying football.
First up is Zehra Badem, a 17-year-old girl from Berlin, who fell in love with football at a very early age. "I was four years old when I started," she explains. "Many people said to me 'you're a girl, you're not supposed to play football,' but I didn't care about that. I kept at it. Even at that age, it felt like it was the most natural thing in the world."
For more on Zehra's story, click on this link​.
#EqualGame videos will also be shown at the European Qualifiers for the Women's World Cup which will be held in France in 2019 where Germany will again be among the favourites.
For more on the #EqualGame campaign follow this link​.
Contact
Client Relations

TheNewsMarket

clientrelations@thenewsmarket.com