Year in review: Popular Stories of 2017 on TNM.com
December 29, 2017
Worldwide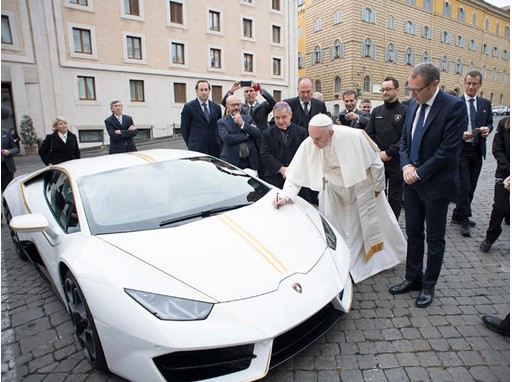 It's been a busy and fascinating year for our editorial team and the brands that share their stories here on TNM.com.
It was the year when driverless cars started to go from science fiction to science fact. And a year of major sporting events such as the Women's Euro 2017.
Next year will feature a football World Cup and the usual round of auto shows and economic and political events such as the World Economic Forum in Davos.
You can be guaranteed that President Trump and Brexit will also manage to force their ways onto the news agenda.
However, before 2018 gets underway, let's take a look back at some of the top (and some of our favourite) stories of the year:-
Automobili Lamborghini donates a customized Huracán to Pope Francis that will be auctioned for charity
The Pope went viral in 2017. Automobili Lamborghini unveiled a one of a kind version of the Huracán RWD to be auctioned for charity as a donation to Pope Francis.
The car will be auctioned by RM Sotheby's on May 12, 2018 with all proceeds donated to various charities and causes. This story proved to be very popular in the media around the world. Read more.
Las Vegas Dims Lights to Honor Victims and Heroes
The lights of Las Vegas were dimmed for 11 minutes on October 8, 2017, to honor the victims and heroes of Las Vegas shooting, the deadliest ever US gun attack that killed at least 59. Read more.
ABB's YuMi Robot Takes Center Stage in Pisa, Conducts Andrea Bocelli and Lucca Symphony Orchestra
YuMi, the world's first truly collaborative dual-arm robot, made its debut at the opera on September 12, 2017 by conducting Italian tenor Andrea Bocelli and the Lucca Philharmonic Orchestra at the Teatro Verdi in Pisa. YuMi, which is manufactured by Swiss technology pioneer ABB, was invited to the stage by Mr. Bocelli, who performed the famous aria "La Donna è Mobile" from Verdi's Rigoletto. Read more.
Eclipse flight to Munich, Germany
Lufthansa passengers were at the centre of a rare cosmic event during the August 21 flight from Mexico City to Munich. While on its way to the German city, the Airbus A340 flew over the East Coast, literally through the shadow of the Great American Eclipse. The eclipse lasted for several hours and the passengers were able to see the sun covered by up to 95%. Read more.
Interview soundbites of Women's EURO 2017 participating countries
For Women's EURO 2017, UEFA asked the players from the 16 participating countries for their views on the development of women's football: How have things improved since they started playing football? How is the women's game expanding? And what would they like this tournament to be remembered for? Read more.
Contact
Client Relations

TheNewsMarket

clientrelations@thenewsmarket.com