07-FEB-2013

SOURCE: Tudor
Tudor Becomes Timing Partner of the FIA World Endurance Championship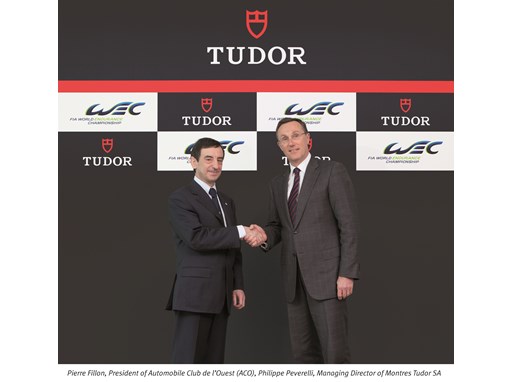 Tudor, the prestigious Swiss sporting watch brand, has become the Timing Partner of the FIA (Fédération Internationale de l'Automobile) World Endurance Championship (WEC). The recently signed agreement is a natural extension of the history that has linked TUDOR to motor sports for almost half a century. Perfectly coherent with the Tudor universe, especially with its Grantour collection, this partnership offers the Swiss watch brand a high-profile role in the WEC, one of the FIA's most demanding championships that has greatly contributed to motor sport legend.

Brand director Philippe Peverelli commented: "TUDOR is very happy to communicate its passion for motor sports through the WEC, a legend in endurance racing. This technological showcase represents what drives us forward everyday: our commitment to quality and our passion for performance."

With 8 races over the course of the 2013 season, the FIA World Endurance Championship alternates between legendary circuits (Silverstone, Spa-Francorchamps, Le Mans, Interlagos and Fuji) and locations where the history of motor sports remains to be written (Austin, Shanghai, Bahrain). If the WEC has become one of motor sports' iconic championships, it owes it for the most part to the very high level of its field – the most prestigious car makes are back – as well as to the environmental stakes that have made today's WEC one of the most brilliant displays of race car technology.

It is with this same spirit of performance that, for decades, Tudor has been creating chronographs known for their remarkable technical superiority and extreme reliability. The passion for performance that unites the WEC and TUDOR is the same as the driving force that connects the brand to Porsche Motorsport and to legendary Italian motorcycle brand Ducati, as Timing Partner.

Inspired by the world of Gran Turismo – a perfect balance between performance and style – and with its passion for the world of car racing, TUDOR launched the Grantour collection in 2009. The star of the collection, the Grantour Chrono Fly-Back, allows two time intervals to be measured simultaneously – the perfect instrument for those with a passion for the World Endurance Championship who know that this competition is often the scene of races as tense as they are captivating.
Contact
Client Relations

TheNewsMarket

clientrelations@thenewsmarket.com