25-SEP-2015

Gothenburg

SOURCE: Volvo Buses
Famous Swedish artists perform surprise gig to promote new electric bus route – All content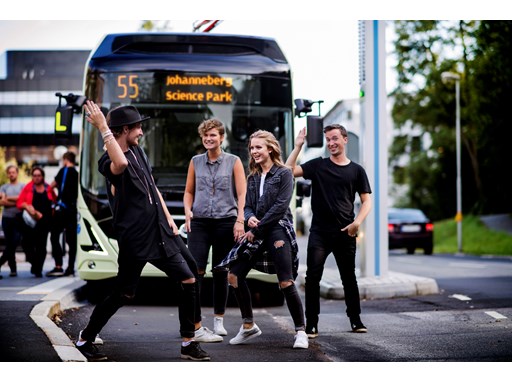 Volvo and ElectriCity are presenting Silent Bus Sessions, where some of Sweden's best singers perform acoustic surprise concerts onboard one of Gothenburg's new electric buses. The concerts are recorded and turned into music videos, to demonstrate the silence of the electric buses.
Seinabo Sey's music videos "Younger" and "Hard Time" were released September 22.
The concert on the electric bus also marked the world premiere of "Better You", the new song from Zara Larsson, one of Sweden's most talked-about artists.
Press releases are available in English (EN), German (DE), Spanish (ES), French (FR) and Portuguese (PT). Available assets for journalists include videos and images.
HD video footage include the following:
Music videos:
- Seinabo Sey – "Younger" music video
- Seinabo Sey – "Hard Time" music video
- Zara Larsson – "Better You" music video
- Zara Larsson – "Carry You Home" music video
Behind the scenes:
- Behind the Scenes Master
- Behind the Scenes Clean
- Behind the Scenes - No Graphics
- Behind the Scenes - English Subtitles
- Behind the Scenes - German Subtitles
- Behind the Scenes - Spanish Subtitles
- Behind the Scenes - French Subtitles
- Behind the Scenes - Portuguese Subtitles
- Behind the Scenes - Swedish Subtitles
Driver portrait:
- Silent Bus Sessions - Driver Portrait Master
- Silent Bus Sessions - Driver Portrait Clean
- Silent Bus Sessions - Driver Portrait English
- Silent Bus Sessions - Driver Portrait German
- Silent Bus Sessions - Driver Portrait Spanish
- Silent Bus Sessions - Driver Portrait French
- Silent Bus Sessions - Driver Portrait Portuguese
Interview with passengers:
- Silent Bus Sessions - Interview with Passengers Master
- Silent Bus Sessions - Interview with Passengers Clean
- Silent Bus Sessions - Interview with Passengers English
- Silent Bus Sessions - Interview with Passengers German
- Silent Bus Sessions - Interview with Passengers Spanish
- Silent Bus Sessions - Interview with Passengers French
- Silent Bus Sessions - Interview with Passengers Portuguese