07-MAR-2013

SOURCE: Volvo Trucks
Johannesburg School Receives Record Donation after Volvo Trucks eBay Auction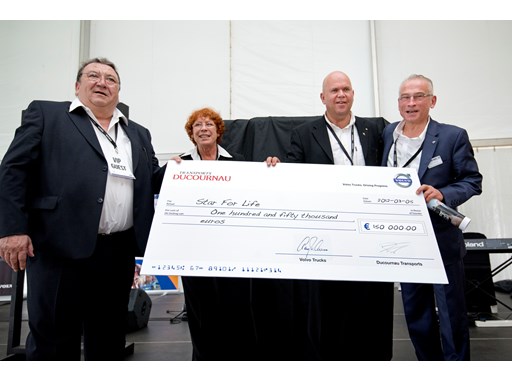 Volvo Trucks and Ducournau Transports will give the Star For Life non-profit organisation the largest donation ever made to a school included in its HIV preventive programme. The 150,000 euro donation represents all the proceeds from an eBay charity auction of the first new Volvo FH. Over the next six years, the money will fund Star For Life's educational programmes at the Mpontsheng Secondary School in Johannesburg, South Africa.

Volvo Trucks' sponsorship of Star For Life began in 2008, and has now expanded to include seventeen high schools. Before the launch of the new Volvo FH in September 2012, Volvo Trucks decided to auction off the very first series-manufactured truck on eBay. The winning bid was to be given in its entirety to a school within the Star For Life programme.

Star For Life is a non-profit organisation that aims to motivate young people to believe in their dreams and their future. They work to prevent HIV/AIDS and teen pregnancies among young students. HIV/AIDS is a massive problem in South Africa, with nearly 25 percent of the adult population infected.

Available material includes edited packages and still images.
Contact
Client Relations

TheNewsMarket

clientrelations@thenewsmarket.com