16-MAY-2013

Sweden, Gothenburg

SOURCE: Volvo Trucks
Volvo Trucks has Renewed its Entire European Truck Model Range in Eight Months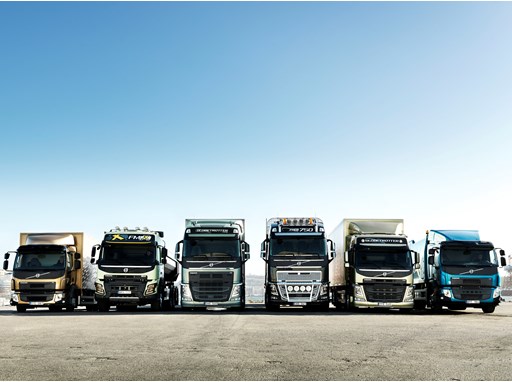 Since September 2012, Volvo Trucks has launched five new truck models. It all began last year with the spectacular launch of the new Volvo FH, followed this year by the introduction of the new Volvo FM, Volvo FMX, Volvo FE and Volvo FL. All the new models include innovations and features that make the driver's job easier and more efficient.

The visual Volvo family ties are now stronger than ever between the most powerful truck, the Volvo FH16, and its smaller siblings. Volvo's classic iron mark has been moved up to a new position below the windscreen on all models. The new headlamps with their distinctive daytime running lights also emphasise the uniform look.

All the new Volvo trucks offer a wide range of benefits for the drivers. All cab environments have been renewed or upgraded with the focus on creating an effective, ergonomic, comfortable and safe workplace.

Volvo Trucks has also introduced new innovative technologies and new services designed to reduce the customer's transport costs. For example, the possibility of using telematics to monitor a number of components means that the Volvo FH, Volvo FM, Volvo FE and Volvo FL are now available with improved Gold Service Contracts for maximum uptime.

Available content includes an edited package with the full line-up as well as driving footage of each new truck.
Contact
Client Relations

TheNewsMarket

clientrelations@thenewsmarket.com