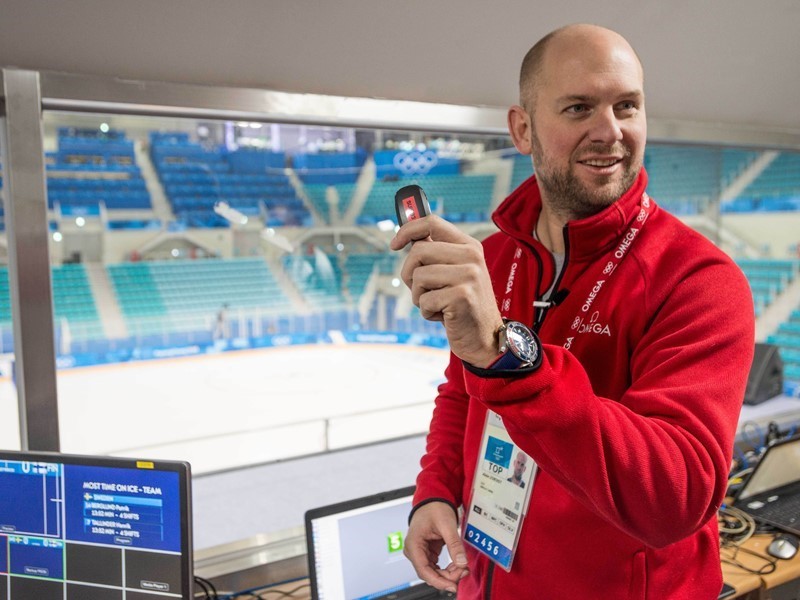 At the Olympics, competition is measured and dreams are realized by the millisecond.  So it's no surprise that timekeepers and timekeeping technology will play a crucial role at the PyeongChang Winter Games. Since the early days of the Olympics the number of timekeepers has significantly increased and technology has evolved in leaps and bounds. OMEGA has been the Official Timekeeper of the Games on 27 occasions since 1932.
Here are 5 facts about Olympic timekeeping that you might not know:
The Olympic Winter Games in 1936, were held in Garmisch-Partenkirchen, Germany and for that occasion, a single technician was sent with just 27 stopwatches used to time every second.
The Olympic Winter Games this year will receive 300 timekeepers, 350 trained volunteers and 230 tonnes of equipment, including 30 public and 90 sports scoreboards and many kilometers of cables and optical fiber.
OMEGA's "Snow gate" technology provides the latest innovation for Alpine Skiing by ensuring that the starting pulse sounds when the "wand" is at precisely the same angle for every competitor. The timing system is then activated automatically when an athlete bursts through.
OMEGA's newest model camera, the Scan'O'Vision MYRIA, is able to capture 10,000 digital images per second. The Scan' O' Vision cameras have been in place at the Olympics but have continued to evolve over the past 20 years.
Other new innovations to be introduced at the 2018 Winter Games, include: a) Body sensors, which will measure athlete performance and keep spectators informed and entertained, b) Vehicle devices on the interior of the bobsled to measure the positon, speed and performance of the bobsleds, and c) Shirt tags worn on the back of the athletes' shirts to assist with live game analysis by making it possible to explain game tactics as well as track the puck allowing for even more engaging spectating.
More on Olympic Timekeeping: A new Era for Timekeeping Technology in PyeongChang
Copyright free media assets including high resolution images and broadcast quality footage/interviews are available for journalists to access and download. The press kit is available in different languages, including: English, French, German, Spanish, Italian, Portuguese and Chinese.