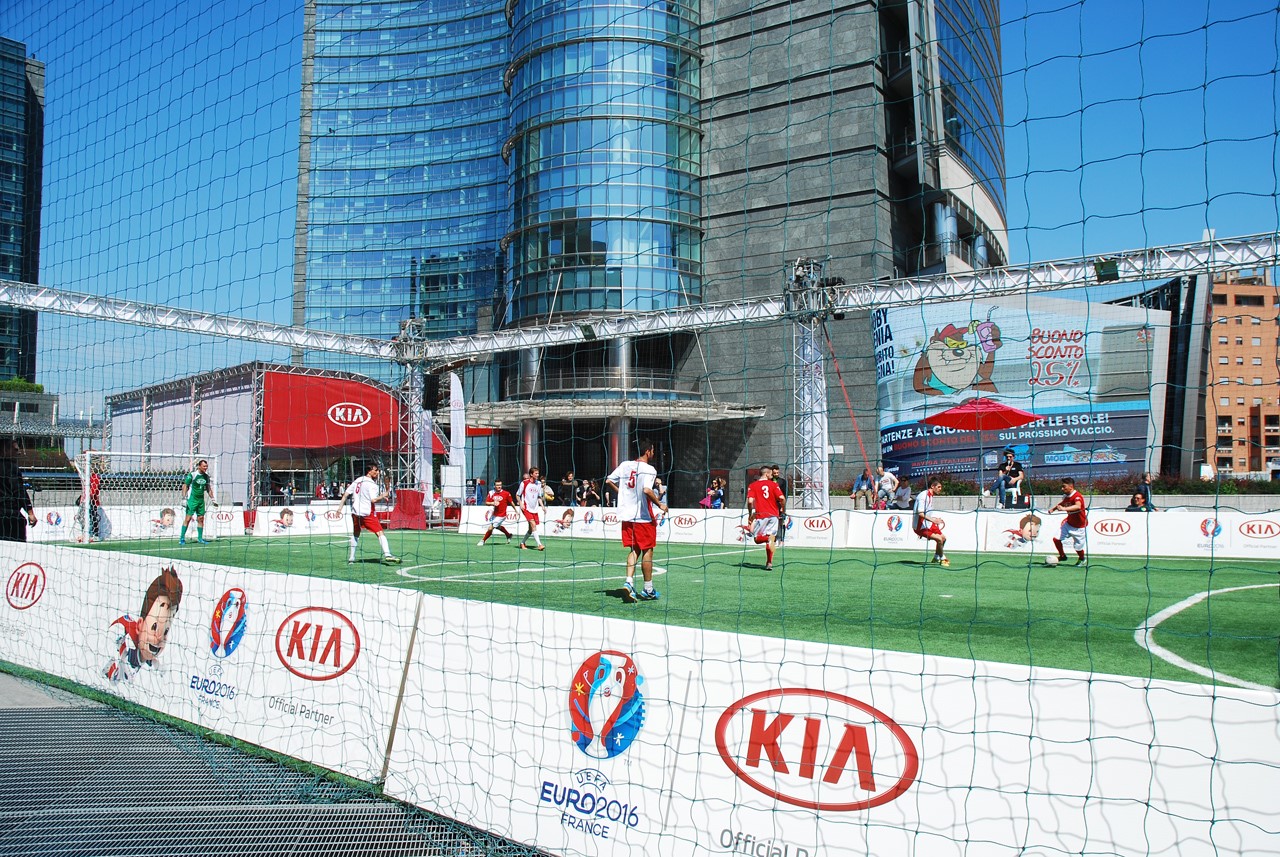 (SEOUL) June 10, 2016
– Kia Motors Corporation is holding a series of exciting activities surrounding the UEFA EURO 2016
™
tournament in France to encourage football fans from around the world to engage with Europe's most important national team football championship – and give many the chance to meet the most famous players in the game.
2016 saw the return of Kia's popular 'Champ into the Arena' amateur five-a-side football tournaments. Since April, a total of 1,600 five-a-side teams, comprising approximately 9,600 players from 16 countries around the world, have taken part, with only 16 teams (one from each country) making it all the way to the World Final to be played in France on 1 July during UEFA EURO 2016
™
.
Kia has also launched a new social media campaign, 'Carry your Dream', that has reached more than 100 million people around the world. Kia encouraged children aged 10-14 worldwide to post pictures and videos which best demonstrate their love for the beautiful game, with the best 51 from 15 countries chosen as 'Official Match Ball Carriers' for UEFA EURO 2016
™
. As part of this Kia-exclusive sponsorship right, winners of the competition get to walk out onto the pitch, leading Europe's footballing elite, to deliver the match ball to the official referee for kick-off.
Kia's 'Carry your Dream' campaign was inspired by Slovakian league footballer Kristian Hirka, who served as a Kia Official Match Ball Carrier during its sponsorship of UEFA EURO 2008
™
in Austria and Switzerland. As a 13-year old boy, Kristian's incredible experience of walking out onto the pitch as a Kia Official Match Ball Carrier in front of tens of thousands of fans inspired him to pursue a professional football career – an amazing feat he has achieved eight years later. To learn more about Kristian's touching story, watch Kia's latest campaign video here:
https://www.youtube.com/watch?v=ryOH11mLk00&feature=youtu.be
Yong-Won (Bryan) Cho, Vice President of the Overseas Marketing Group at Kia Motors Corporation, commented, "Throughout the duration of our partnership with UEFA, we've held a number of fan competitions to encourage young people of all ages, nationalities and backgrounds to get involved with the best football tournament in Europe. It's encouraging to see so many people engage on a deeper level with the sport they love."
"Both our 'Carry your Dream' and 'Champ into the Arena' activities allow fans to experience the excitement and passion of the tournament first-hand, and reflect Kia's values as a maker of fun-to-drive, quality vehicles for the young-at-heart."
As an official sponsor of the quadrennial tournament, Kia Motors has also supplied a fleet of 447 vehicles to transport national football teams, referees, officials, delegates and VIPs during UEFA EURO 2016
™
. In addition to the official vehicle fleet, Kia has also launched the 'Kia Roadside Assistance Team', providing a range of services 24/7 to ensure the safety and convenience of drivers and passengers of all its official vehicles during the tournament.
For more information about Kia Motors and its plans for UEFA Euro 2016
™
, visit
www.kia.com
.