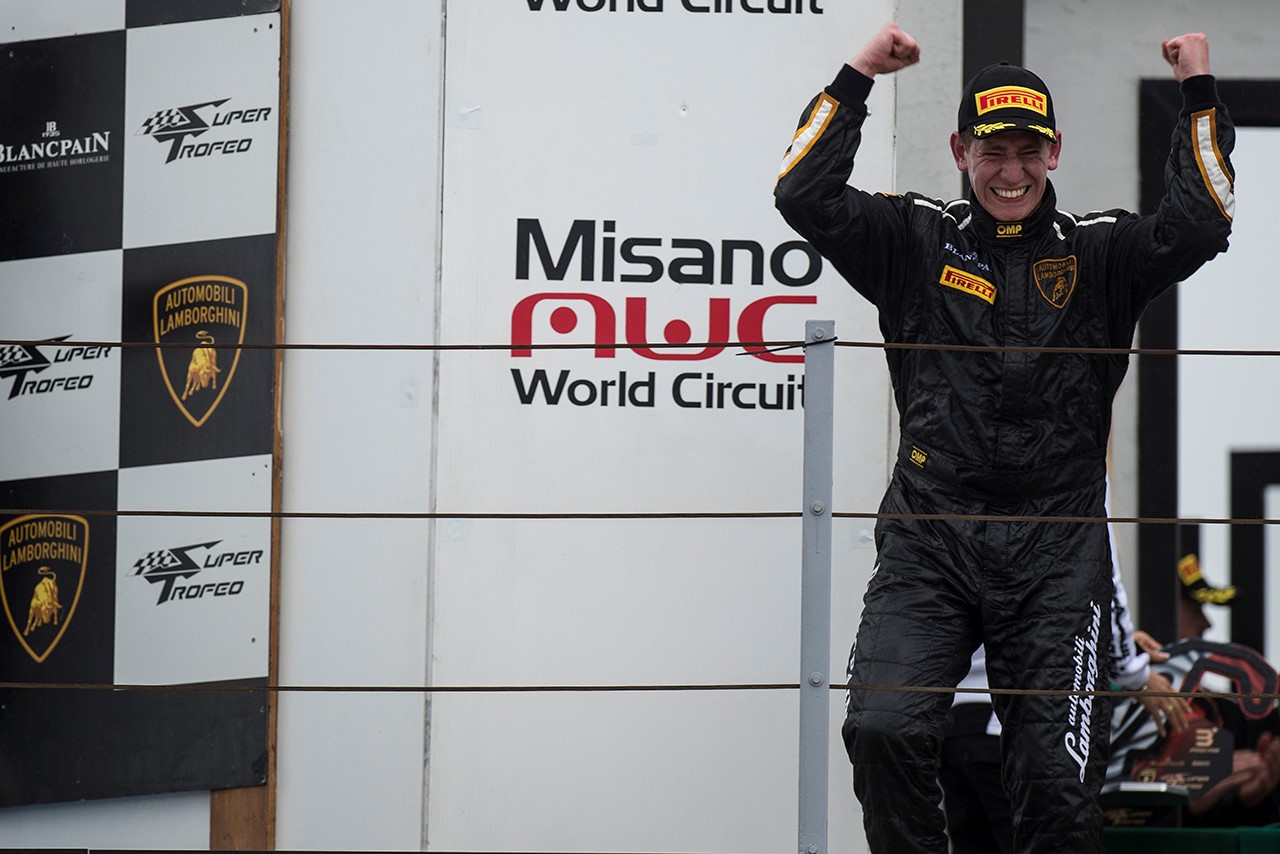 After the amateur achievements of Andrea Solimè in the Super Trofeo night race, the daylight race was claimed by the amateur talent of German driver Marcel Leipert in a race that came alive after the pitstops, ably assisted by a light rain shower after a start that ran largely to grid form for the first eleven laps.

After his winning success, Andrea Palma in the #27 Imperiale car led the field off the line with his first five pursuers staying in grid formation for the opening laps, with Leipert followed by Leimer, Zaugg and Amici. Bonaldi's Adrian Zaugg was the first to break station, recording a fastest lap and overwhelming Cédric Leimer to take third, and his efforts were subsequently followed by Andrea Amici.

As the pit window opened, Leipert – having challenged Palma hard for the lead for the duration of the opening stint - grabbed the opportunity to box early, a tactical decision that served him well. Simultaneously, light rain fell, but in sufficient quantity to see a number of cars suffering spins, including Leimer, Jenny, Bonacini and Pierleoni.

While pitlane activity reached a peak, Adrian Zaugg hunted down and finally passed Andrea Palma at turn 8 to head into the driver change period leading the race. But with a short delay for Bonaldi during the driver change and some hard laps by Leipert, the German driver took the lead of the race.

While one amateur forged into the lead, yesterday's amateur victor had a less successful time. Andrea Solimè came off the worse in an altercation with Touring Auto's Leonardo Geraci, forcing the young Italian's retirement. Elsewhere there were other hard battles being fought, not least between the British pairing of Jason Yeomans/Mark Nichols, who'd wrestled the Automobili Lamborghini Racing Team UK #2 car from 16th on the grid into the top ten, but not without a fight with Gravity Charouz's Tomáš Král on the way.

As the final minutes of the race approached, Leonardo Geraci found his way past Zaugg's team-mate, Federico De Nora for second place and just as the order seemed settled, a spin and side impact at the sharp turn ten for the #10 Imperiale driver, Matteo Zucchi, brought out the Safety Car, albeit the Italian driver was soon out of the car and none the worse for his accident.

With a half lap sprint all that remained when the Safety Car returned to the pitlane, the order to the flag remained unchanged with Marcel Leipert making it a clean wekend sweep for the amateurs, followed home by Geraci, De Nora, Amici and Leimer.

Available content includes an edited package with highlights of the weekend races in Misano (May 4-5) and still images.