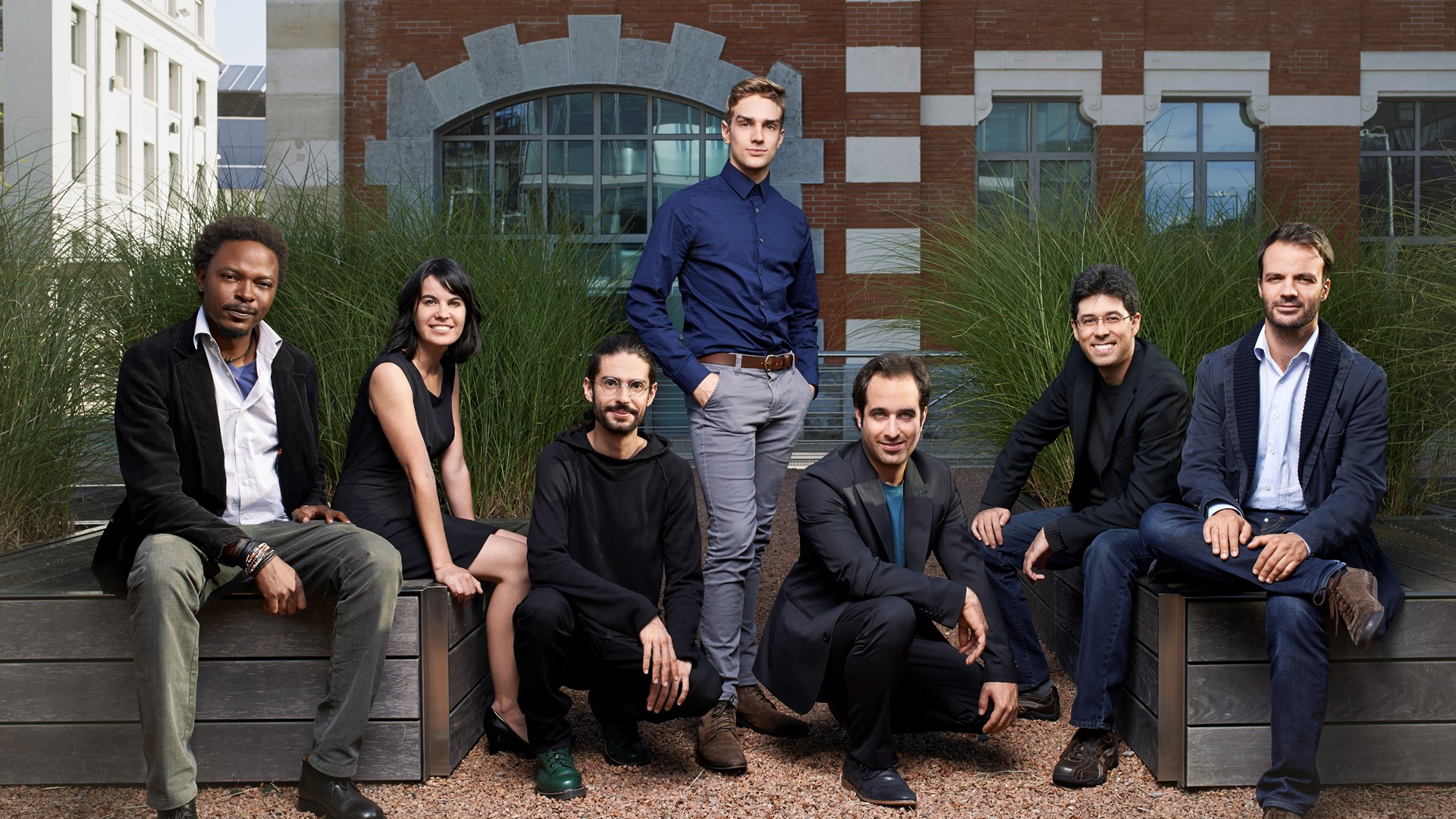 Major artists and arts leaders from around the world gather to mark the culmination of the 2014–2015 cycle of Rolex's international mentoring programme
Geneva, Switzerland, 4 December 2015
Mexico City, with its rich and diverse arts scene, will play host to some of the world's greatest artists on 5 and 6 December for the Rolex Arts Weekend. The two-day event, which is open to the public, will celebrate the achievements in the past year of the seven protégés and seven mentors in the 2014–2015 edition of the Rolex Mentor and Protégé Arts Initiative.
World-renowned artists Olafur Eliasson, Alejandro González Iñárritu, Michael Ondaatje, Alexei Ratmansky, Kaija Saariaho, Jennifer Tipton and Peter Zumthor – mentors respectively in visual arts, film, literature, dance, music, theatre and architecture – and their protégés will participate in the Arts Weekend, which will take place at the Centro Cultural del Bosque, Mexico's largest performing arts complex.
For the first time in the history of the Rolex Arts Initiative, the celebration of the conclusion of the Arts Weekend will be open to the public. It will be held at Centro Cultural del Bosque's Teatro Julio Castillo on the evening of 6 December. The event will culminate with the announcement of the new mentors for the 2016 – 2017 cycle.
"With its dynamic cultural life, Mexico City is the perfect location for the Arts Initiative's first visit to Latin America," said Rebecca Irvin, head of philanthropy at Rolex. "The performances, including two world premieres, readings, conversations and site-specific exhibitions that comprise the Arts Weekend, bear testament to how much the mentoring process benefits both master and emerging artist.
"We are thrilled that most of the protégés of the six previous cycles will join us in Mexico City, as well as many past advisors and mentors. A remarkable community of artists has been built up since the programme was launched in 2002," she said.
Unique to this year's celebration is the participation of Joseph V. Melillo, Executive Producer of the famed Brooklyn Academy of Music (BAM) in New York, who is curating the Arts Weekend, along with young Mexican curator Allegra Cordero di Montezemolo, his official apprentice for the occasion.
Highlights of the 2014–2015 mentoring year were:
Architecture
Switzerland, Paraguay and South Korea were the principal settings for Peter Zumthor and Gloria Cabral's busy, collaborative partnership that grew rapidly from the start. Cabral became project manager for Zumthor's design of a tea chapel near Seoul. She also made several visits to Haldenstein, Zumthor's Swiss base, spending up to a month each time working with her mentor and his team. Another highlight was Zumthor's visit to Cabral's home town, Asunción, Paraguay.
Dance
The conviction that classical ballet is a living, evolving art provided a shared faith for mentor Alexei Ratmansky and protégé Myles Thatcher. They were able to find time to observe each other at work on both east and west coasts of the United States and in Munich, where the Russian choreographer was preparing a new production of Paquita. Thatcher observed Ratmansky's friendly but firm direction of the dancers and assisted his mentor. Ratmansky visited San Francisco where Thatcher was rehearsing dancers for a new piece of choreography.
Film
In a highly eventful mentoring year, protégé Tom Shoval was invited to watch post-production work on Alejandro González Iñárritu's masterpiece, Birdman, and was present when his mentor received three Academy Awards for his film at the 2015 Oscars. Iñárritu invited Shoval to witness the filming of his new feature film, The Revenant, in the Canadian Rockies. The young director was almost overwhelmed by his mentor's generosity in terms of the access he was given.
Literature
With much in common – they have both changed countries and cultures, and have careers as both teachers and writers – Canadian Michael Ondaatje and United States-based Bulgarian Miroslav Penkov quickly developed a strong literary friendship, exchanging messages and travelling to Bulgaria together. A major focus of the mentorship was Penkov's debut novel, which he was writing in English, his second language. At the end of the mentoring year, Penkov had completed his novel – which is scheduled for publication in March 2016.
Music
In several encounters in cities from Los Angeles to Helsinki, Finland's Kaija Saariaho and her protégé, Portugal's Vasco Mendonça, established a professional friendship that was both dynamic and highly productive. Mendonça attended performances of Saariaho's music around the world – and twice his music was played at the same event as hers. They were able to engage in stimulating intellectual discussions about their work and other artistic matters.
Theatre
Throughout the mentoring year young Mexican lighting designer Sebastián Solórzano Rodríguez sat alongside mentor Jennifer Tipton as she lit up rehearsals and performances in London, Barcelona, Paris, New York, Houston and Madrid. Solórzano Rodríguez also invited his mentor to Mexico City, his home town. They had a concrete plan of action, the results of which, Solórzano Rodríguez later said, were that his life "has changed forever".
Visual Arts
Sammy Baloji's mentoring year consisted of a series of short but intense encounters with Olafur Eliasson, mainly in Berlin, at Eliasson's studio. The mentor said that he too wanted to learn from the process and the pair collaborated without a fixed plan, quickly building a strong rapport, combining intellectual discussion with clear advice for Baloji to develop his creativity across a spectrum of artistic media and in preparation of his first installation for exhibition at the Venice Biennale.
About the Rolex Mentor and Protégé Arts Initiative
The Rolex Arts Initiative is a biennial philanthropic programme created by Rolex to ensure that the world's artistic heritage is passed on from generation to generation, across continents and cultures. Since its launch in 2002, the initiative has built a remarkable artistic community that connects artists around the globe. Some of the world's most distinguished artists have served as mentors. They are: Margaret Atwood, John Baldessari, Tahar Ben Jelloun, Trisha Brown, (the late) Patrice Chéreau, (the late) Sir Colin Davis, Anne Teresa De Keersmaeker, Olafur Eliasson, Brian Eno, Hans Magnus Enzensberger, William Forsythe, Stephen Frears, Gilberto Gil, Sir Peter Hall, David Hockney, Rebecca Horn, Alejandro González Iñárritu, Sir Anish Kapoor, William Kentridge, Jiří Kylián, Lin Hwai-min, Toni Morrison, Walter Murch, Mira Nair, Youssou N'Dour, Jessye Norman, Michael Ondaatje, Alexei Ratmansky, Kaija Saariaho, Martin Scorsese, Kazuyo Sejima, Peter Sellars, Álvaro Siza, Wole Soyinka, Julie Taymor, Saburo Teshigawara, Jennifer Tipton, Kate Valk, Mario Vargas Llosa, Robert Wilson, Zhang Yimou, Pinchas Zukerman and Peter Zumthor.
Further information about the Rolex Arts Initiative is available at rolexmentorprotege.com.