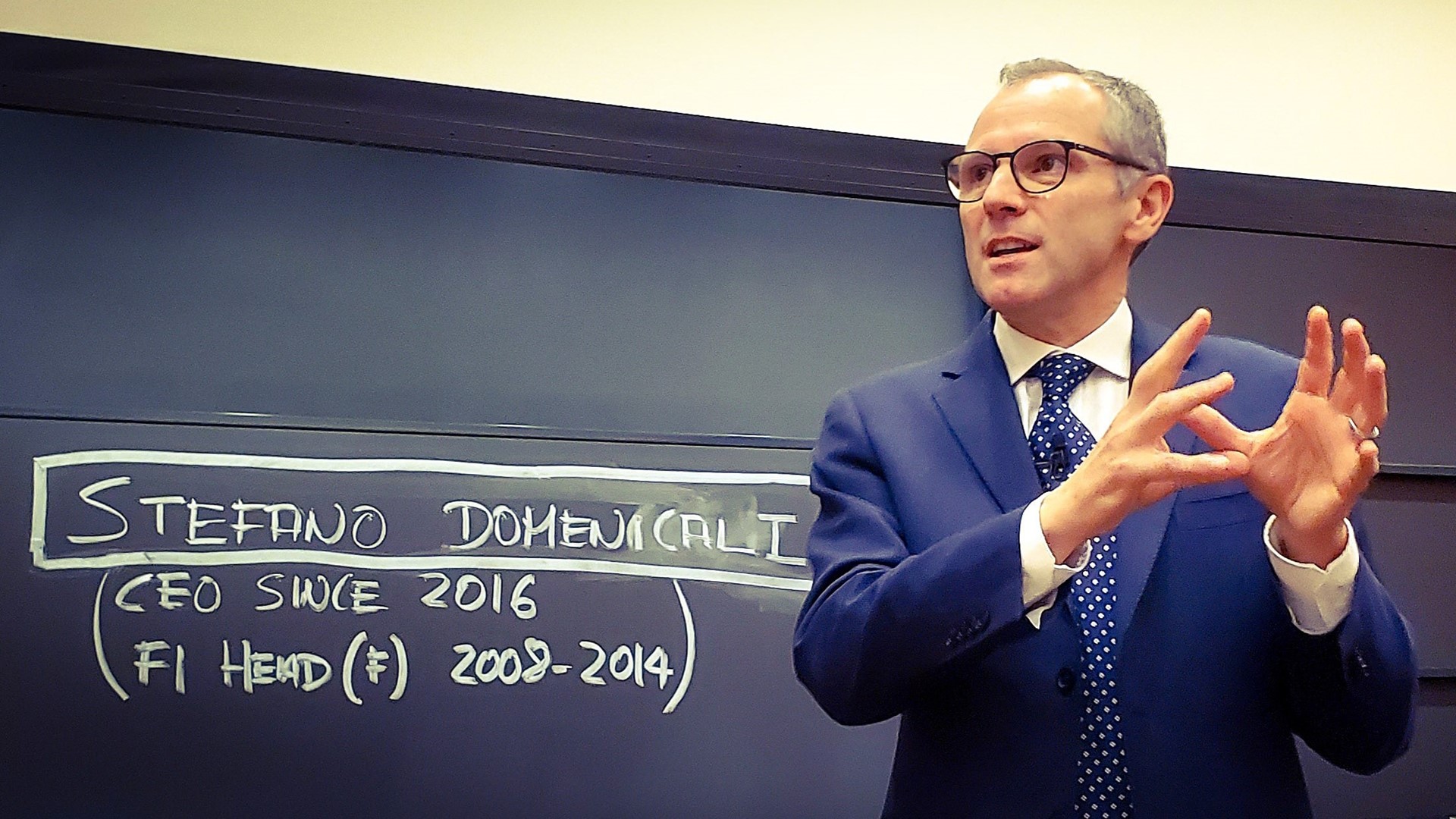 Sant'Agata Bolognese/Boston, 5 November 2019 – Automobili Lamborghini's Chairman and Chief Executive Officer, Stefano Domenicali, was invited by Harvard Business School in Boston to be a distinguished speaker in its executive education program. Mr. Domenicali presented Lamborghini's legendary history to the participants of the General Management Program (GMP) and discussed the dynamics that led the Sant'Agata Bolognese company to become a benchmark in the global luxury car industry. Directed by Professor Stefan Thomke, the program is attended by 143 selected executives from all over the world and prepares them for senior leadership positions in their organizations.
Under Mr. Domenicali, Lamborghini quickened its pace in 2017, reaching one billion euros in revenue for the first time. In 2018, with the launch of the Urus Super SUV, this ascent accelerated: sales, revenue and profitability reached levels unprecedented in the brand's history. Year on year, revenue grew by 40%, increasing from 1,009 million euros to 1,415 million in 2018. Deliveries to customers increased by 51%, to a total of 5,750 units in 2018 and with record sales on all the major markets.  In 2019 over 8,000 cars will be delivered worldwide, thanks to sales of the Urus, of which 70% are to new customers. Lamborghini also boasts absolute leadership for its social media following in the automotive sector, with a fan base of over 38 million around the world. In the last three years Lamborghini's Instagram followers grew from a few million to the current 23.6 million. Other important victories were won in motorsport: the Sant'Agata Bolognese manufacturer was the only company in the world to win the double victory in 2018 and 2019 at the 24 Hours of Daytona and the 12 Hours of Sebring.
Stefano Domenicali commented: "It is a great privilege for us to be able to represent Made in Italy excellence and to be called in as a reference by this giant of world knowledge. Today Lamborghini is not only synonymous with excellence in technology, design and innovation, but has become a true trendsetter in the luxury segment."
Federica Sereni, Consul General of Italy in Boston, added: "The meeting that Lamborghini's CEO had today in Boston confirm the appreciation of Italian companies in the United States. Italian companies, in particular those in the automotive industry, know how to combine passion, tradition, research and innovation in a way that is unique in the world.
"It should not be surprising," continued the Consul General, "that in Boston, where the sector of research and technological innovation is among the most advanced worldwide, the history and future of Lamborghini aroused such interest among students from one of the most prestigious universities in the United States."