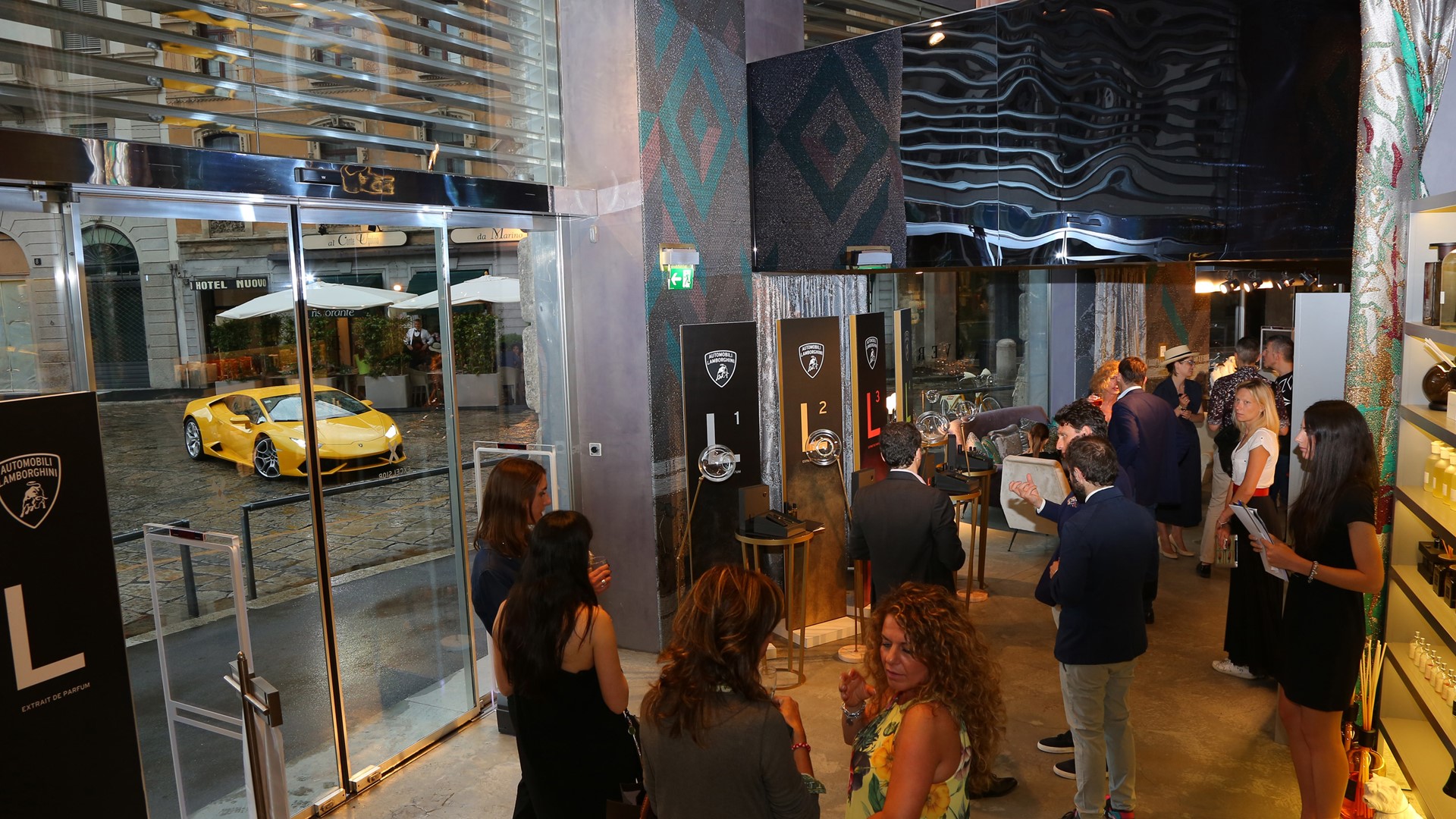 For those who set fashion trends instead of following them, the Milano Moda Uomo Fashion Week is the place to be. Collezione Automobili Lamborghini has chosen exclusive places to introduce products that are equally exclusive:
Avery Perfume Gallery - Excelsior : Starting on Monday, June 22, the store's windows on the Piazza Beccaria will host new fragrances in the "L" perfume line created by Celso Fadelli, Intertrade, along with a Lamborghini Huracan LP610-4 to underscore the close relationship between the philosophy of Lamborghini super sports cars and the scents created by the perfume experts at Intertrade Europe. The three new perfumes that complete the line which began with L1- produced in a limited edition of only 999 units - and now available together with:
L2, subtle and effervescent, in a yellow package
L3, spicy and sensual, in a red package
L4, fresh and spirited, in a green package
La Rinascente: From June 23 to July 3, the prestigious window that overlooks Piazza Duomo and is devoted to Travel and to the Design Supermarket will be hosting Bynomio: a high-end luggage collection bearing the Automobili Lamborghini and TecknoMonster names. This unique series is available in Cabin and Hold sizes and was created using the same materials employed in Lamborghini super sports cars, such as carbon fiber, aluminum, and leather of the very finest quality.
Both TecknoMonster luggage and "L" perfumes express Italian excellence, dedicated effort and carefully executed details. Their design reflects the style that has consistently distinguished Lamborghini vehicles. Both products embody a passion for challenge and performance, the same passion that motivates the individual who chooses a paragon of mechanical sophistication and appearance when sitting behind the wheel of the world's most sought­ after super sports car.
The Hangar in via Orobia: The Capsule Collection by Automobili Lamborghini County of Milan was presented down the runway against this unique post-industrial backdrop, as it was included in the Spring Summer 2016 collection by Marcelo Burian.
T-shirt, sweatshirt, jacket, long and short trousers, socks and cap: a masculine total look, in a sporty metropolitan style. A Lamborghini Huracan LP610-4 with livery customized by Marcelo Burlon was on display at a party held in the area outside the hangar after the fashion show.
Where can I buy it?
"L" Perfume: In the most exclusive perfumeries worldwide, in the Automobili Lamborghini flaqship stores and at the Lamborghini dealers.
Teckomonster luggage: at La Rinascente Milano, in the Automobili Lamborghini flaqship stores, at the Lamborghini dealers, throuqh Tecknomonster retail network and on www.lamborghinistore.com
Capsule Collection County of Milan: through the exclusive retailers County of Milan worldwide