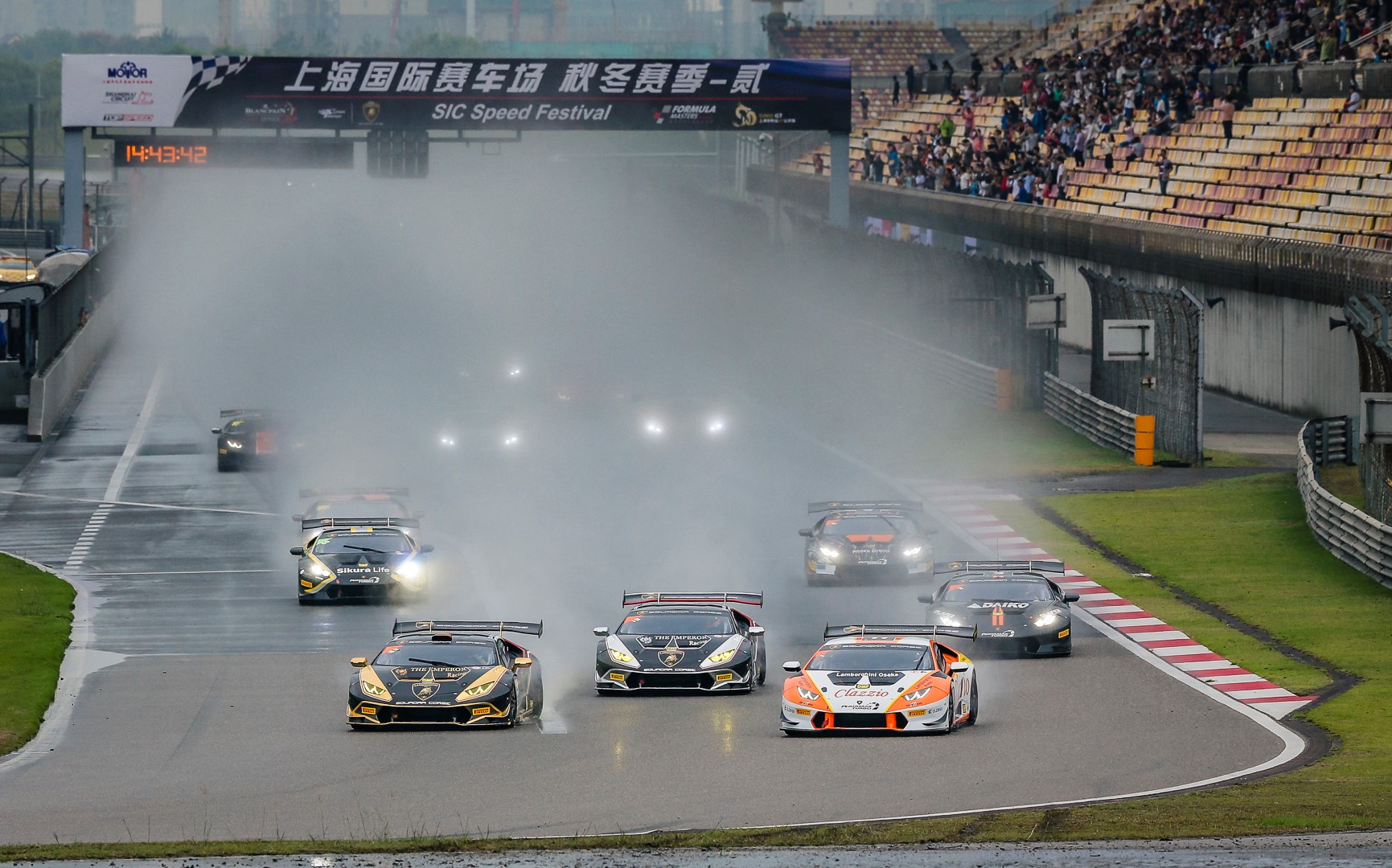 The crew of Clazzio Racing win Race 1 at Shanghai and become champions with a round in hand 
Breukers and Farmer are stars again in the Pro-Am class
Haryanto wins in AM class and becomes Asian champion
Sant'Agata Bolognese/Shanghai, September 23, 2017.
Kei Cozzolino and Afiq Yazid are the undisputed leaders of the Lamborghini Super Trofeo Asia. At the Shanghai International Circuit, fifth round of the Asian series, the Clazzio Racing team's crew won the eighth consecutive seasonal victory in a wet Race 1 and are now champions of the Asian series with a round in hand.
Starting from pole position, as usual, Kei Cozzolino at the wheel of the Huracán Super Trofeo #11 of the Clazzio Racing team was fighting at the first corner with Edoardo Liberati (Emperor Racing # 19) but Kei managed to keep his lead and start his solitary ride at the front.
Immediately behind were the two cars of the Emperor Racing team: #19 of Edoardo Liberati and Andrea Amici (GT Asia Series 2016 champions with the Huracán GT3) and #63 in the hands of the crew formed by Patrick Kujala and Dennis Lind, Lamborghini Super Trofeo World Champions 2015 and 2016 respectively.
After the driver change, Clazzio Racing number 11 continued to lead the race with Afiq Yazid behind the wheel until the checkered flag, scoring another victory. Right behind, Dennis Lind (Emperor Racing # 63) was the author of a thrilling duel with Arthur Janosz (Team Lazarus # 3) and managed to finish second during the final laps of the race, with Janosz on the third step of the podium with his teammate Sowery who was very fast in the first stint. Fourth place for Emperor Racing car # 19 with Amici and Liberati.
In Pro-Am class it was a challenge between two cars. During the first half of the race, Ebenard and Eskelinen (Leipert # 33) dominated the battle, but after the driver change the hero was Rik Breukers (GDL Racing # 37). After picking up the car from his teammate Nigel Farmer, Rik started a charge that led him to the sixth place overall and first in Pro-Am category.
With a victory in Race 1 at Shanghai, the first title of the Asian series for 2017 was secured: Andrew Haryanto (X-One Racing team # 69), star of the AM category, becomes mathematically champion with race two and the final round in hand, before arriving in Imola which will take place, from November 16 to 19, being the sixth round of the three continental series of the Super Trofeo and the Lamborghini World Finals.
The fight in the Lamborghini Cup is still open, with Supachai Weeraborwornpong triumphant today in car #77 of Top Speed Racing team ahead of Italian, Gabriele Murroni of Petri Corse team.
Lamborghini Super Trofeo- 2017 Asia Calendar
| | |
| --- | --- |
| 7-9  April | Sepang (MY) |
| 19-21 May | Buriram (TH) |
| 23-25 June | Suzuka (JP) |
| 18-20 August | Fuji (JP) |
| 21-24 September | Shanghai(CN) |
| lmola (ITA) | November 16-17 |
World Final
| | |
| --- | --- |
| lmola  (IT A) | November  18-19 |