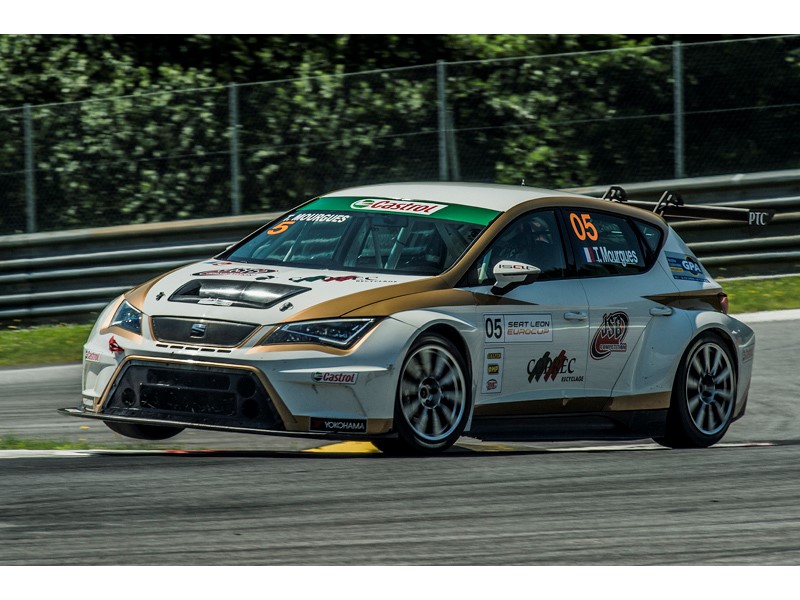 Spielberg 04/07/2015 – A winning arrival. Loris Hezemans (Target Competition) today took his first victory in the SEAT Leon Eurocup at the Red Bull Ring on his debut weekend in the single-brand competition. After the domination he demonstrated in free practice yesterday - marking the best time of the day - the Dutchman was again in full flight at the controls of his number 100 SEAT Leon Cup Racer, which he received last week. He achieved an unmatched triumph in the first race of the fourth round of international series. Also on the podium were his fellow rookie Shane Anthony Williams (Wolf-Power Racing) and Stian Paulsen (Stian Paulsen Racing). Lucile Cypriano (JSB Competition) was classified first in the Ladies Trophy, a category she continues to dominate. In addition, Pol Rosell (Baporo Motorsport), fifth today, continues to lead the overall standings of the SEAT Leon Eurocup 2015, though he is now level on points with second-placed Paulsen.

As seen in previous races of the single brand trophy, starting from pole is half the way towards victory. And even more so at this circuit, where this morning the first 19 drivers finished within a second of each other in qualifying. Therefore, the best time achieved this morning by Hezemans (1'38.851) was the first step towards a very hard-fought victory. In the race the Dutchman steadily increased his lead over the group with a constant rhythm which was too hot to handle for the other drivers. On the tenth lap he even managed to set the fastest lap of the race (1'40.514). By then the lead over the chasing pair of Williams and Paulsen was more than three seconds.

Hezemans maintained his pace until the end, while behind him the South African and Norwegian were fighting for second place, and another rookie Norbert Kiss (B3 Hungary KFT) fought for fourth with Mikel Azcona (PCR Sport) and Rosell. In the end, the rookies succeeded: Williams overcame Paulsen, who nonetheless took his fourth podium of the season and the 11th of his career in single-brand trophy, whilst Kiss held off Rosell and Azcona. The Baporo Motorsport driver finished in fifth place at the last minute. That final pass allows him to continue to lead the overall standings because of the increased number of podiums he has achieved this season over the second placed driver. Meanwhile, Cypriano, 10th today, returned to the podium for the fifth time, as the first classified Ladies Trophy driver, in a category she still dominates. In turn, local drivers Mario Dablander (Target Competition) and Jürgen Schmarl (Target Competition) ended the race in seventh and 13th places respectively.