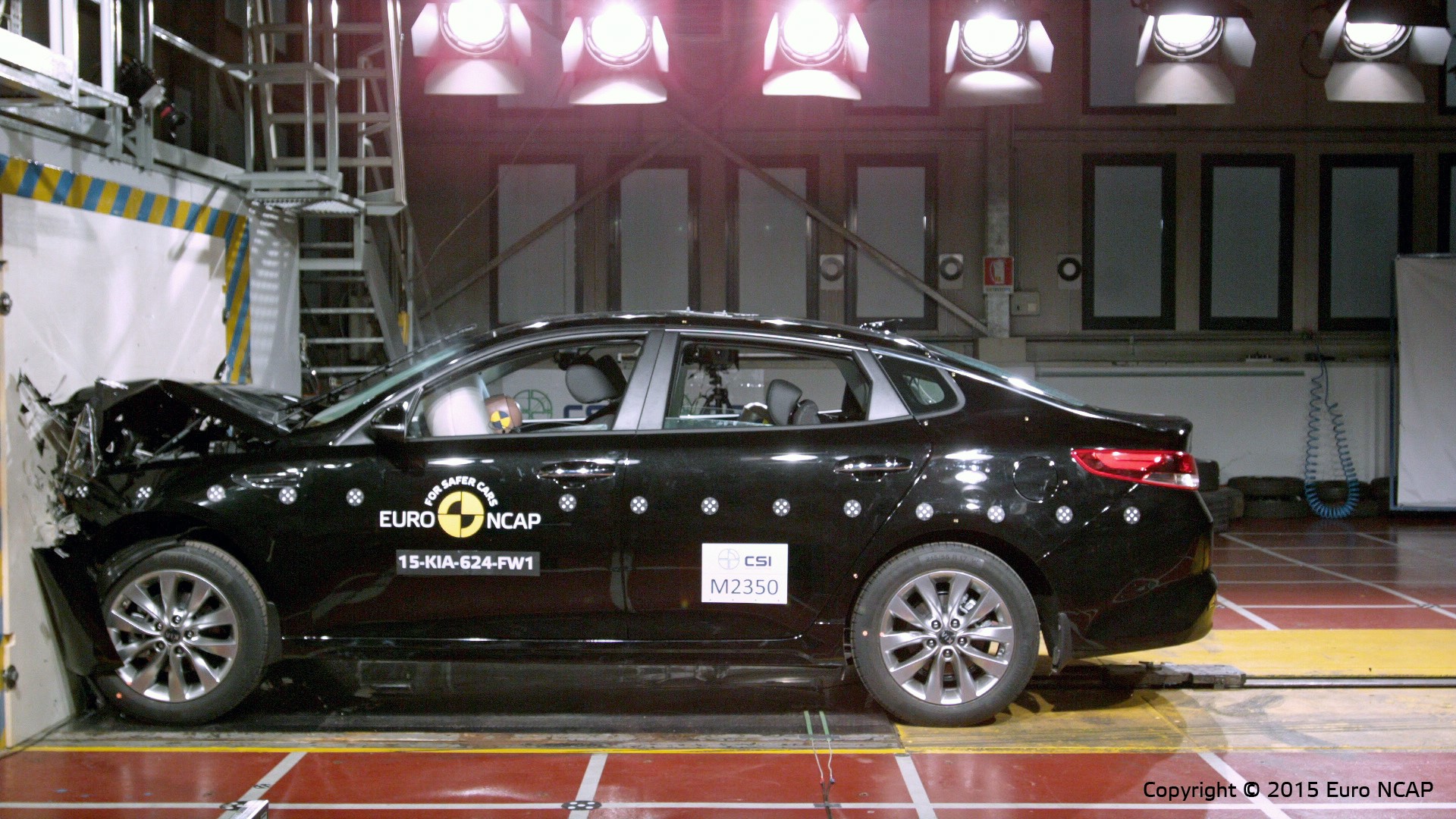 The all-new Kia Optima and Kia Sportage have both been awarded the maximum five-star crash safety rating by Euro NCAP in the latest round of safety testing.

Both the Optima and Sportage scored particularly highly for adult protection, scoring 89% and 90% respectively, with child occupant protection also rated highly at 86% for younger Optima passengers and 83% for those in the Sportage.

The Optima was praised in particular for its ability to offer uniformly high levels of protection to all occupants during the frontal offset test and in the event of a side barrier impact, no matter the size of passenger or where they were sitting in the car. The Sportage – Kia's European best-selling compact crossover – was also commended for its ability to protect passengers of different statures in all seats, scoring particularly highly in the demanding side pole test.

As a means of offering the best possible protection to occupants, active safety assist technologies are key features in new Kia models, resulting in both cars scoring 71% in the 'Safety Assist' category – an increasingly important part of NCAP's independent testing process.

High-tech active safety features

The all-new Optima and Sportage are two of the most high-tech models ever created by Kia Motors, each offering a wide range of active safety technologies designed to help drivers avoid a collision or mitigate the impact of one.

Standard-fit Vehicle Stability Management (VSM) in each car ensures stability in a wide variety of conditions, particularly if the driver needs to brake while cornering, through careful control of the Electronic Stability Control (ESC) and electric motor-driven power steering.

VSM and ESC are activated as soon as each car's sensors detect a loss of traction, helping the driver remain safely in control of their vehicle.

Both new models are available with a variety of optional safety technologies, depending on market, including:
• Autonomous Emergency Braking (AEB), which employs a long-range radar detection system to detect a potential collision with another vehicle or pedestrian and help bring the car to a halt
• Lane Keeping Assist System (LKAS), which detects the car's position in relation to lane markings and takes automatic corrective action if it senses the car starting to draft without the use of indicators
• High Beam Assist (HBA), which automatically adjusts headlamp range according to other vehicles and road conditions
• Speed Limit Information Function (SLIF), displaying the speed limit in the driver's instrument cluster based on cameras detecting roadside signs
• Blind Spot Detection (BSD), with a visual warning in the door mirror when another car enters the driver's blind spot
• Rear Cross Traffic Alert (RCTA), which warns against other cars driving behind the vehicle in car parks while reversing.

The all-new Optima is available with Advanced Smart Cruise Control, which automatically adjusts the car's speed to maintain a safe distance from the vehicles in front.

Stronger bodyshell design ensures greater passive safety
The structures of the all-new Optima and Sportage are significantly stronger than the models that they replace, largely due to the more widespread use of stronger Advanced High Strength Steel (AHSS).

50% of the bodyshell of the all-new Optima is now made up of AHSS – representing a 150% increase over that of the previous car (20%) – and boasts a 450% increase in the amount of structural adhesive used. The result is that torsional rigidity has been improved by 50% over the model that it replaces, while the body shell is also 8.6 kg lighter. The Sportage boasts an even more extensive application of AHSS, rising from 18% of the bodyshell in the third-generation model to 51% in the new fourth-generation Sportage. By dramatically strengthening the core structure of the new Sportage, torsional rigidity has been improved by 39% from one generation to the next.

Passive safety is further ensured with airbag protection for all passengers and the standard fitment of ISOFIX child-seat tether and anchor points in the second row, to safely secure younger passengers.