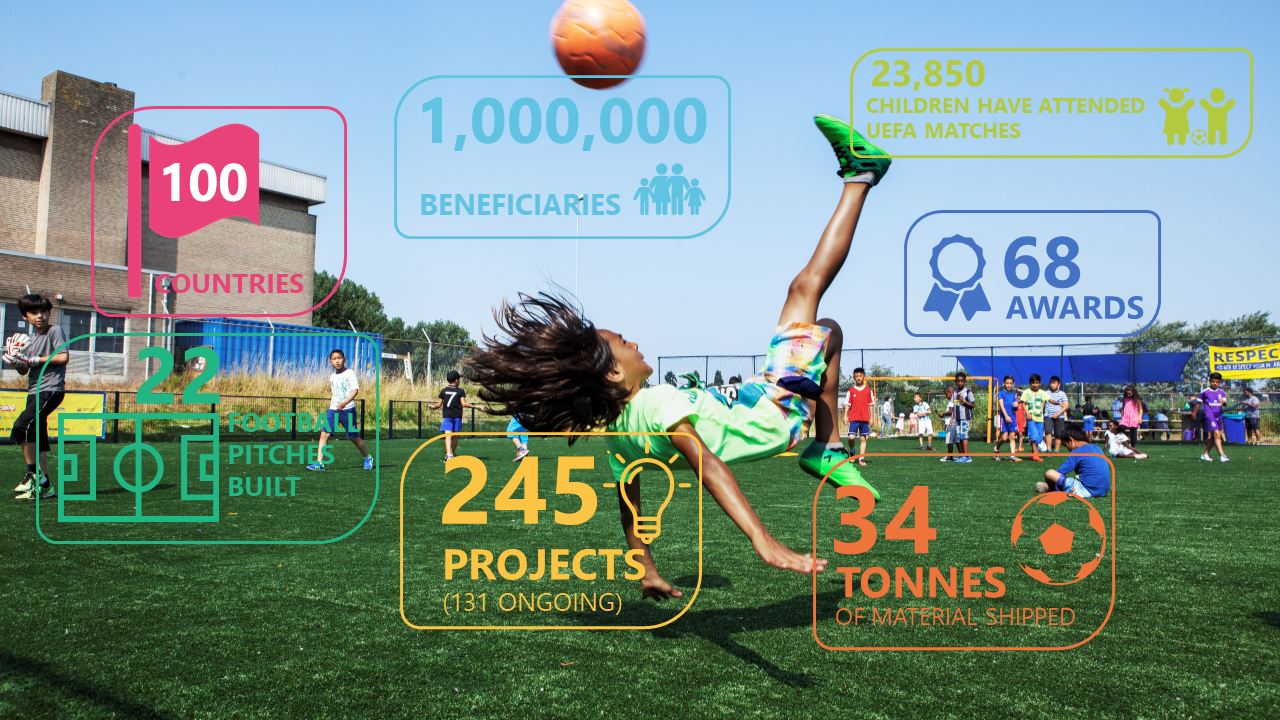 Five years have passed since UEFA set up the UEFA Foundation for Children allowing European football to take its social responsibility to support children across the world and defend their rights.
Football is more than just a game, it is a vehicle for change, hope and possibilities for any children. It is used to develop important live skills like communication, teamwork and respect, and gives the opportunity to lead, excel, and gain confidence. Since its launch in April 2020, the UEFA Foundation was a real success.
The projects supported by the Foundation are using sport, and football in particular, to help defend children from precarious backgrounds in the area of health, education, access to sport, integration of minorities, personal development and youth employment.
Reaching out to one million children through 246 projects
Some one million children have benefitted from the foundation's broad palette of activities. To fulfil its objective, the foundation has provided grants for 246 projects through calls for project and awards. Half of the funding has been contributed to European projects.
Help to play the beautiful game
One of the recurrent needs is safe infrastructures and training materials. We have supported the construction of football pitches and distributed  over 35,000 balls and football kits in schools, children's institutions and associations. Over 34 tons of material from UEFA's competitions have been re-used for programmes supporting children.
Diversity and Multiculturality
The foundation has been able to support projects in 100 countries. Of the one million children to benefit from these projects, at least 35% of them are girls, and we are working on increasing this proportion. Football is a strong promotion tool for gender equity and to enhance participation of minorities in the programmes to become active citizens.
Making children dream…
The national associations and clubs have helped us to bring hope to children and given them the chance to dream. Almost 24,000 children that would otherwise never have had a chance to attend a football match at a European level have been invited to a UEFA competition.
UEFA Super Cup final has been as great stage to create awareness on the positive impact football can have. Supported by the finalist clubs and the elite players, they demonstrated that football can play and important role on children and can change the outlook of even the most vulnerable.
New challenges
Following the current sanitarian crisis, the foundation remains active by helping the most vulnerable populations and organise responses that are adapted to the needs of each situation. The Foundation's board of trustee has decided to join the Common Goal COVID-19 Response Fund to support community organisations in their emergency response today and after the crises.