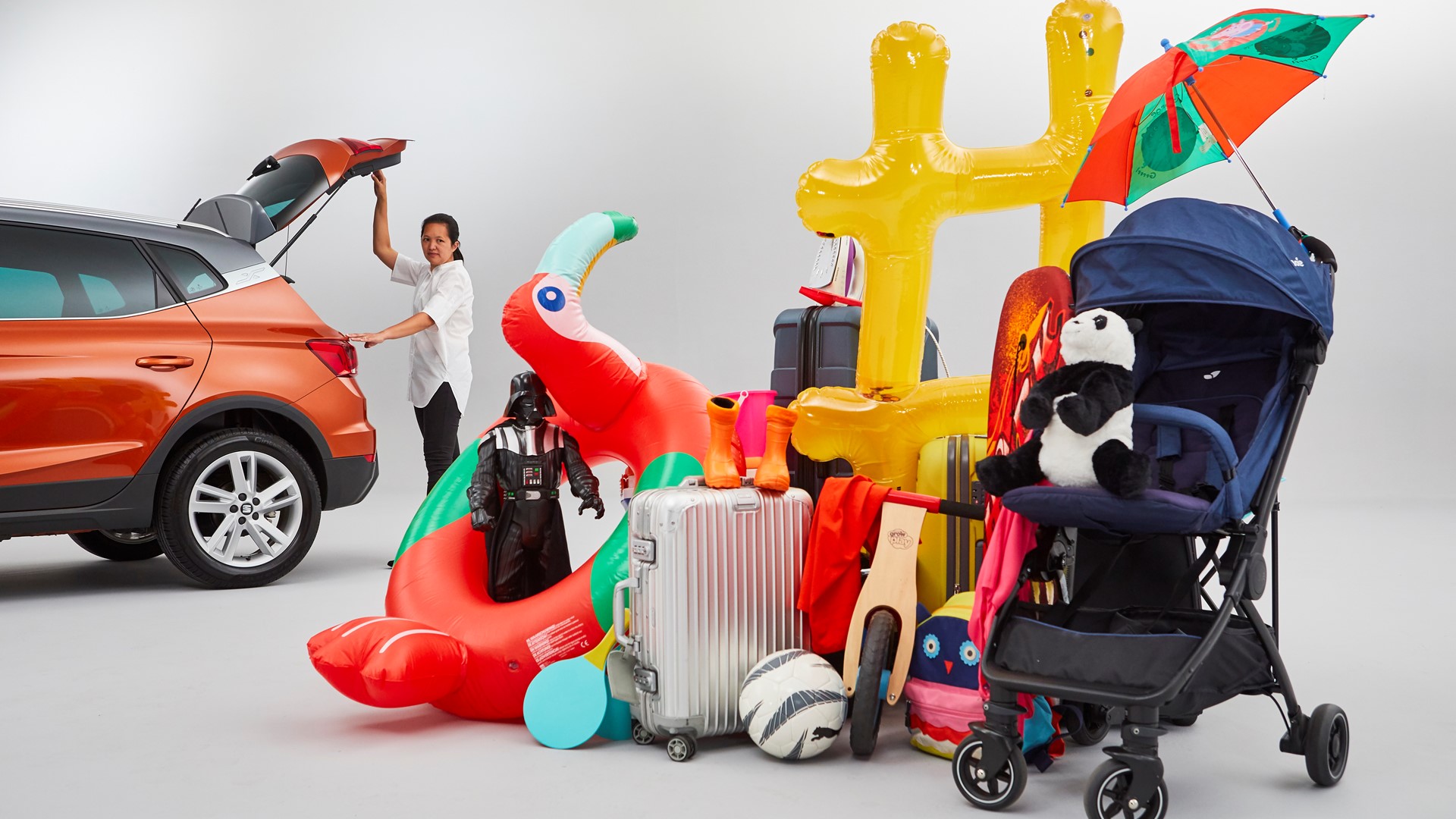 Tips before starting out on a trip
Five keys to a perfectly loaded car boot with Marie Kondo's philosophy and SEAT engineering
A few recommendations include preparing a check-list with everything you need, knowing what to leave behind and packing skilfully
For safe travelling it's important to secure everything inside the car and load the boot with the heaviest items on the bottom
Martorell, 01/08/2018.– Three suitcases, two inflatable beach lilos, a baby stroller, an umbrella and an endless number of toys for the children. This is the typical baggage a family loads into their car before going away for holiday. Getting everything ready can cause a lot of stress for some – nobody wants to forget anything behind and it's important to make the best use of the available space. The KonMari MethodTM, created by Marie Kondo – a famous author of books about tidiness as a life philosophy – and SEAT engineering join forces to tackle this challenge. The following five recommendations will help you keep your sanity when packing:
1. Less is more: Knowing what to choose is the first step to making preparations prior to going on holidays according to Aline Lau, Europe's first certified KonMari Consultant. Before setting out on holiday, one major problem is deciding what to take with us and what to leave at home. To solve this, a good method is to "make a list and visualise how we want our perfect holiday to be. This way we'll only pack the things that are really going to be useful to us", says the London-based expert.
2. Sort by categories: Subdividing the items you have finally decided to take with you into categories is a good way to organise everything easily and efficiently. "Sorting groups of items into categories such as clothing, accessories, children's toys or first-aid kit enables us to take on the challenge step by step more easily", the expert adds. One example is to place the toys and neatly folded beach accessories in the same compartment, taking advantage of unused space.
3. Clothing, rolled up and placed vertically: Packing suitcases and getting everything to fit is often like a game of Tetris. In order to maximise the space you should "roll up each article of clothing and place them vertically, as they take up less space and you can easily see everything at once", she recommends. In addition, it creates "a relaxing visual effect", she adds.
4. Make the most of the interior of the car: Keeping everything in its place isn't just a philosophy, a lot of engineering goes into it as well. "When we begin planning a model, our priority is to design the highest loading capacity to take advantage of every nook and cranny", explains SEAT engineer Jordi Mora. Every car's compartments are useful for storing the most necessary items, such as tissues or drinks, so they're always handy. But remember, for safety reasons you should never leave things lying around loose inside the passenger compartment, on the seats or on the rear parcel shelf.
5. In the boot, last in – first out: The first thing to consider when placing baggage in the car is to take advantage of the under floor compartment on models such as the SEAT Arona. Remember to put the things you need to take out first in the most accessible place. And it's always more practical to keep the handles on top so they're easier to remove. When placing the suitcases, the heaviest ones should always go at the bottom and as far back as possible, says SEAT Passive Safety engineer Javier Delgado. "If we don't place things correctly or securely, a slam on the brakes or a sudden manoeuvre could cause them to shift or fly forward and jeopardise safety", he explains, as "when driving at 100 km/h, if we brake suddenly, a package weighing 30 kg turns into a 90 kg projectile, multiplying its weight by three".