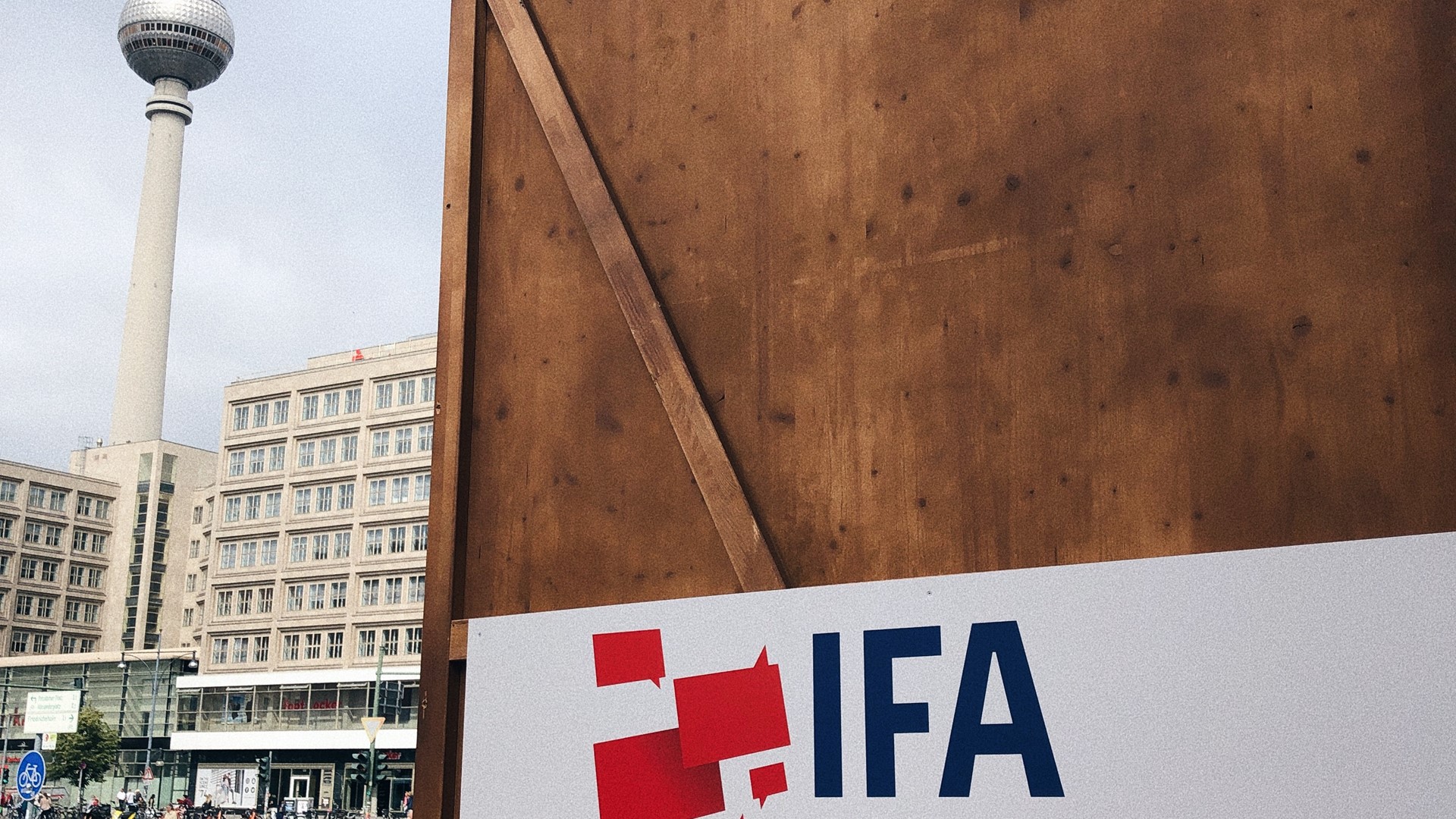 Anthony Wood, CEO of ROKU, and Hakan Bulgurlu, CEO of Arçelik, confirmed as speakers at IFA Keynotes 2019
Berlin, 10 July 2019 - Smart, networked, sustainable - on the first day of the IFA Innovation Media Briefing (IMB), around 300 media representatives were given insights into the trends and innovations in the run-up to IFA 2019.
As a welcome, IFA executive director Jens Heithecker presented an update on IFA, the innovation hub IFA NEXT and its accompanying conventions IFA + Summit and SHIFT Automotive. "IFA is the world's most international trade show for the digital industry," explained Jens Heithecker. "It is typical of the IFA that we not only talk about the latest technologies. Above all, we show what they bring to the consumer and how they are used from the consumer's point of view." As further IFA keynotes, the CEOs of Roku and Arçelik were announced for the first time. Thus, IFA 2019 with Richard Yu, CEO Huawei, and Cristiano Amon, President Qualcomm, can point to an exceptional line-up of leading corporate executives in the industry.

Dorothee Bär, Minister of State for Digitization, emphasized in her video greeting the support of the Federal Government for IFA: "At IFA, trends will be presented - showing who is in the lead". Ms. Bär stressed that she will be moving to the exhibition grounds with her office during the entire duration of IFA in order to talk to international guests.
In total, over thirty brands participate in the IFA Innovation Media Briefing (IMB) in Berlin (July 10-11): AEG, Beurer, Bosch, Fakir, Gorenje, Groupe SEB, Haier Europe, Hisense, Homematic, Jura, JVC, Kärcher, Kenwood, LG, Medisana, Metz, Microsoft, Miele, Nuki, Panasonic, Philips, Realtale, Safera, Samsung, Shift, Siemens, signify, Smart Living, Sony, TP Link, TP Vision, Unipos and WMF.
IFA Innovations Media Briefing – Highlights Day 1
IFA
Jens Heithecker, Executive Director
IFA is the world's most international trade show for the digital industry. It is typical of the IFA that we not only talk about the latest technologies. Above all, we show what they bring to the consumer and how they are used from the consumer's point of view.
Robert Bosch Hausgeräte
Harald Friedrich, Managing Director
Bosch has devoted particular attention to the topic of quiet household appliances. The results are the quietest washing machine in the world, the quietest dryer in the world, and the quietest dishwasher in the world. They are embedded in the Bosch Silence Edition.
Samsung Electronics
Dr. Thorsten Böker, Director Product Management
With Smart Things, Samsung is rethinking the Smart Home. The focus is on the user: the entire system is tailored to his needs. We want an open partner network. To this end, we work together with a large number of partners. Almost 5,000 device models from over 80 partner companies can be integrated into our modular concept. Many things can also be controlled via Bixby with voice commands.
Panasonic charts the future of TV
During his power briefing at the Innovations Media Briefing, Mike Bolatzky, manager at the Panasonic Institute, gave insights into the status quo, innovations, and forecast of the company's focus on the future of TV.
95% of those surveyed in Germany said that they watch TV at least once a week. Further statistics indicate a clear downward incline in cinema visits, whereas TV sales shot up 47% between 2017 and 2018.
Current market trends are large screen, OLED technology, improved image and sound quality through technologies like HDR 10, Dolby Vision, and HLG Broadcast. 12.35 million smart TVs in Germany are connected to the internet
Panasonic has several innovations in 2019. Requiring access only to a home WiFi network and electricity, TV>IP offers a server and client function so that users can watch media on a smart TV, which can then be transmitted to a non-smart TV, allowing users to live flexibly and save costs on purchasing two separate smart TVs.
Another new product forecast for 2019 is the HbbTV Operator App. It is standardised, meaning that one application can be used on many devices regardless of manufacturer or model, conforming to industry guideline and avoiding several different user interfaces. It combines a linear broadcast with non-linear IP content.
In a demonstration, HD+ was shown to encrypt private broadcasts (i.e. integrate them into linear broadcasting). Its features include a virtual TV guide allowing the viewer to go seven days back, browsing a media selection of a channel different to the one currently being viewed, with everything in one place. Users also have the opportunity to search by genre, i.e. "music" will display all music-themed TV shows across all channels, and create a user-defined list of channels in the sidebar.
"I'm sure other TV manufacturers will be quick to follow once we've implemented this," said Bolatzky. He also spoke of the GZW204 with a Dolby Atmos Sound System, notably with the world's very first upwards-emitting sound speakers. Furthermore, Panasonic will be the first TV manufacturer to display HDR-standard photos on TV, thanks to its HLG photo technology. With its OLED TVs featuring Netflix Calibrated Mode, Panasonic is also set on Hollywood-focused picture quality to mimic the silver screen, true to the intention of directors.
In its future developments, Panasonic is continuing the trend of making the TV a central object in a smart home, while also simultaneously allowing it to blend in. Mr Bolatzky spoke of its "discreet integration" into the decor, with pale wooden frames surrounding an aesthetically pleasing iridescent screen when not in use.
Jura
Horst Nikolaus, Managing Director
As a specialist for fully automatic coffee machines, Jura presents the further developed ena 8 with 2.8 inch colour touch screen and artificial intelligence. An algorithm recognises the personal preferences and automatically adjusts the start screen with the hot beverage selection. Also new is J.O.E. - Jura Operating Experience, which brings all the functions of Jura fully automatic machine operation to the smartphone, including voice control.
Fakir Hausgeräte
Holger Terstiege, Managing Director
Our global novelty, the Fakir Filter Pro, makes it possible for the first time to vacuum dust emission-free. We bring the first vacuum cleaner to IFA with eight different filter stages, including patented electrostatic filter and negative ion generator. In this way, we achieve 99.9 percent clean air and thus almost 0 percent emissions with 100 percent performance.
Miele announces its biggest ever range of washers and dryers
At this year's Innovations Media Briefing in Berlin, Miele tracked its illustrious past and announced innovations for the coming season.
Bernhard Hörsch, Director of Sales at Miele, introduced the company's latest developments in the kitchen, in washing & drying, and in trade practices.
Looking back on 120 years of tradition, with attractive performance and good value for money, highlights of the past few years include the Blizzard, the first bagless vacuum by Miele, the Dialog Cooker with electromagnetic waves, and the mobile-controlled AutoDos dishwasher featuring an integrated PowerDisk.
In the kitchen, Miele presents its new Generation 7000 series. FoodView technology sends HD images from inside the oven to the smartphone thanks to a heat-resistant camera. TasteControl regulates temperature and moisture remotely via smartphone, keeping dishes warm, while the MotionReact feature predicts the next step of the cooking process and reacts to users it senses approaching.
Miele's relaunch of its washing machine and dryer range is its biggest ever of this product group. QuickPowerWash speeds up the wash, reducing it to up to 49 minutes, ideal for family households. The EcoSpeed feature on dryers boasts A+++ energy efficiency while drying 8kg of laundry in 2:35 hours — an advantage of 20 minutes. AddLoad allows users to add extra pieces of laundry while the machine is already in operation.
The current washing machine ranges, W1 and T1, are introducing new aesthetic features — lotus white, obsidian black, aluminium silver colours on the hood, an illuminated drum, and a high-quality chrome exterior ring.
One exclusive and noteworthy element of this is Miele's conscious decision to make these available only at brick-and-mortar retailers. Miele attributes this loyalty to longstanding collaborations with these retailers, of which 64% have disappeared in Germany between 1992 and 2019. 30% of Q1 2019 revenue in the sector was made online.
Miele has been a market leader of the past 10 years through its added-value partner concept; a selective distribution system, new partner ranges, fair conditions, and on-brand, adequate presentation at the POS.
Mr Hörsch expressed the positive feedback to Miele's bagless vacuums so far and is enthusiastic about the rest of 2019.
Microsoft

Andre Hansel, Sr. Product Marketing Manager Surface 2S
With the Surface Hub 2S we want to demonstrate further the limitless possibilities of teamwork and revolutionise the way people conceive the workspace. Our new product addresses four areas, the modern workplace, modern life, education and gaming. It bringing teams together no matter where they are in the world, where a videoconference allows for better communication. And most importantly, the whole device is now much more transportable.
Beurer celebrates centenary @ IFA
Celebrating its 100th anniversary this year, Beurer's wide range of wellness products serve the intersection of health and innovation.
The focus at this year's Innovation Media Briefing was first on the Maremed humidifier, which is not only for general use, but also for relief from medical conditions such as asthma.
According to Beurer Managing Director Georg Walkenbach, consumer interest in products like these is predicted to rise as there are 300m asthma sufferers worldwide, one tenth of whom are located in the EU. Moreover, air pollution in cities is becoming an increasingly large problem, and many patients are seeking alternative treatments to medication. Maremed is manually filled with water and salt. Using patented technology, its filter purifies the air and a UVC lamp purifies the outgoing humidified air. Maremed eliminates 99% of bacteria and viruses, and can also be used preventatively against common allergies such as hay fever.
According to Walkenbach, "We can now bring the sea breeze into your home. How does it work? It's not just a humidifier, it's a humidifier based on salt water. With the right ingredients, you can really create a climate as if you were at the sea at the dawn or dusk, when you really feel that your lungs are getting free and that you breathe free. That is the secret behind this new device. The air is pumped through the water, picking up the humidity as it goes along, as well as the salt. The air is also purified using UV, destroying all the pollutants that cause allergies… and the result is pure, ionised air, just like you find by the sea."
The virtual postural trainer 8sense was also introduced. Sedentary occupations are a known threat to posture and general health, yet most users need personalised guidance. The 8sense device is clipped onto clothing at the nape of the neck, providing real-time posture feedback through vibrations. Its algorithms recognise and analyse daily movements and habits, while data is gathered on the accompanying, Bluetooth-connected app. Professional knowledge is available 24/7 thanks to human experts and AI. Users can get tailored recommendations for exercises, aiming to achieve 100 posture points per eight-hour office day. They can also connect with friends and colleagues to gamify the experience. Although 8sense has an accompanying smartphone app, it aims to give fitness feedback without constantly looking at screens. Owing to its low price of €99, 8sense was highlighted as a "device for all".