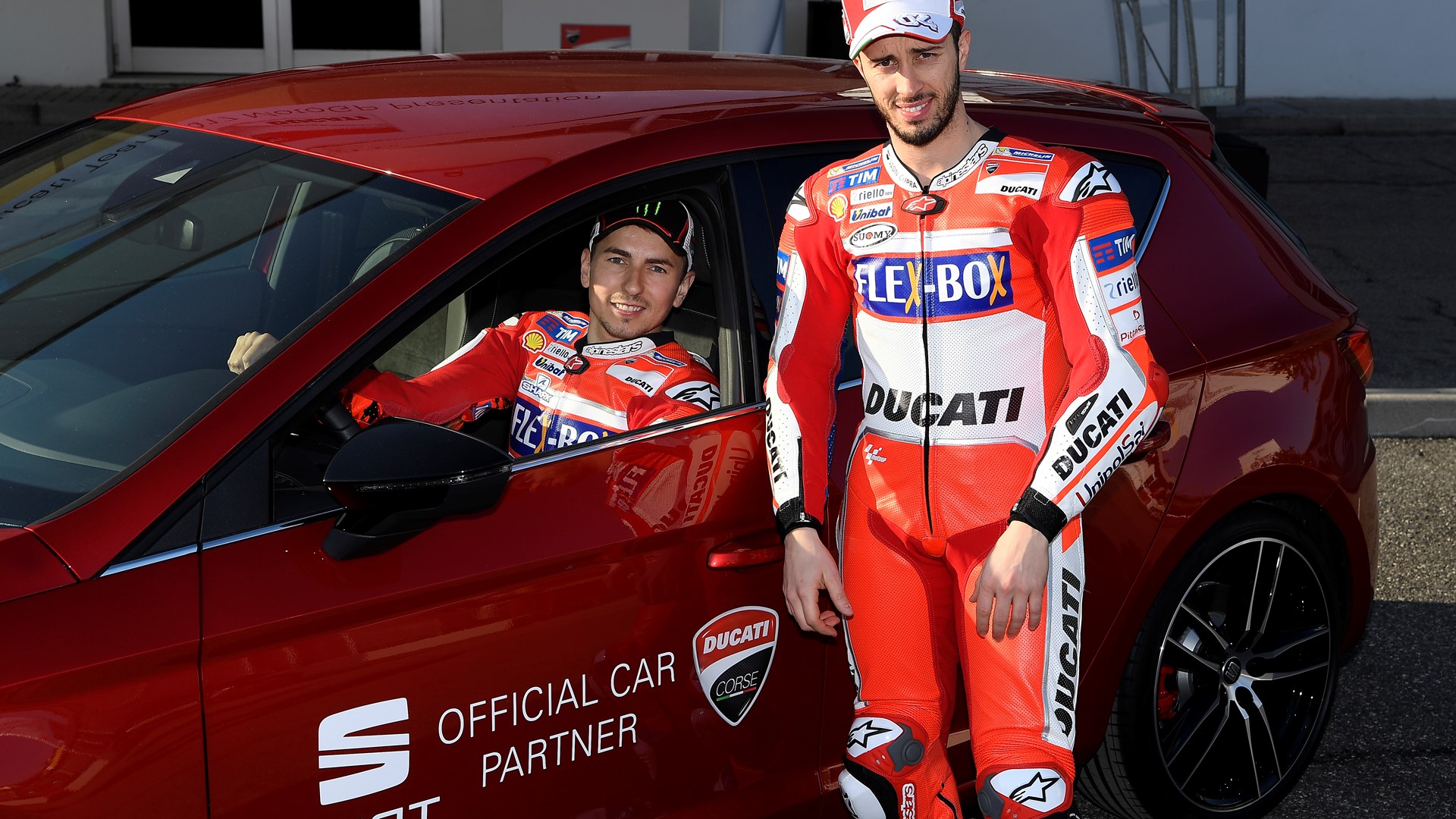 · Both Ducati riders join the Spanish brand as the image of the Leon Cupra
· This model is also the official car of the Ducati Team in the current MotoGP season
· SEAT strengthens its commitment to sportiness and competition racing
Martorell, 21/04/2017. – Ducati Team riders Jorge Lorenzo and Andrea Dovizioso will be SEAT ambassadors during the current MotoGP season. Both riders will be the image of the SEAT Leon CUPRA, the most powerful model in the history of the Spanish company.
The agreement between SEAT and the two Ducati riders is in addition to the one concluded between both brands, as the Leon CUPRA is also the official car of the Ducati Team racing in MotoGP. The agreement also includes displaying SEAT on the front of the motorcycle, as well as on the riders' racing leathers and on the team members' uniforms.
Jorge Lorenzo (Palma de Mallorca, 1987) is three-time MotoGP world champion and two-time champion in the 250 cc category. Andrea Dovizioso (Forlimpopoli, 1986) has won a world championship in the 125 cc category and finished third in MotoGP in 2011. The two riders share common values with SEAT, such as dynamism and a passion for competition.
Both Lorenzo and Dovizioso will be driving the SEAT Leon CUPRA which, equipped with 300 hp output, is the most powerful model in the history of the Spanish brand. It is also the fastest, as it accelerates to 100 km/h from a standstill in just 4.9 seconds. The new model is the utmost expression of SEAT's dynamism, combining attractive design with innovative technology. The CUPRA offers extraordinary performance levels that lead to a unique driving pleasure.
In this sense, SEAT strengthens its commitment to sportiness and competition racing. This season, in addition to the agreement with Ducati, the Barcelona based brand is the official sponsor of the World Superbike Championship, with the Leon CUPRA as safety car.