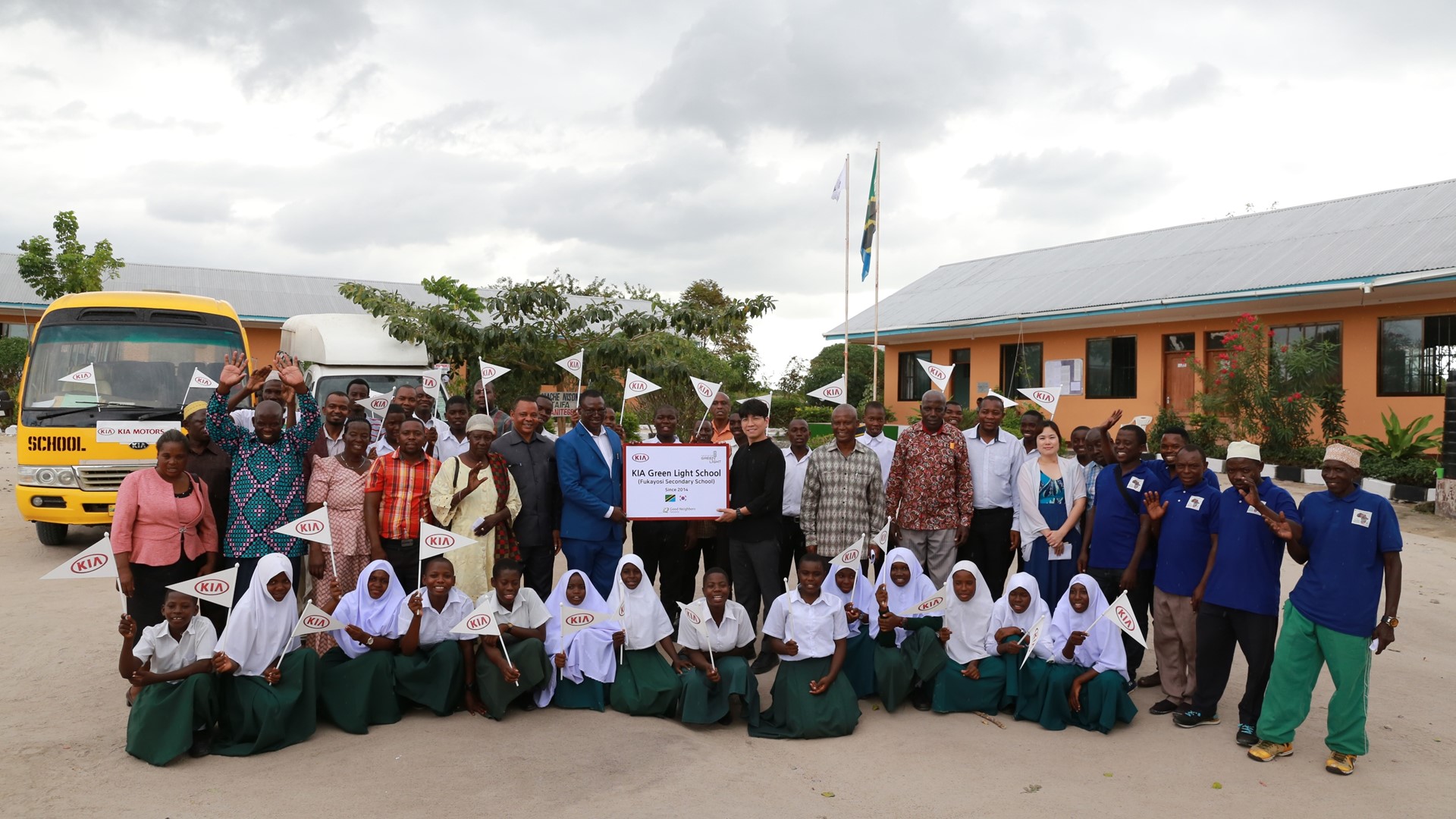 Kia Motors successfully operates school for five years before handover
Kia's volunteers working in Ethiopia to support the country's education and renovation efforts
Green Light Project aids mobility and self-sufficiency in Africa
Kia Motors Corporation has transferred operation of one of its Kia Green Light Schools to a local community in Tanzania. This is the latest facility to be handed over by Kia to a local community, constructed and opened under Green Light Project, the company's corporate social responsibility program. The school is the latest of four schools and a healthcare center to be passed to communities in Malawi, Mozambique, and Tanzania.
The school, situated in the town of Bagamoyo in Tanzania, was established by Kia Motors Corporation in 2014, and has been successfully run by the company ever since. Five years after its opening, Kia Motors has handed over responsibility of the school to the local community at a special ceremony in Bagamoyo.
To guarantee successful running of the school, and to ease the transition, Kia Motors is handing over school administration to Bagamoyo's Education Office. Control of the school bus operation and budgeting is also being transferred to Bagamoyo's Local Committee.
"We are proud to hand over our 'Kia Green Light School' in Tanzania to the local community," said Keyhwan Roh, General Manager of CSR Management Team at Kia Motors. "This school is one of a number of 'Kia Green Light' facilities offering local communities the opportunity to build better lives through improved access to healthcare, education and vocational training. Our aim is to establish facilities and provide knowledge so these communities can become self-sufficient."
Alongside the handover ceremony, Kia Motors has assembled a global employee volunteer group to support the company's Green Light Project activities in Ethiopia. 23 Kia employees from around the world are visiting Kia Green Light Center for Technical and Vocational Education and Training in Ethiopia, as well as the local elementary school. Volunteers are helping to educate local communities about hygiene and medicine, as well as Korean culture. They will also assist in the construction and maintenance of school and healthcare facilities and help farmers in the region to work the land and produce food for the local community.
Green Light Project is a global corporate social responsibility program started by Kia Motors in 2012. The project strives to improve access to healthcare, education and employment for disadvantaged communities, helping them to establish much-needed facilities. The program empowers local communities to improve mobility and self-sufficiency and enables them to challenge and overcome any obstacle. With the establishment of each Green Light Project facility, Kia's final goal is to be able to hand over full control to local communities, giving residents a 'green light'. Since 2012, the company has built 11 Green Light Project centers in eight countries in Africa, as well as Mexico.