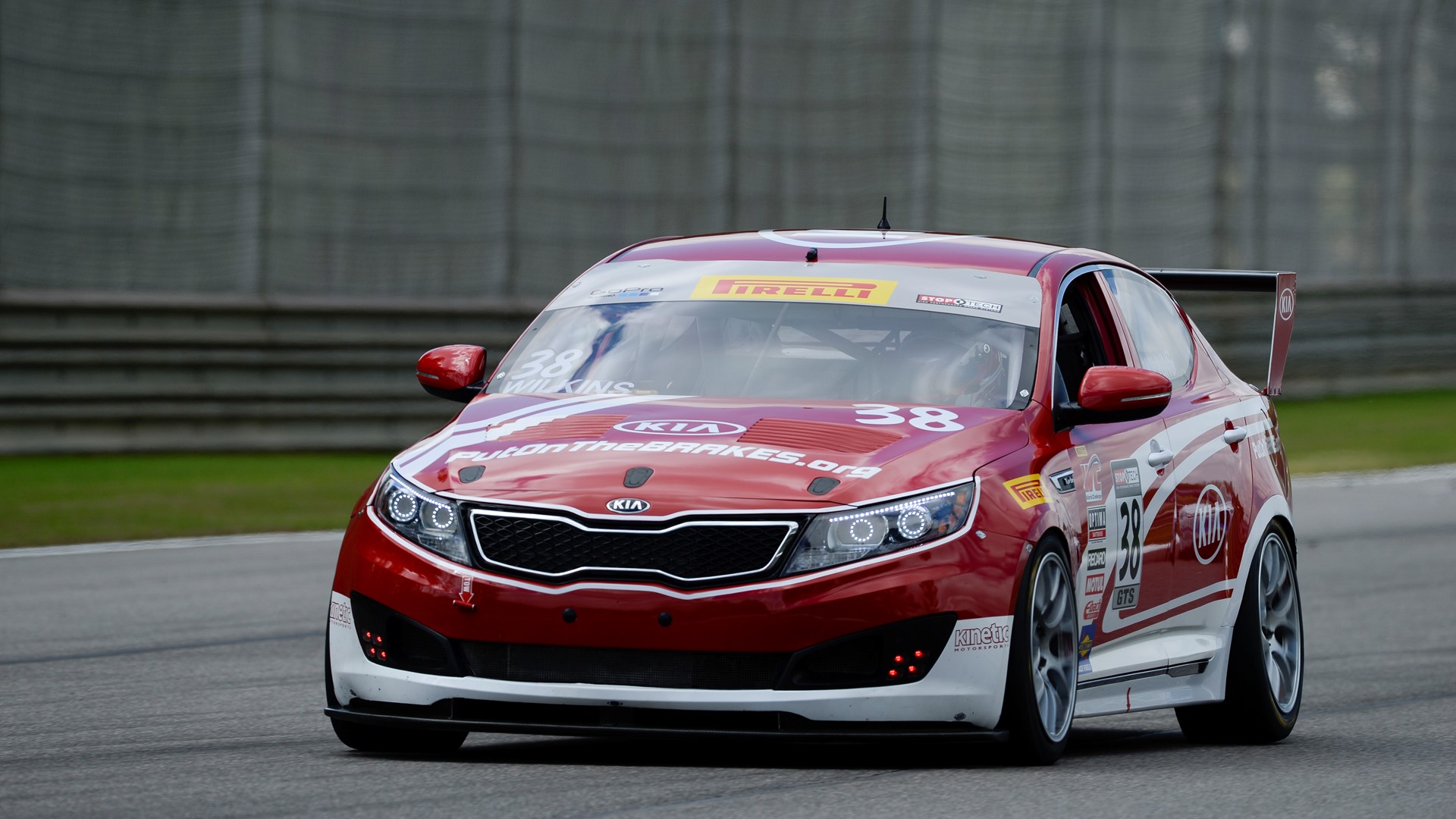 Coming off Back-to-Back Podium Finishes During Detroit Belle Isle Doubleheader, Kia is Just Two Points Shy of Manufacturer Championship Lead
• Mark Wilkins in the No. 38 B.R.A.K.E.S. Optima turbo sits second in Driver Championship points after two top-five finishes in Detroit
• Nic Jönsson in the No. 36 DonorsChoose.org Optima turbo resides fourth in Driver Championship following third-place result in round five
IRVINE, Calif., June 19, 2014
– Kia Racing's No. 36 DonorsChoose.org and No. 38 B.R.A.K.E.S. Optima turbos make their competition debut this weekend at Road America in scenic Elkhart Lake, Wisconsin. Kia Racing arrives in dairy country having scored two more podium finishes during rounds five and six of the Pirelli World Challenge (PWC) on Detroit Belle Isle. With a total of five podium appearances this season – including two race wins – Kia trails Manufacturer Championship leader Ford by just two points. Meanwhile, Kia Racing pilots Mark Wilkins and Nic Jönsson, are second and fourth, respectively, in the Grand Touring Sport (GTS) Driver points.
"Scoring back-to-back podium finishes in Detroit continues a string of solid results for our team, and proves the Optima has the performance and reliability to compete wheel-to-wheel with the likes of Porsche Cayman, Ford Mustang and Chevy Camaro," said Michael Sprague, executive vice president of sales and marketing, Kia Motors America (KMA). "Our goal remains the same: Win the Manufacturer Championship. We look forward to getting on-track at Road America where we have enjoyed success in the past."
Road America is a 4.048-mile permanent road course with long straights that reward high horsepower and torturous braking zones that abuse pads and rotors and challenge vehicle durability. Beating the V8-powered cars down the straights will be tough, but the turbocharged four-cylinder engines found in the Optimas are more than capable of keeping pace with the finest Detroit muscle.
"The Optima has the power to run with the V8s on the straightaways, and we think we'll be in good shape to out-brake our competition deep in the corners," said Jönsson, driver of the No. 36 DonorsChoose.org Optima turbo, who just returned from his stint driving a Ferrari at the 24 Hours of Le Mans. "We did a lot of off-season testing to dial in the handling of the Optima. We've seen that pay off with wins at Long Beach (California) and Barber Motorsports Park earlier in the year, and I think we should be strong at Road America too."
Although the Pirelli World Challenge (PWC) Optimas have never turned a wheel at Road America, Kia Racing has fond memories of the track. In 2011, Jönsson co-piloted a Kia Forte Koup to victory in the Continental Tire Sports Car Challenge (CTSSC) Street Tuner (ST) class, the second win of that season that would culminate with Team and Driver Championships for Kia Racing and partner Kinetic Motorsports.
A new generation Kia Forte Koup will also make a Road America debut this weekend, as Kinetic Motorsports' privateer entry in the Touring Car A (TC-A) class will be piloted by series rookie Jason Wolfe. Wolfe has already scored two TC-A wins this season behind the wheel of the No. 36 Richard Wolfe Trucking Kinetic Motorsports Forte Koup, and Kia currently leads the TC-A Manufacturer Championship.
Both GTS and TC-A race rounds seven and eight of the PWC at Road America on Friday, June 20 and Saturday, June 21. Televised coverage of GTS rounds seven and eight will air on the NBC Sports Network on Friday, July 4 at 6:30 p.m. ET. Race fans can watch live coverage of all four races online at www.world-challengetv.com and catch the latest news and updates from the Kia Racing Facebook page at
www.facebook.com/kiaracing
and follow the team on Twitter: @KiaRacing.