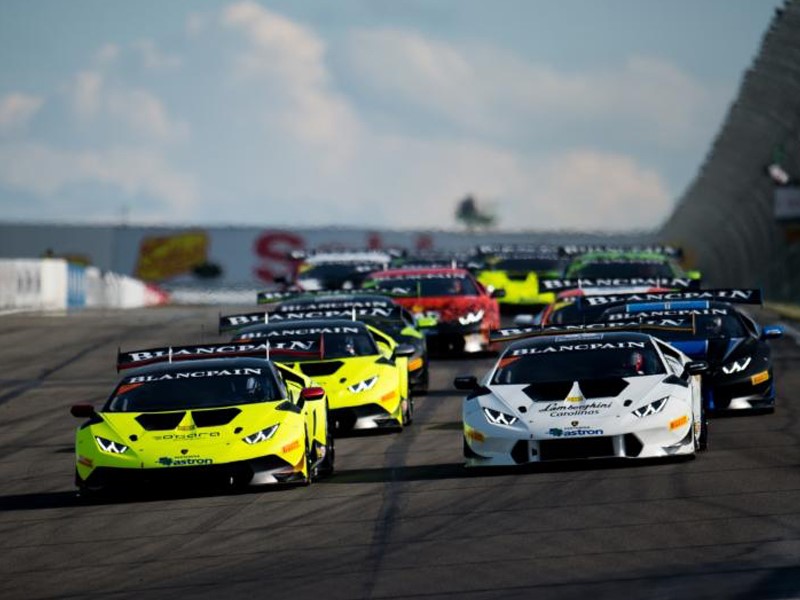 WATKINS GLEN, NY. (June 28, 2016) - Watkins Glen International is a prime location for the Lamborghini Blancpain Super Trofeo North America series, with its rich history and scenic views that will set the scene for Rounds 3 and 4.
 
After an exciting opening two rounds in May at Laguna Seca, the championship races are just starting to heat up in the multiple classes of the North American series, which is in its fourth season.
 
There will be two 50-minute sprint races at Watkins Glen International. Race 1 will start at 5:55 p.m. (ET) Friday, July 1, with Race 2 at 5:35 p.m. Saturday, July 2. Two practices will take place Thursday, June 30, with qualifying at 10:35 a.m. Friday morning.
 
Racing in the series is divided into separate podiums, recognizing the breadth of talent in the Super Trofeo field. After each race, there is a podium for the top three finishers overall and the Pro-Am, Amateur and Lamborghini Cup divisions. The championship provides exciting action for professional and aspiring professional drivers alike.
 
Prestige Performance driver Shinya Michimi will be back in the No. 1 Pro entry. Michimi is tied for first in the points standings with 2015 Pro-Am driver champion Corey Lewis, after a second- and first-place finish in Rounds 1 and 2, respectively.
 
Also in the Pro division will be Anthony Massari and Emmanuel Annassis in the No. 26 DAC Motorsports Huracán.
 
The top six drivers in the Pro-Am division are all within nine points of each other. Topping the list are co-driving duo Craig Duerson and Trent Hindman in the No. 10 Prestige Performance Huracán. The duo earned two Pro-Am podiums in May at Laguna Seca, including a win and a third-place overall finish.
 
Brandon Gdovic also is near the top of the Pro-Am points list with two top-five finishes in the first two rounds.
 
The Pro-Am division will get a shake-up with the addition of Cedric Sbirrazzuoli and Lawrence DeGeorge in the No. 07 Dream Racing Motorsports entry. The duo debuted in Super Trofeo last year and have raced in the first half of the season in the Lamborghini Huracán GT3 in the IMSA WeatherTech SportsCar Championship.
 
2015 Super Trofeo Europe Champion Patrick Kujala will make his North American debut with Brian Thienes in the No. 17 US RaceTronics Huracán. Richard Antinucci filled in for Kujala during the opening two rounds of action.
 
The Amateur division, led by Super Trofeo North American veteran Damon Ockey, also features a tight race. Ockey leads series rookie Luis Rodriguez Jr. by four points. Rob Hodes is in third place, just seven points back.
 
Another newcomer to the field is Amateur Peter Ponzini as the second TRG-Lamborghini entry.
 
After two races, Ross Chouest leads the newly introduced Lamborghini Cup division with a perfect 30 points. He won both Rounds 1 and 2 at Laguna Seca.
 
The 2016 season features 10 rounds in North America at five iconic circuits. The season finale and final two rounds will be Dec. 1-4 at Circuit de la Comunitat Valenciana Ricardo Tormo in Valencia, Spain, followed immediately by the World Final, where the Super Trofeo North America, Europe and Asia series will converge to battle for the right to be named a world champion.
 
All Lamborghini Blancpain Super Trofeo North America events consist of two 50-minute sprint races.
 
The Huracán LP 620-2 Super Trofeo adopts the V10 direct injection engine mounted on the road car, managed by a MoTeC control unit that delivers a maximum output of 620 horsepower. The frame is a hybrid carbon/aluminum construction with modified geometries to house an improved radiator up front and better accommodate the racing gearbox at the rear, which also provides better aerodynamics.
 
Lamborghini and its dealers entertain VIP guests at every Lamborghini Blancpain Super Trofeo North America event in the Lamborghini and Blancpain Village, which features lavish hospitality and amenities.