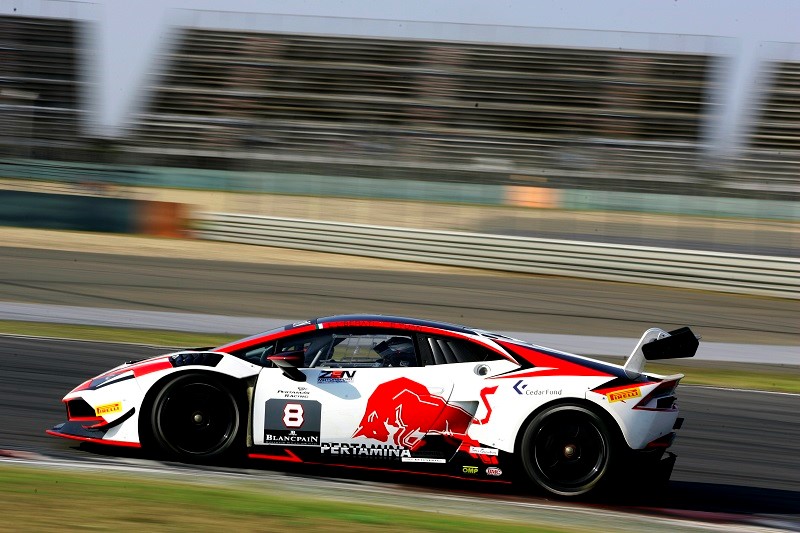 October 17th 2015, Shanghai (China) – Lamborghini and Blancpain are back at Shanghai's famed international circuit for the 7th time since the series began, this time to host the last race in Asia before the World Final stop in Sebring, USA. Drivers from across the continent once more convened at the track for the first day of thrilling weekend racing, sharing the excitement and competitive spirit with guests and friends in attendance. The weather was clement, sunny and dry, a far cry from the previous Shanghai round, which saw Lamborghini's Huracán LP 620-2 Super Trofeo race cars fighting through a typhoon.

This weekend's racing is the 2nd of two taking place in Shanghai this year, with Lamborghini showing their continued commitment to Chinese customers in the year of their 10th anniversary in the market. The Lamborghini race event forms part of the first ever China Speed Weekend organized by Volkswagen Group and features a number of world class automotive events, including the Formula Masters China Series and Boss GT. Set just outside of Shanghai city, the world famous 5.45km Shanghai International circuit is a favorite for racers in Asia and known for its mix of long challenging curves, wide exits and the longest straight the current F1 track lineup. Turns one and two are especially difficult and make for wonderful competition, testing drivers' limits.

The first qualifying session again put two drivers from the highly successful Lamborghini Squadra Corse young drivers program in a leading position on the grid; Chinese driver and local PRO-AM favorite Yuan Bo along with Italian teammate Eduardo Liberati in pole and Afiq Yazid of Malaysia in second. Sri Lankan series PRO-AM veteran Dilantha Malagamuwa and Indian teammate Armaan Ebrahim started in third, with Motojima Yuya and Sky Chen of Japan in fourth. Yazid gained the upper hand and finished the race in pole, while among the PRO-AM teams, Bo and Liberati came in first, with Malaguwama and Ebrahim in second and Anthony Liu of China in third. In the AM class, Andrew Haryanto and Mark Darwin of Indonesia and Malaysia respectively finished first, followed by Akira Mizutami and Hajime Noma of Japan in second, with third place taken by Kimura Takeshi, also from Japan.

The fifth round of racing sees drivers settled in their cars, and no doubt eager to face international competition at the next stop in Sebring, where the winners of the Asian series will go head to head against teams from across the world in what will surely be an adrenaline filled World Final. The racing continues tomorrow with more pure action at the SIC a guarantee.

The Shanghai weekend racing event provides the perfect platform for the company to celebrate its 10 year milestone achievement. Managing Director of Automobili Lamborghini China, Francesco Scardaoni, announced several programs the company has embarked upon to emphasize a new era of dedication to the market, including the China Giro road tour and complimentary Lamborghini car maintenance service.