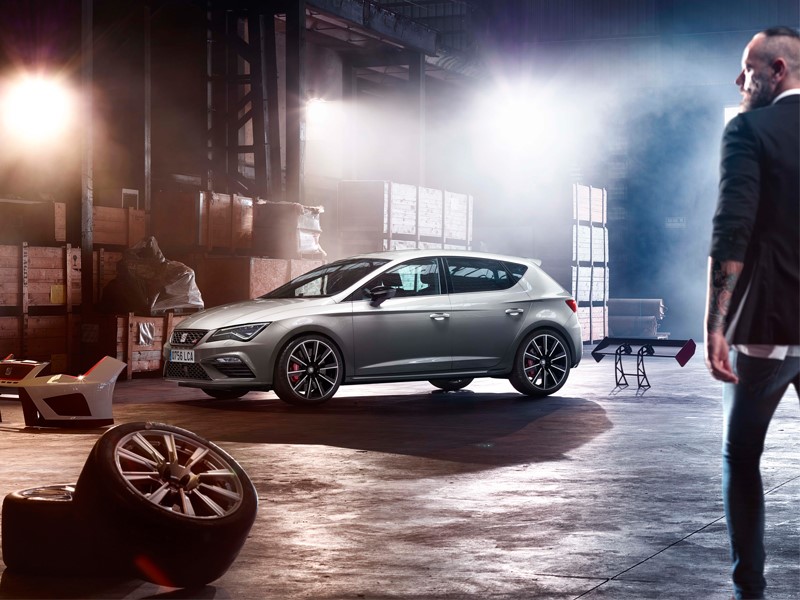 Martorell, 05/12/16. – The Leon CUPRA has always stood out for its performance and its extras, logically without forgetting its design and its excellent price/quality ratio. All of these have now been taken a step further, to improve a successful model.

The new SEAT Leon CUPRA can now be ordered and comes loaded with the latest in technology and functionality as with the other models in the new SEAT Leon range. Now, thanks to the inclusion of the most advanced technology in safety, comfort and connectivity, the new Leon CUPRA can offer everything without compromising anything: You will find power, an amazing driving experience and the safest, most reliable, functional and advanced technology. The new Leon CUPRA now features driver assistance systems such as Traffic Jam Assist, Lane Assist, Adaptive Cruise Control and Pedestrian Protection, and additionally comes with Electric Parking Brake and Keyless Entry and Engine Start. The Media System Plus with its true eight-inch screen is the highlight of the new-generation infotainment system, and, is the very first time that the Leon CUPRA has a Connectivity Box in the central console that comprises smartphone wireless charger and a GSM antenna amplifier for areas with low coverage. Deliveries will begin in February.

With its 2.0 TSI engine that puts out 300 horsepower, the new Leon CUPRA is not only a top of the range model, but it´s now also the most powerful model in the series ever produced by SEAT. The figures related to this achievement in engine power deserve a special mention. Not only is the engine 10 horsepower more powerful than before (up from 290 to 300) but more importantly is that the maximum torque has increased from 350 Nm to no less than 380 Nm. This maximum torque is available in an incredibly wide range of revolutions, from 1800 to 5500 rpm. With such a wide range of use, the result is a convincing and powerful response, from the engine barely ticking over all the way up to hitting the rev limiter. 

The SEAT Leon CUPRA will also get four wheel drive in the family ST version together with the double-clutch automatic gearbox (DSG). Fans will surely remember that back then in 2000, the first generation of the Leon CUPRA had all-wheel drive too. Now with 4Drive total traction and the latest in driver assist technology, the Leon CUPRA ST DSG 4Drive will be a true exponent in terms of sports vehicles, performance, safety and versatility. 

To get the most out of such a brilliant machine, the Leon CUPRA also comes with adaptive chassis control (DCC), progressive steering system and electronic self-locking differential as standard. The dynamic qualities of the CUPRA can be adapted to the drivers' tastes thanks to the CUPRA Drive Profile. There are five modes to choose from - Comfort, Sport, Eco, Individual and logically, the CUPRA mode. This mode is the ultimate in sports car performance and takes the driving experience to another level.